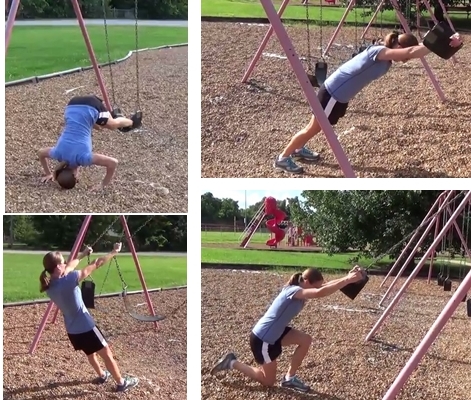 I love working out at the local playground and oftentimes when I travel, I'll choose a playground over a gym, as shown in this playground workout.
Playground workouts are a great way to get outside, breathe some fresh air, get some sunshine, and change things up a bit from traditional strength training with free weights. If you're getting bored with your current workouts, then this may be just what you need. It's also a fantastic way to get some cheap amusement by terrifying passers-by, which will discuss later.
One of my favorite playground toys to use is the swing set because you can treat it like a make-shift suspension trainer. Every playground I've seen, no matter how small, has at least a couple of swings. You can perform a bunch of different exercises with a swing set and work your entire body, so this makes it a great playground-tool.
Below you'll see several videos that demonstrate exercises you can perform (from beginner to more challenging variations) on a swing set. From chest and shoulders to legs and glutes, you'll be able to work your entire body with this single piece of equipment. And please note, you can also do these workouts at home, or anywhere else, with a suspension trainer. The playground isn't mandatory – it's just fun.
We'll begin with the video demonstrations and then you'll see some complete total body workouts you can perform with the swing set.
Push-up Variations
As you'll see in this video, there are several great push-up variations you can do with a swing set from beginner to more advanced variations.

Inverted Row Variations
In this video you'll see how to perform inverted rows, face pulls, and scarecrows with a swing set.

Push Back & Pike Push-ups
You can even work your shoulders effectively with a swing set with these two exercises.

Single Leg Exercises
Here are some of my favorite single leg exercises, and you can use the swing set to make them easier and more challenging. This is a great way to progress to skater squats and pistols.

Core Exercises
Here are some of my favorite core-specific exercises. And I have to give a huge "thank you!" to Tony Gentilcore because that's where I got the idea for the anti-rotation press.

Total Body Swing Set Workouts
Now that you've seen the wide variety of exercises you can perform with a swing set, let's go over some total body workouts you can perform. I suggest performing the following total body workouts in circuit fashion: perform each exercise, one after the other, with minimal rest. Once you complete the circuit, rest one or two minutes and repeat again.
You can perform both circuits in a single workout or on different days, depending on how many swing set workouts you want to do per week.
If you'd like to perform two swing set workouts per week, perform just one of the swing set circuits below per workout. You could do Circuit 1 on Monday and then Circuit 2 on Thursday, for example. If you perform one circuit per workout, perform a total of 3-6 rounds of that circuit.
If you choose to perform both circuits in one workout, perform 2-3 rounds of each circuit below.
Let's get to the circuits!
But first, step one – remove any children from the swing set because you're a grown up, and you need to work out. Only kidding, of course. (Maybe).
All of the exercises are demonstrated in the above videos.
Swing Set Circuit 1
1a) Push-up variation
1b) Inverted row variation
1c) Rear foot elevated split squat (or assisted skater squat)
1d) Pull-in
Swing Set Circuit 2
1a) Push-back or Pike push-up
1b) Face-pull or Scarecrow
1c) Single leg hip thrust
1d) Anti-rotation press or Fallout
Choosing Exercises:
Choose the exercise or variation that works best for you depending on your strength levels. I suggest beginning with a variation that allows you to complete about eight perfect reps per set. Stick with that variation until you can perform 12 reps per set, and then the next workout use a more challenging variation and repeat the process.
Before you dive into the workouts, let's address a frequently asked question about playground workouts: "But, Nia, how do you handle being viewed as a crazy person at a playground when you don't have a kid with you?"
I get it. I don't have children so I'm always kid-less when I visit nearby parks and playgrounds. Heck, I'm frequently the recipient of some puzzled stares when I'm playing on the equipment and not just working out. Parents quickly collect their kids and whisper, "Let's go over here and play" as I'm getting some serious air on the swing set and contemplating my dismount. "Should I do a back flip out of the swing or go for distance?" I wonder as the swing set rattles with every additional swing.
Naaah. Just kidding. Maybe . . .
Here are a couple of ways to deal with the inevitable odd looks you'll receive if you go to your local playground without any tiny-humans in your company, or even if you do have kids but you're working out at a crowded playground:
1) Hope that your actions – strength training on the playground equipment – will inspires others who are watching. Who knows: maybe a busy mom or dad will see you working out and feel inspired to do the same. Perhaps they never thought about using a playground as an outdoor (free!) gym.
2) Stop caring about what other people think or how they label you. If people just give you strange glances, who cares? So what if they think you're crazy. You're not doing anything illegal and you're in the process of building your body, mind, and becoming more awesome. Forget about the haters and do what makes you happy. We would all do well to stop caring about what total strangers think.
Want More?
As you can see, the possibilities are practically limitless when it comes to bodyweight and playground workouts. For even more ideas and workouts you can perform, check out the following articles:
You can even use the bodyweight workouts and exercises in those articles for your next playground (or at home) workout.
As always – keep being proud to Lift Like a Girl!