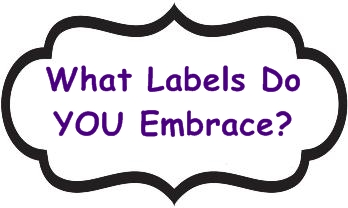 Sometimes it feels like a proverbial heartbreak. Reading comments and emails filled with sadness, confusion, and sometimes even despair.
"Can you help me?" is a question I'm often asked. This question is preceded by comments such as:
I just need to lose this extra fat.
I don't like my cellulite.
I can't control what I eat.
how do I stop obsessing over food?
I wish I could love my body.
And other similar statements.
Some of these women feel like they're fighting a losing battle. They seem to think that no matter what they do their fate has already been determined. They'll never "look like that" or "have that body" or "be that strong".
And it breaks my heart.
Because trying to achieve certain "labels" it's complete and total BS.
The problem is not with you, me, or us. The problem is not with how we look, how we eat, or how we work out. The problem is not with our self-perceived "flaws".
The problem is with the definitions and labels we place on ourselves, and it makes perfect sense why we embrace certain labels and reject others.
We're constantly bombarded with photos and descriptions about a physical appearance we're expected to achieve and maintain.
Skinny (but not too skinny)
Lean (but not too lean)
Curvy (but not too curvy)
Strong (but don't get too strong)
A certain weight
A certain waist or bust size
Basically, we feel pressured to be flawless.
We may choose different labels we wish to attain (some women prefer to be leaner, others, curvier), but most of them are standards we feel obligated to achieve.
It doesn't really matter what labels you've placed on yourself — we all feel the pull to imitate what's perceived as the "ideal". And we fight daily to achieve these predetermined standards.
We eat less.
We work out more.
We beat ourselves up for our "flaws".
So we eat even less, and work out even more.
But it's important that we stop and ask ourselves, what is this accomplishing? Are you trying to squeeze, shape, and force yourself into a one-size-fits-all mold? Are you truly happy trying to achieve the body that someone else says you should have?
I don't think so. These labels, these one-size-fits-all labels, don't help us become better, and they certainly don't encourage us. They bring frustration, disappointment, and shame.
If we don't adorn those labels flawlessly, each and every day, we feel shame for not achieving, or maintaining, these standards.
Enough is enough.
It's time for a change. No, it's not going to be easy. We're fighting decades of habits and preconceived standards that have been ingrained in us since we were young.
It's one thing for us to say, "No more. I will not define myself with these labels and I will love my body," but it's another to actually make this a reality.
But you can do. We can do it. And we can teach the younger generations to accept these new truths in the process so they choose strength over dieting.
These one-size-fits-all labels are restraining us from reaching our true, individual potential.
That's why you must embrace your own labels. The labels you choose to adorn. Not labels that hold you back, put you down, or try to force you to be something you're not, but labels that express your awesomeness and your uniqueness.
What characteristics make you uniquely you?
What strengths do you possess?
What qualities can you embrace, highlight, and allow to shine?
Your body image does not define you or determine your self-worth, so what qualities beyond the physical do you love about yourself?
It's time to reject the negative, self-imposed labels that "they" said we're obligated to embrace. And it's time to…
Create Your Own Labels
The labels you place on yourself matter, so choose them wisely. Make sure you embrace labels that help you become the most awesome version of yourself.
Do things like work out and eat simple, whole, real food meals because you love your body. Because you love your body this very moment, just the way it is. Because you're not concerned with achieving someone else's standards, but because you want to become the best version of yourself.
Beautiful
Confident
Intelligent
Loving
Strong (there's strength beyond the physical realm)
Badass
Relentless
Determined
That short list doesn't even tap into the amazing characteristics that are blooming inside most women, but it's a good start. We just need to embrace them. You need to embrace them.
It's time to ditch the one-size-fits-all labels that society tells us to achieve. It's time to adopt labels that express our individual strengths, beauty, and personalities. It's time to love your body, because it's yours.
Here are some articles to help you embrace your own labels and to define yourself on your own terms:
When It Comes to Building the Body You want, the Journey is the Destination — this article tells you how to start loving your body today, right now, and why the journey is the most important, and fulfilling, part.
Numbers Don't Define You – your self-worth is not determined by the number on the bathroom scale, your bra size, or any other number.
WHY You Work Out is More Important than HOW You Work Out — your intentions matter; you should work out and eat well because you love your body, not because you hate it.
For Building a Great Body and Improving Your Health, Consistency Trumps Perfection — forget about trying to follow the "perfect" diet or workout program. Consistency with the simple basics is what really matters and produces long lasting results.
6 (Sane and Simple) Rules to Lift Like a Girl, Get Results, and be More Awesome — want to know where to start? These six sane and simple guidelines will help you eat and work out in a way that makes you more awesome.
And don't forget to sign up below for insider-only information. You'll also get the Beautiful Badass Mini Course as a free bonus.