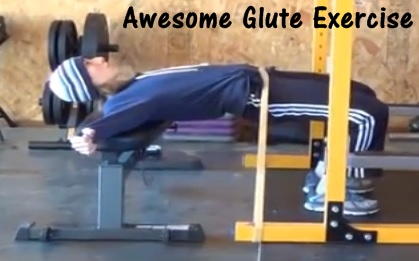 It's no secret that I like bodyweight workouts and exercises.
Not only can bodyweight workouts be the ultimate time-saver (because you can do the workouts absolutely anywhere) but there are dozens of excellent exercises you can use that will help you get stronger, sculpt some muscle, improve your overall health, and lose body fat.
Below you're going to see three bodyweight exercises you can use for targeting your glutes, shoulders, and legs.
And let me just say — many people think bodyweight exercises are "too easy". Well, if you try these exercises (which you absolutely should) prepare to be humbled.
First up: the glutes.
Band Resisted Hip Thrusts
You may have already seen this exercise from Bret Contreras, and it's probably my favorite glute exercise at the moment. No other glute-specific exercise allows me to really feel my glutes working quite like this variation. It's technically not a "bodyweight only" exercise because it requires a resistance band, but I'm including it here anyway.
Let's check out the video first and then I'll provide some additional tips and suggestions.
Coaching Cues for Band Resisted Hip Thrusts:
Make sure you're actively thrusting your hips up and squeeze your glutes hard
Do NOT hyperextend the low back
Hold the top contracted position for at least 1-2 seconds, and really squeeze your glutes hard
I like to do anywhere between 2-5 sets for 10-20 reps (depending on the strength of the band you use
Now you may not be able to loop a band around a power rack as demonstrated in the video.
Here's what you do instead. Put two very heavy dumbbells on the outside of the power rack (both sides) and then loop the band around the handles. This way the band stays anchored down and it will roll into the power rack when you perform the hip thrusts. Again, make sure they're heavy dumbbells; you don't want them to pop over the sides and smack into you.
Give that exercise a shot. Your glutes will thank you.
Moving on to an excellent bodyweight shoulder exercise:
Push-Backs
This is an excellent exercise for your shoulders and abs, and it's easy to progress from the beginner trainee to more advanced variation.
Here's the demonstration video.
As you can see, it's a very straight-forward exercise. Start with the variation that allows you to perform about 8-10 reps per set, and then slowly progress to the more challenging variation. Prepare to be humbled and to feel your shoulders get smoked.
And finally…
Single Leg Hybrid Exercise
If you want to blast your legs with a single bodyweight exercise, then be sure to give this one a shot. Again, it looks easier than it really is.
Here's the demonstration video.
As you can see, this hybrid exercise is a combination of a skater squat and a single leg Romanian Deadlift (RDL). You perform a skater squat then a single leg RDL: that's one rep.
And you can make the skater squat a bit easier by putting a step or foam pad beneath your knee, as shown in the video.
How to Use These Bodyweight Exercises
You can incorporate these exercises into any program for a change of pace or to add more variety to your bodyweight-only workouts.
They're also terrific accessory exercises you can use to compliment a sound strength training program.
However you decide to use them, just give 'em a shot and see what you think.