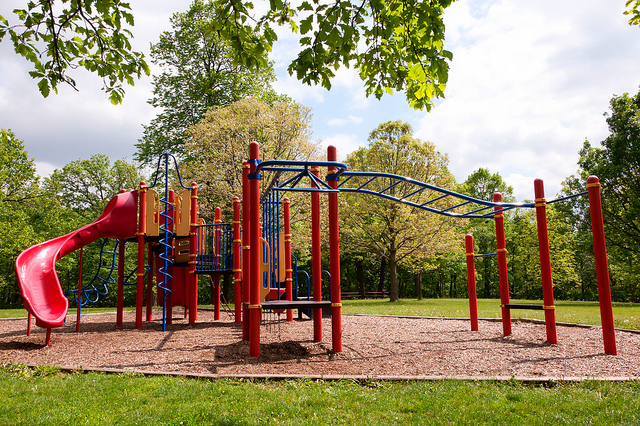 Outdoor workouts, or, in this case, playground workouts, are a terrific way to not only get in an effective workout, but to also get some fresh air and sunshine.
While lifting heavy barbells, hosting dumbbells, and using other machines and tools  available at your local gym are certainly terrific for strength training and building the body you want, it's not mandatory.
In fact, I have a home gym loaded with lots of goodies, but it's not required to get fit, improve your health, lose fat, and have fun with your training.
As I've discussed before, sometimes I get downright bored with traditional workouts and crave a change of pace. This is when playground workouts can really come in handy. You can get outside, do something different (which can be just a mentally stimulating as it is physical), and even have some fun.
Below is a video I filmed in the late winter of 2013 when I was visiting my home state of Tennessee. Instead of using the workout facility where we were staying, we stumbled upon a great little playground area. Check out the exercises we performed (in addition to some . . . umm . . . productive "resting activities" between exercises) and then I'll show you how to make each exercise easier and more challenging.
Here's the video:
Now, depending on the playground you use for your workouts, you may have a larger, or smaller, variety of equipment to work with. This is when you need to expand your mind, get creative, and see what's possible. To make things even more interesting, think beyond just being able to perform traditional exercises like push-ups and pull-ups. Make the most of the equipment you have available to use.
Here are the specific exercises I performed in the video in addition to some ways you can modify them to make them easier and more challenging.
First up . . .
Pole climb
Now, I don't really have a suggestion for how to make this easier. You can either do it, or you can't. If you can't climb all the way to the top, climb as far as you can, come back down, rest a bit, and repeat a few more times.
To make it more challenging you can use your arms exclusively. Hold your legs out in front of you in a V shape (they should be close to parallel with the ground), and use your arms to climb up. This will not only torch your back, but your abs also.
The second exercise . . .
Alternating jump lunges
These take a bit of coordination and strength, so if they're a bit too advanced for you (right now!), to make them easier you have a couple options:
Perform bodyweight lunges without the jump
Perform jump squats instead of lunges
If the jump lunges aren't quite challenging enough, or you want to kick them up a notch:
Pause in the bottom position so each jump is performed from a dead stop
Focus on jumping as high as possible with each jump
Put your front foot on a slightly elevated surface (about 2-4 inches)
The third exercise was more of a "fun break".
Don't judge me. I'm still a kid at heart.
Moving on . . .
Push-ups with a swing set
The terrific thing about a swing set is that it can be used as a make-shift suspension trainer. Many exercises you can do with a suspension trainer (e.g. push-ups, inverted rows, leg curls, fallouts, rear foot elevated split squats, etc) can be done with a swing set.
To make push-ups with a swing set easier all you need to do is walk out a bit. The higher the swings, the easier the push-ups will be.
Likewise, to make the push-ups more challenging, set the swings in their natural hanging position. If that's still too easy you can pause in the bottom position for one or two seconds so each rep is performed from a dead stop position. And finally, you can find something to put your feet on, like a bench and perform feet elevated push-ups.
Rack pull-ups with rings
These are called "rack" pull-ups because, as you can see in the video, you elevate your feet in front of your body. This takes some of your bodyweight out of the exercise, thus making it a bit easier than a regular bodyweight pull-up.
If these are still too challenging you can simply perform pull-ups and use as much leg drive as needed for assistance. Just stand on the ground, perform a pull-up and use your legs.
To make the rack pull-ups harder you have a few options:
Perform each rep from a dead stop in the bottom hang position, and also pause in the top contracted position
Perform a traditional bodyweight pull-up without elevating  your feet
If bodyweight pull-ups are too easy, try adding a pause to the bottom and top of each rep or hold your legs in front of you (they should be parallel to the ground)
And the final . . . err . . . "exercise" shown at the conclusion of the workout was another "active recovery" method you can use between exercises. Unless, of course, you have issues like I did.
You can also change up how you perform your sets and reps.
You don't have to do the standard 3×10 or something similar. You can use things like the 54321 method to focus on building strength or these other five strength training techniques to bust through plateaus, or to simply provide a change of pace.
Want More Playground Workout Ideas?
If you want more bodyweight workouts you can perform at the playground, or anywhere else, for that matter, be sure to check out the following articles:
You can use the exercises and ideas in those two additional articles and create your own playground workouts.
And here are two more awesome workouts for you!
So if you're wanting a change of pace, get outside and head to the nearest playground and see what you can do. And don't be afraid to get creative!
Never miss a thing! To get updates for new articles on Lift Like a Girl and to get insider-only information AND a free gift, be sure to sign up below.