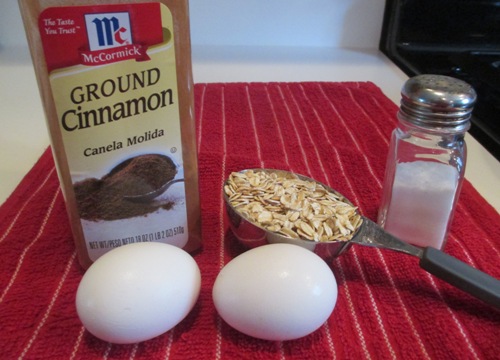 I have a confession.
During the week my breakfasts have one major requirement – they must be super simple to prepare. I don't mind taking the time to cook a delicious meal, but during the week I demand something fast and easy.
Well, actually, I have two major requirements and the second is that is must taste good.
This four ingredient oatmeal French toast-cake fits the bill perfectly AND it's incredibly versatile. First I'll show you the base French-toast cake and then a whole bunch of different variations you can try. And I must give a shout out to Scott Tousignant of Metabolic Masterpiece because it was his picture of an oatmeal cake that made me remember this quick and tasty breakfast.
Oh, and if you're not already convinced to give this recipe a try, here's another great reason: you probably already have all of these ingredients on hand.
The Basic 4 Ingredient Oatmeal French Toast-Cake
I really struggled with a good name for this thing. I was going to go with some type of pancake, but since this uses whole eggs it tastes much more like French toast. So, there you have it – the French toast-cake.
Ingredients
Follow this one for a more normal size French toast-cake:
2 whole eggs
1/3 cup whole oats
Sprinkle of cinnamon, to taste (I use a lot because I love it)
Dash of salt
If you want a larger cake go with 3 whole eggs and 1/2 cup oats.
And there you have it – the base of the incredibly versatile and delicious oatmeal French toast-cake.
Directions
Whisk the eggs in a small bowl then toss in the oats, cinnamon, and salt and stir to combine.
See. I told you this was simple!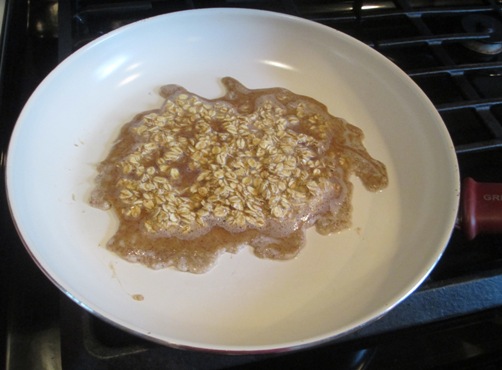 Melt about a teaspoon of coconut oil or butter in a skillet set to medium heat and then pour the toast-cake mixture in.
Once you pour the mixture in the skillet, spread the oats around a bit so they thin out. You don't want a huge clump of oats in any one spot.
Just let this cook away for a minute or so. You know it's ready to flip when the bottom is golden brown and delicious.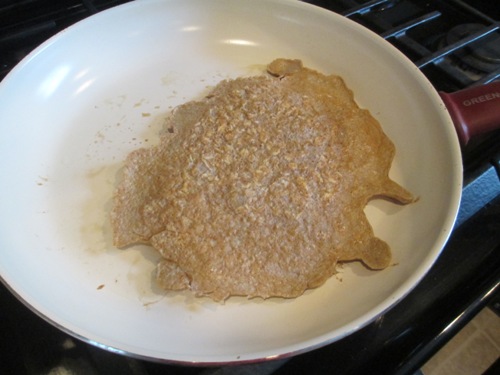 When it's ready to flip use a large spatula and try to flip quickly in a fluid motion, and try not to splatter it every where. If you do, that's okay. It'll still taste good.
Once I get it flipped I press down just a little bit with the spatula to spread the oats and egg around just a bit so it cooks evenly and thoroughly.
Let it cook for just another minute or so and then it should be done and ready for consumption.
When it's golden brown put that French toast-cake goodness on a plate and then add your toppings of choice.
Easy peezy lemon squeezy.
No need to eat this French toast-cake naked! (Well, you can be naked it you want, but the toast-cake needn't be). Here are some toppings and other great variations you should try.
Optional Toppings & Recipes
This is where you can get creative and add a ton of variety. That's another thing I really love about this recipe – the base is so simple that you can add tons of different toppings to keep it interesting, and even seasonal.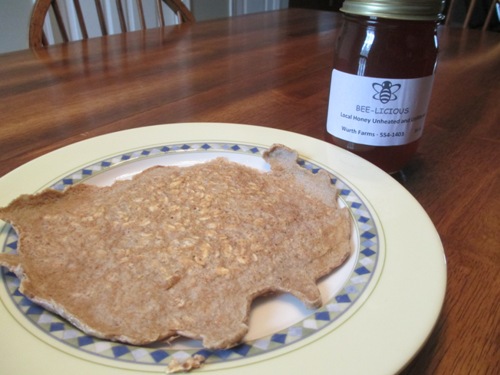 Here are some of my favorite toppings:
Pure maple syrup (classic, and amazing)
Raw, unfiltered honey (I buy mine locally)
A pad of butter
Smear of peanut butter (other nut butters work great too: almond, cashew, etc)
Fresh fruit (all types of berries are incredible)
You're really just limited by your imagination, or the contents of your pantry.
Here some other combinations and recipes you may want to try too.
Pumpkin-Goodness
To the original four ingredient recipe above, add in about two tablespoons of pureed pumpkin. You can even sprinkle in a bit of cloves and nutmeg to make this more like pumpkin pie. Cook the same way and enjoy your pumpkiny-goodness.
Banana Bread French Toast-Cake
This is another favorite!
To the four ingredient batter add one mashed banana and a sprinkle of crushed walnuts or pecans.
Cook as described above and top with a little bit of honey or maple syrup.
You can also just cook the original French toast-cake and then add a sliced banana and sprinkle of nuts on top as well. Either way works great!
Peanut Butter Jelly Taco Time!
I don't care if I'm almost 30. I still love peanut butter and jelly sandwiches.
Make the French toast-cake and then smear your favorite nut butter on one half and then your favorite jelly on the other. Fold in half, like a taco, and then eat with a smile on your face.
Peanut Butter Banana Taco
This is similar to the one above. Once you cook your French toast-cake, smear your favorite nut butter down the center, add in a whole banana, and then roll or fold into a taco. Eat and enjoy.
Almost Apple Pie
Put your freshly made French toast-cake on a plate, top with a diced apple, crushed walnuts, and a bit of maple syrup or honey.
Don't want a breakfast on the sweeter side? No problem! You can even make a savory oatmeal French toast-cake.
The Savory
You don't have to use fruit and maple syrup exclusively. If you prefer a more savory than sweet breakfast, give this one a shot.
Make the oatmeal French toast-cake, but you may want to omit the cinnamon for this one. If you like some heat then you can add a dash of cayenne pepper to the toast-cake batter.
After it's cooked and placed ever so delicately on a plate, top it with a fried egg or two and some salsa. Once you have your egg(s) and salsa on top, break the yolks so the golden yummy goodness oozes over the toast-cake.
To The Savory you can also add:
crumbled bacon
sausage
sauteed veggies
a sprinkle of shredded cheese
hot sauce
. . . if you'd like. Whatever you decide to add you simply can't go wrong with The Savory.
As you can see, there are dozens of ways to jazz up the original oatmeal French-toast cake, so feel free to get creative and try a bunch of different varieties.
More Recipes for Your Eating Pleasure
I'm by no means a chef but I do have some other quick and easy recipes you may want to try:
Happy eating!