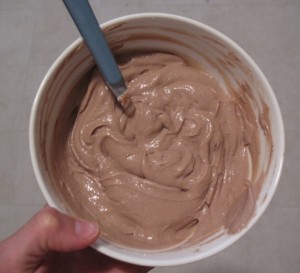 Want something quick and simple, requires only two ingredients, is high in protein, low in sugar, and tastes like cheesecake?
If yes, then you're gonna love me. Behold: the cheesecake bowl!
You only need two ingredients and you'll have a yummy bowl that tastes some-what like cheesecake. Plus, it's high in protein (about 43-48 grams, depending on the protein powder you use) and very low in sugar. Win-win!
Ingredients
1 Cup Greek Yogurt
1 Scoop Protein Powder (use your favorite flavor)
That's all you need.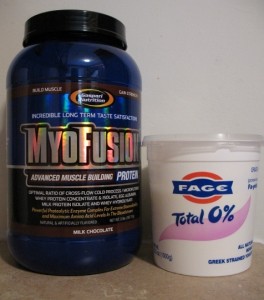 Use your favorite protein powder brand and flavor. One of my personal favorites is Myofusion (update: this brand is no longer available so I use Optimum Nutrition). Another very affordable favorite that tastes great with this easy recipe is Optimum Mocha Cappuccino. These may not be "all natural", but I don't really care.
It doesn't matter to me how natural or healthy a protein powder may be; if it tastes like a powdered fat, I'm not gonna use it.
Another option, which I haven't yet tried, is to use plain protein powder and then add your own flavoring, such as cocoa powder and cinnamon.
Directions:
Step 1 – Put 1 Cup Greek Yogurt in a Bowl
Step 2 – Add a Scoop of Protein Powder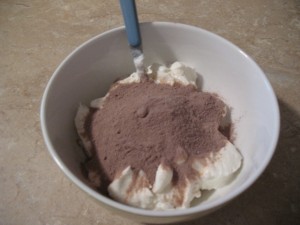 Step 3 – Mix It Up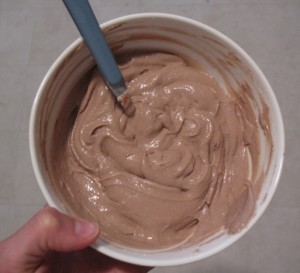 Step 4 – Do I Really Need to Tell You This?Eat It!

Other Options & Add-ins:
1) Use plain protein powder and flavor with natural ingredients like cocoa, cinnamon, nutmeg, etc.
2) Add in your favorite fresh fruit (berries work very well). For example, use one cup of Greek yogurt, one scoop of vanilla protein powder, and top with fresh blackberries.
3) Use things like nuts, unsweetened shredded coconut, or whatever else it is your love in traditional cheesecake.
So there you have it – a high protein, low sugar, quick and easy to make, cheesecake-like recipe.
The next time you have a sweet tooth, or you want to tame your hunger with a high protein treat, give it a try and let me know what you think.
A Couple More Recipes You May Enjoy: