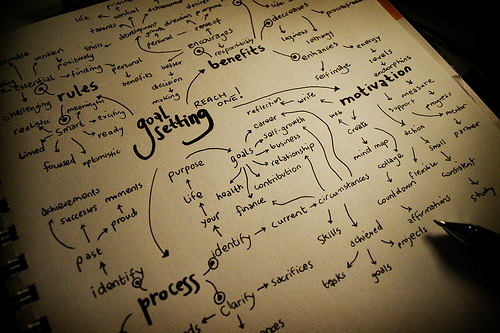 Say whaaaaaat?
We just celebrated the new year and while most people are discussing their goals for the year, I'm just over here saying, "Goals? Nah. I don't have any."
No, I haven't given up on life or becoming the best version of myself.
I'm simply choosing not to have specific, time-dictated goals. And I think I'm going to be better off because of it.
We already discussed 5 reasons why you shouldn't have (fat loss) goals before, but today I'll explain further why I'm not setting any specific, time-dictated goals, and why you may want to join in too.
If Not Goals, Then What?
Ditching goals doesn't mean I'm just going to wing-it through life. I'm saying good-bye to goals, and hello to The Process.
Months ago I stopped setting specific, time-dictated goals in practically every area of my life. Now, that's not to say I don't have things I want to accomplish – I'm just choosing to not focus on the goal itself, and the results have been amazing.
Here are some examples so this makes sense.
An objective I had last year was to Better Body by Minimalism, the guide to extraordinary results with the bare essentials. Yes, you could call writing and releasing the e-book "the goal".
However, that's not what I'm chose to focus on. Every day I didn't focus on releasing the finished version, nor did I have a date set for its release (at least not until I knew it was almost complete). Instead I focused exclusively on the PROCESS and ACTIONS I needed to do consistently to achieve that outcome.
Focusing on what needs to be done consistently, instead of the final outcome, makes tasks less intimidating, less stressful, and much more fun. And I've experienced the same thing when applying this technique to other areas as well.
For an example relating to health and fitness, I want to continue becoming the strongest, most awesome version of myself. My focus, again, is on the ACTIONS I must take to keep achieving that goal:
Focus on just a few things – the BIG things – that need to be done to reach intended outcomes.
That's because . . .
Actions Trump Intentions
We can have the best intentions in the world like writing a book, improving our health, losing body fat, getting out of debt, and anything else we deem important or want to achieve. But having the intention of reaching those goals means nothing if we don't take the required actions that will get us there.
That's why focusing on The Process, the actions, can be more powerful than simply obsessing over a specific goal. A goal just tells you what you want, but the actions reveal what needs to be done consistently to make that desire a reality.
Ditch Goals and Embrace The Process
Perhaps you've set very specific goals before, and it didn't work like you thought it would, or maybe you just want to try a new approach. If you're intrigued by this idea of not setting specific, time-dictated goals and choose instead to focus on the process and actions needed to reach those outcomes, then welcome aboard!
No matter what you want to achieve, you can apply this technique – focusing on The Process and actions – to it.
Want to get out of debt this year? Don't just think "I want to be debt free" everyday. Come up with some ACTIONS and the PROCESS you need to practice daily to get to that outcome.
Want to lose fat and improve your health? Don't make reaching a certain bodyweight your goal. Focus on the PROCESS you must do, consistently, to lose fat.
Want to get stronger and deadlift some heavy singles? Don't obsess over the specific goal (e.g. deadlift twice your bodyweight) but instead follow a program and strive to improve your performance each week.
Here's How …
Here's how you can put this idea to work for you.
Ask and answer these questions:
1. What outcome (sure, you can call it a goal if you prefer) do I want to achieve?
Perhaps you want to lose body fat, for good. Or maybe you want to sculpt some muscle. Maybe you want to achieve something unrelated to health and fitness, like getting out of debt.
Or maybe you want to finally stop thinking about fat loss all together and want to focus on something more positive.
Doesn't matter – just answer the question.
2. What are the MAIN ACTIONS I must take daily (or near daily) that will lead me toward that outcome?
The key here is to choose a few things – the BIG things that will provide the majority of the results – to make the intended outcome (or some variation of it) a reality. Keep this list as short as possible and whittle it down if possible. The fewer things you have to focus on doing consistently, the better; simplify your approach as much as possible.
3. Make your plan, then execute.
Now you know what ACTIONS you need to take. Write them down. Put them on a calendar. Just DO those things. The bare essentials may give you some ideas.
And finally, be consistent.
If goal setting just hasn't worked for you in the past, you may enjoy embracing The Process much more, and maybe even get better results. This has worked for me, and it may work for you too. After all, the journey is the destination, and it's where the magic happens.
Join the Revolution! If you haven't done so already, sign up to the Lift Like a Girl Newsletter. You'll get a free gift – the Beautiful Badass Mini Course – that will show you how to become the strongest, most awesome version of yourself. Enter your email below.