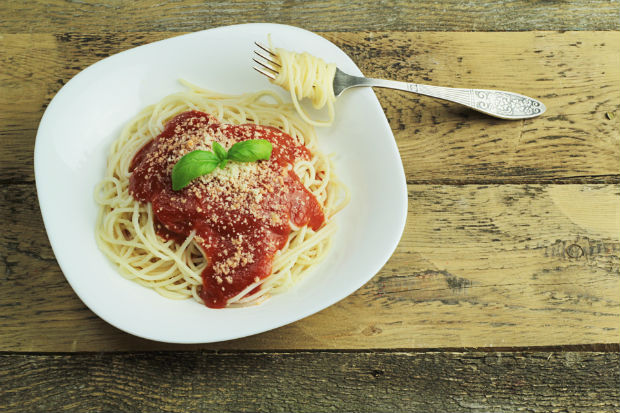 "What diet do you follow?" she inquired as I devoured my bowl of delicious, spicy Thai chicken soup. When the waiter asked how spicy I wanted my soup perhaps I shouldn't have responded, "Ah, yes. Melt my face off, please. Thank you."
As I paused between bites to let the burning heat dissipate that had my eyes watering and nose running, I reflected on the question about my diet. And I realized that my "diet" doesn't have a name … and it may be the best thing ever.
I've heard people rattle off the diets they've tried in rapid succession, like they're rap stars spitting lyrics. Those conversations always ended the same way: they test-drove numerous diets, but never followed any for an extended period of time. No one still followed the diets they mentioned during our conversation, and some were on the continued, never-ending search for "the next big thing."
You can relate, right? How many diets have you tried only to be left wondering why that diet didn't work for you?
People begin a new diet with eagerness. "This time I'm going to stick with it and finally achieve the results I want!" they declare as they scribble down their new grocery list. (What the hell is sea kelp and what isle is that even on? Doesn't matter — I'll find it because this time everything will work!) But days and weeks pass and the new diet becomes overwhelming. The strict dos and don'ts are frustrating. If you eat something your diet says to avoid, you feel guilty. If you're at a party or family gathering filled with foods not allowed on your diet, you feel miserable and left out.
Maybe you binge.
Maybe you get defeated and give up.
Maybe you start looking for another diet to follow since this one didn't pan out.
I've been there and done that, and tried over a dozen diets. I know what it feels like to think a diet will finally be the answer to the What diet will finally help me reach my goals? question. I know what it feels like to be frustrated and disheartened when a diet is too strict and only worsens my disordered eating habits. I know what it feels like to quit out of sheer vexation and feel like a failure because I gave up, yet again, on another diet.
I know what it feels like to go into "damage control" after over indulging.
I know what it feels like to search for a 30 day challenge to quickly help me lose weight.
I know what it feels like to think eating certain foods (e.g., sugar) or combinations will make me gain fat.
But no more do I search for diets. No more do I experience frustration or guilt with what I eat. No more do I avoid any foods.
Not since I've been on …
The Diet That Has No Name
It's not a fad. There are no foods or food groups to avoid. There are no strict rules for when to eat. With this diet I don't panic when I go to a restaurant or party. I don't ask for permission to enjoy any food at any time. I don't feel guilty when I indulge in creamy, blissful, oh-my-damn-that's-heavenly ice cream or my homemade double chocolate peanut butter brownies that do the tango on your tastebuds.
Back to the conversation with my friend …
"So, what does this diet that has no name look like?" she challenged while leaning in with anticipation as I went back to enjoying my tongue scolding, nasal-passage-clearing soup.
The Diet That Has No Name looks like this:
Mostly eat a variety of real, minimally processed foods.
Include a good source of protein with every meal (this isn't limited to animal products — I also eat beans and other protein-rich plant foods).
Make eating fruits and vegetables a priority — this is so simple and beneficial, yet most people don't do it. You should.
Eat to the point of satisfaction without getting stuffed.
Enjoy your favorite not-super-healthy foods (this part is important: enjoy your favorite foods and not merely foods that are convenient or sitting in the office break-room) on occasion. Notice I refuse to say bad or cheat foods.
Understand that the actions you do most often over and over again are what matter most, and not an occasional meal that may be "less than ideal".
This diet has no name.
It's not low carb. It's not low fat. It's not high protein. It's not nutrient timing or carb cycling. It's not paleo. It's not if it fits your macros. It doesn't require you to eat a certain number of meals per day.
It's not sexy or exciting. You'll never see The Diet That Has No Name on the bestseller list or pouring off the shelves of your neighborhood bookstore.
It is simple. It's stress free. It's flexible. It can be followed every day whether you're at home or on vacation. This diet nourishes my body, satisfies my taste buds, and helps me reach the performance and aesthetic goals I desire. It can be followed by carnivores, vegans, vegetarians, pescatarians, or any other eating styles alike.
It works for improving your performance or losing fat.
Interested in The Diet That Has No Name?
Why is The Diet That Has No Name "the best thing ever"?
Ok, calling it the best thing ever is a bit of an exaggeration, but that doesn't mean it's not awesome.
One main reason is because it's simple and flexible, and bullshit-free. Because of this you won't waste time thinking about food or obsessing over your next meal. This means you can (gasp!) put your attention and effort on real life things that matter a great deal more. You know, like creating wonderful memories, laughing with a friend, adding some value to this world, delivering a baby calf in the field down the road, or anything else that's important to you.
Health and fitness, nutrition in particular, has been something people obsess over for far too long, and as a result they're missing out on the things that truly matter in this life. I know, because I was guilty of this for too long.
Focus on the few, important things that matter most — as outlined above in The Diet That Has No Name — and get on with your life.
Will You Try The Diet That Has No Name?
If you're fed up with diet-hopping and ready to try something you can follow long-term, give The Diet That Has No Name a shot. It may not take hold in a single day, but you can take small steps to start practicing it.
Keep it simple. Start small.
The easiest way to begin is to apply the guidelines above to one meal every single day for an entire month. Just one meal. I suggest picking the one that's easiest for you to control. Then the second month change one more meal, or snack if you prefer. Slowly but surely this will turn into the way you eat, and not a diet you're revolving your life around.
Are you a fan of keeping things simple, stress free, and saving time? Then check out Better Body by Minimalism. It's a complete guide to achieving extraordinary results with the bare essentials of nutrition and strength training.