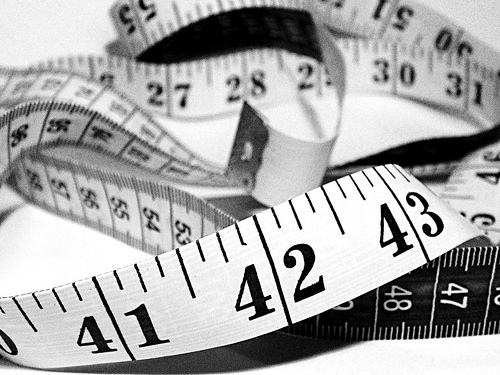 Whaaaaaat? Abandon my fat loss goal?
Nia's gone crazy!
No. No I have not. At least, not entirely.
Goals can be a good thing, but sometimes they may not be the best thing to focus on. This can especially be the case when it comes to specific fat loss goals.
If you have a fat loss goal such as reaching a certain body weight or body fat percentage, then I encourage you to abandon those goals for a period of time . . . and to focus on the process and the actions you can take on a daily basis instead.
And I have some dang good reasons why.
But first, let's look at some common fat loss goals people have:
Weigh X amount
Obtain X percentage of body fat
Wear X pant size
Reach X waist measurement
Seems harmless, right? By striving to reach that goal of weighing less or wearing a smaller pair of jeans you'll be motivated to keep working out and eating well.
Not so fast. Let's discuss five disadvantages to having specific fat loss goals, like those mentioned above.
Disadvantages to Fat Loss Goals
Just to clarify, wanting to lose body fat is perfectly fine, and it's the main priority for many people who embark on a health and fitness regimen. My argument is that specific fat loss goals (e.g. reaching a specific bodyweight) may not be the best idea. Here are the reasons why.
1. Can obsess over them and allow your happiness and self-worth to be dependent on reaching that goal.
We say things like, "I'll be happy once I reach my goal weight" or "I'll be happy when I can wear smaller jeans" and other similar statements.
As a result, we don't allow ourselves to be happy now. We may even value our self-worth based on those numbers (e.g. our current weight, pant size, etc).
And our actions (working out and eating well) may be driven by negative thoughts such as "fixing our flaws" or simply because we hate how we currently look.
When we have specific goals, we focus too much on the future at the expense of enjoying the present. And as I've stated before, it's imperative that we find a way to enjoy the journey, because it's the most important part.
2. What if you don't reach the exact goal?
What if, for example, you don't reach that pant size or ideal bodyweight? What if you come short of your goal?
Many people, unfortunately, will say they failed. And that is terrible because they'll neglect to realize and appreciate everything they've done and accomplished along the way. I've seen this too many times to count. Someone may have weighed 190 pounds and set the goal of reaching a bodyweight of 150 pounds but "only" reach 160.
They think they failed, but they didn't! They lost 30 pounds! But because they fell 10 pounds shy of their ideal weight, they think they failed.
That brings us to another point . . .
3. What if you're actually happier without reaching the initial goal?
What if you achieve phenomenal results that you love, and can maintain long-term, that are technically short of your initial goal?
Continuing with the same fat loss example above, what if that same lady (who went from 190 pounds to 160) actually felt wonderful at that weight and like how she looked? What if this was a weight she could maintain with ease long-term?
Despite feeling great and loving how she looks, she may feel compelled to keep striving for her original goal. This may lead to unnecessary dieting, more grueling workouts, and could even lead to disordered eating habits.
4. Can lead to long-term dissatisfaction.

I've not only seen this happen to other people, but I've experienced it myself. Setting specific goals can sometimes lead to dissatisfaction.
If you reach that goal, you discover you're not satisfied. You want more. You want to look even better. You want to weigh even less. This may put us on a roller-coaster of constantly chasing a "better" body or smaller pant size and cause us to never be fully satisfied with what we've already achieved. As a result, we may develop or exacerbate a negative self-image.
We can become obsessed with setting and reaching new goals, and this can cause our original health and fitness regimen to be not-so-healthy.
5. You can't control where or how your body sheds fat.
"I want to lose fat on my belly" or "I want to get rid of this flab on my arm" is another common goal.
For one thing, spot reduction via exercise has been shown to be largely ineffective, so just because you may want to lose belly fat doesn't mean you can directly control it, no matter how many abdominal exercises you perform.
Your body will shed fat in a way that is out of your control – you may want to lose fat on your belly but you may shed it elsewhere first before your belly noticeably shrinks. And obsessing over fat loss on a specific area of your body leads to stress and frustration.
As you can see, there are some drawbacks to specific fat loss goals. What then is the solution? Forget about specific fat loss goals. Focus on the things you can control like actions and the process itself.
The Fat Loss Process & Actions
Instead of thinking about reaching a specific bodyweight or pant size, focus on the actions you can take on a daily basis. Make it all about the process.
What are the things you can control and what can you do that will cause fat loss? That is the real question, and answering it is what matters.
A great way to approach this would be to list the actions you can take that will create a fat loss process. You could record these things in a journal or even on a calendar so you can track and check off each day as you go along.
Here are some actions that will lead to your goal of fat loss*:
Strength train three days per week (here's a minimalist program you can use)
Go for a walk (or play!) 2-4 times per week
Make sure your first meal of the day consists or real, whole foods that you enjoy such as the 4 Ingredient Oatmeal French-Toast Cake (this helps with satiety and can help you make better food choices throughout the day as opposed to choking down food you don't like which could cause you to seek out tasty food that may not be healthy)
Strive to get at least 7 or more hours of sleep each night
Eat your meals slowly and mindfully
You can record these actions in a notebook and review them daily to ensure you stay on track and that you do these things consistently.
And by focusing on the actions you'll be able to appreciate the progress you make every single day instead of allowing your happiness to revolve around reaching a goal.
*It's important that you tailor the actions to your personal goals and schedule. For instance, if you know you can make it to the gym three days per week but no more, don't have an action goal of going four times per week! Set yourself up for success by creating realistic (simple!) actions you know you can do consistently. I call this the One Question Fitness Test, and it's important that you reply with a "yes".
By having a process and actions laid out for you, you'll be much more likely to enjoy the process, and you won't have to deal with any of the possible disadvantages to specific fat loss goals. And if you want more information on losing fat, be sure to check out the Simple Fat Loss Tutorial.
Focusing on actions and the process is something you can apply to anything. Whether you want to get stronger or build muscle or achieve something that isn't fitness related (e.g. write a book – it's not about finishing the book: it's about focusing on the process of writing consistently), focus on the process and don't obsess over specific goals. Focus on what needs to be done to get there.
Like what you're reading? Never miss a thing. Sign up below to subscribe to the Lift Like a Girl newsletter; you'll also get the free Beautiful Badass Mini Course.