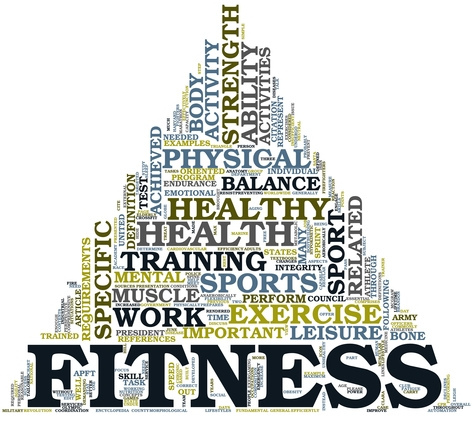 Health and fitness.
Think about that phrase for a moment: health . . . and fitness.
What does it mean? While the exact definition my vary from person to person, I think it expresses a sentiment of improving your quality of life by building a strong, resilient, functional body that ultimately serves you.
The details such as exactly how's that's accomplished (whether through strength training, organized exercise, sporting events, physically active hobbies, etc) can be debated, but one would think it's about establishing sustainable habits so you not only reap short-term benefits, but long-term benefits too (e.g. decrease risk of disease, etc). And, ultimately, a health and fitness regimen should enhance your life, and not dominate it.
However, if you thumb through some of the latest magazines and scroll through popular websites, that's not always the impression we're getting.
Health and fitness.
Some resources have turned it into a game of constantly striving to reach a lower body weight coupled with strict dieting methods and long, grueling workout routines. Often it looks like a race to see who can eat the least and work out the most. And sometimes the information is just downright degrading.
Where Health and Fitness Has Gotten Off Track
Instead of focusing simply on eating better in a sustainable way (e.g. eating mostly real, whole natural foods) we opt instead for the latest rapid fat loss diet that has a list of forbidden foods that can often lead to binge eating and other disordered eating habits. Inevitably we combine this dieting mentality with a rigorous workout routine that often leads to burn out, overuse injuries, and exhaustion.
I'm no exception; I've been guilty of this before.
For a period of time I had lost sight of what truly mattered – building a stronger body that serves me while improving my overall health – and focused instead on trying to build a "perfect" looking body. As a result, my self-worth was tied to a series of numbers and I always felt like I was falling short.
"I could be leaner" I thought as I looked in the mirror.
"I could do an extra workout" I'd proclaim as I forced myself to wake up early for an additional cardio session.
"This is going to make me fat" I uttered as I ate a peanut butter and jelly sandwich.
My "health and fitness" routine was causing excess anxiety as I constantly tried to chase the perfect body and compelled me to diet harder, work out longer, and push through exhaustion and mental fatigue. In retrospect, this is certainly not health and fitness.
Thankfully many years ago I got back on track and rid my life of anxiety caused by health and fitness and returned back to the simple basics that provided the majority of the results without the unnecessary stress. While looking good always has, and likely always will be, something I want to maintain, I'm now able to look beyond just the physical benefits I have achieved from choosing to eat well and work out consistently.
I want my body to serve me and allow me to live an awesome life.
It's important that I have a high level of overall health so I can participate in nearly any physical activities I want, be it hiking, kayaking, skiboarding, bouldering, or anything else. Training smart to ensure I don't acquire another terrible injury has taken priority over getting strong regardless of the consequences.
I'm not afraid to listen to my body and back off when things don't feel quite right instead of allowing my ego to take control and pushing through fatigue or a nagging injury.
Perhaps you've gotten off track with your health and fitness routine. Maybe you're spending too much time dieting and working out and you'd like to put the "health and fitness" back into your regimen.
How to Get Back on Track
It's time to put the "health and fitness" back into our habits and routines and remember why we make an effort to eat well and work out.
To begin, we would be wise to follow the sage advice from Brad Pilon:
"Beware the person selling suffering as dedication, exhaustion as virtue, and obsession as health."
Allow that to sink in for a moment. Your health and fitness regimen should not require you to suffer or force you to revolve your life around a particular plan.
Another way to apply this suggestion is to not read magazines, articles, books, or websites that make you feel bad about yourself, set grossly unrealistic standards, or try to force you into some preconceived "ideal" mold.
And when it comes to examining, or even changing, your current health and fitness habits, ask yourself the single most important question: "Will I still be able to do this one month, six months, and one year from now?"
Though it's not the least bit sexy or exciting, it would behoove you (all of us) to adopt simple, flexible, sustainable guidelines that can be tailored to our lifestyle, preferences, and needs. A terrific place to start would be the 6 (Sane and Simple) Rules to Lift Like a Girl.
And the goal? Well, that's ultimately up to you, but you can't go wrong with focusing on becoming the strongest, most awesome version of yourself. Not a "new and improved you" and not the images you see littered in the fitness magazines or memes floating around social media – but the best version of yourself. Be proud and love your body not just for how it looks, but for what it can do.
The goal should be to build a body that serves you and improves your overall lifestyle. You would work toward applying a few simple guidelines that are as stress-free as possible that you can maintain long-term.
It's time for us to be reminded of what "health and fitness" truly means, and to practice it in our everyday lives.
Want more information? Be sure to sign up to receive updates when new articles are posted to Lift Like a Girl. You'll also get insider only information and a free gift (spoiler alert: it's the Beautiful Badass Mini Course and includes a sample workout program). Sign up below.