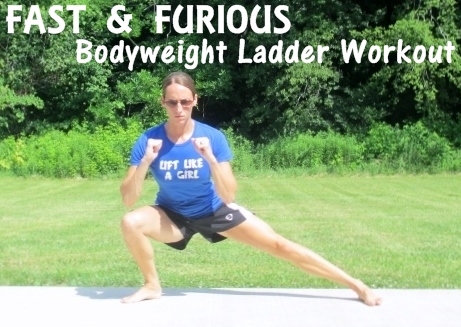 Yes, I know the title is somewhat stupid (okay, really stupid) for a workout, but it's catchy. It's also appropriate because . . .
Sometimes you just want a quick, tough workout.
Sometimes you need a workout you can perform at home when you can't make it to the gym.
And sometimes, when you have a home gym and it's a frosty and frigid 20 degrees in the garage and you don't feel like putting on 37 layers of clothes and doing an extra long warm-up just to work out, you need a back-up workout that can be done in the comfort of your living room.
The latter applied to me the other day when it was in the teens outside and I wasn't in the mood to bundle up and face the cold in my garage home-gym. Instead of skipping my workout all together and sipping a hot cup of peppermint tea, I decided to do a bodyweight workout in the comforting warmth of my living room. This is a perk of bodyweight-only workouts; you can do them absolutely anywhere.
Moving on . . . I wanted a "fast and furious" workout – something that would force me to work hard but I could complete quickly. What I came up with was a 25 minute(ish) bodyweight workout that included four exercises done in a 10-1 ladder fashion. You've seen how to use ladders for building strength on Lift Like a Girl before, but the 10-1 ladder in this workout results in much higher reps per exercise and isn't focused on building maximum strength.
Let's look at the workout and explain how to perform the 10-1 ladder.
The Fast & Furious Bodyweight Ladder Workout
Let's begin with an overview of the workout and an explanation for how to perform the ladder.
The Workout:
This workout is to be performed as a circuit: perform each exercise one after the other.
*You can omit this exercise to save time, but include it if you want some extra booty-work.
Explanation of the 10-1 Ladder Method:
Perform each exercise, one-after-another in ladder fashion, starting with 10 reps and working down to a single rep for each exercise. Begin by doing 10 step-ups (on each leg), 10 push-ups, 10 glute bridges/hip thrusts, and then 10 inverted rows. Then 9 of each, then 8, then 7, all the way down to a single rep for each exercise.
Here's how it would look:
10 step-ups (per leg)
10 push-ups
10 single leg glute bridges or hip thrusts (per leg)
10 inverted rows
9 step-ups
9 push-ups
9 single leg glute bridges or hip thrusts
9 inverted rows
repeat for 8, 7 . . . 1 rep per exercise
Workout Notes:
The goal is to keep rest to a minimum and move quickly through the circuit, but do not get sloppy with your reps – make every rep count. Once the workout is completed you'll have performed a total of 55 reps per exercise (10+9+8+7+6+5+4+3+2+1 = 55).
Be sure to use a variation for each exercise that allows you to perform about 15 perfect reps. This is important so you don't fatigue too quickly which would happen if you used a more challenging variation that only allowed you to perform 10 or so reps for the first set.
As an example, let's assume you can perform 10 traditional push-ups. That would be a bit too challenging for this workout and you'd fatigue too quickly. Instead you should elevate your hands a bit so you use closer to a 15 rep maximum.
For the step-up you can use something sturdy around the house like a chair or coffee table – the higher the surface, the greater the difficulty. Just don't cheat! Too many people perform step-ups incorrectly by pushing off the non-working leg. Don't do that. To keep from cheating keep the toes of the non-working leg pulled up. If you normally push off with the non-working leg, you'll instantly see how much more difficult this makes the exercise, and you may need to use a lower surface to perform your step-ups.
For the inverted row, I prefer to use a suspension trainer that can be set up in a closed doorway. If you don't have one you'll need to get a bit creative: you can lie under a sturdy table and do inverted rows that way. Another option is to set up two chairs and hold on to the tops.
Improve Your Performance.
When you repeat the workout, strive to complete it in less time each time you repeat it; keep a watch or timer handy. Once you can complete the workout in five or more minutes less than the first time you performed it, progress to slightly more challenging exercise variations (e.g. from push-ups to close grip push-ups or increase the height of the bench/chair used for step-ups) or use new exercises all together.
Here's another sample circuit that uses only three exercises:
Perform that circuit using the 10-1 ladder explained above.
When Should You Perform This Workout?
Whenever, really.
Whether you can't make it to the gym for your regular workout, your garage is too hot or cold, you need a quick and challenging (fast and furious?) workout, or you need to shake things up a bit, be sure to try this Bodyweight Ladder Workout. This could also be used as an extra workout in your current program to boost fat loss.
For more bodyweight exercises and workouts, check out these articles:
Join the revolution! Sign up to receive the Lift Like a Girl Newsletter below. You'll also get the Beautiful Badass Mini-Course as a free gift.