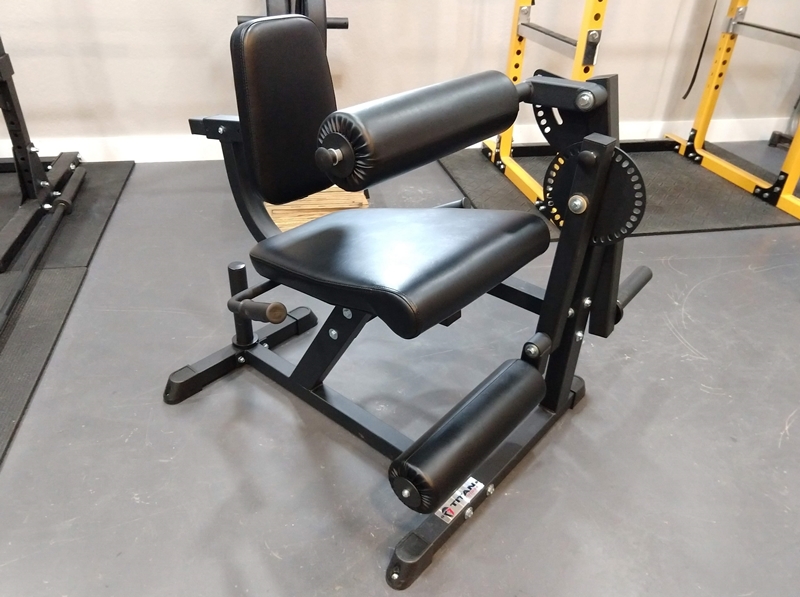 It's always exciting to add a new piece of equipment to my home gym. It can be a bit less fun when you spend your hard-earned money on something that ends up being a disappointment, and even more fun when something turns out to be better than expected.
Which one was the Titan Fitness seated leg curl and extension machine? You'll find out in this review.
Please note, I purchased this machine and Titan Fitness did not ask me to write a review. All opinions are my own. Affiliate links are used.
Let's start from the beginning …
As is the case with all Titan Fitness products (just like the Titan Fitness Linebacker Squat Landmine Attachment), delivery was free and it arrived quickly. The box got beat up pretty good during transit, but once inside the box I saw everything was packaged neatly and securely.
Every piece was there, including tools for complete assembly, though I used a ratchet to make the process quicker.
I've assembled all my racks and machines over the years, so when it comes to instructions I've seen everything from great step-by-step instructions to those … open to interpretation. The instructions for the leg curl and extension bench are provided on the Titan Fitness website. The instructions and accompanying photos were clear and easy to follow. There was one tiny mistake in the whole process: A bolt labeled "number 51" in the instructions was labeled "number 52" in the assembly kit.
Assembly was smooth and easy. I did it on my own, though an extra pair of hands could've been useful in a couple spots, but not necessary.
Why Get a Leg Curl and Extension Bench?
If you have a home gym, you know how selective you must be for every piece you get. Budget and space are limited, so when you get something, it must be something worthwhile.
I wanted something that would allow me to isolate and smoke my hamstrings and quads. Leg curls with a stability ball, suspension trainer, resistance band, a towel on a smooth floor, with a dumbbell, are great variations. But I got tired of messing with them. I just wanted to focus on moving the weight and smoking my hamstrings, and not fighting to balance or getting into awkward positions with a resistance band.
Same thing with leg extensions. They can be done with a stability ball or resistance band, but it just doesn't compare to moving weight through a controlled pattern without having to worry about stabilizing and balancing.
I chose the seated leg curl and extension bench over the lying leg curl and extension combo bench because the former has a smaller footprint (important for a home gym), and research suggests that seated leg curls may be a bit more effective than lying leg curls. As a bonus, I've found some additional exercises that can be done with this bench too, but more on that later.
First-Use Impressions
This is a solid piece of equipment. It feels sturdy and durable. This was a pleasant surprise because some at-home workout equipment can feel cheap and flimsy compared to commercial gym equipment.
The padding is dense and comfortable, every part moves smoothly, and the design seems well thought through. More on this in a moment.
I was concerned that the movement may not be super smooth. Some reviewers said the first few inches of the movement felt like it didn't have any tension. I noticed this too when doing the leg curl with light weight, but found it was easily remedied by adjusting the foot pad. I raised it higher to compensate for the little bit of "sinking" it did through the first few inches. Once I got to 65 pounds and heavier, I didn't notice this issue at all. (It's simply due to the design of the machine and the duality it provides for curls and extensions.)
If you've ever used a leg extension and leg curl machine at a gym — the type that has a stack of plates connected by a cable that adjusts with a pin — this will feel different. But it is smooth and I was confidently able to smoke my hamstrings and quads with the first workout. I did have to play with the adjustment settings a bit, but that's expected with a new piece of equipment.
The footprint is smaller than I expected too and I'm happy to say that, so far, the seated leg curl and extension bench has exceeded my expectations over the past three months I've been using it.
Favorite Features
I appreciate that the adjustment settings were well thought through in the design of this leg curl and extension bench. Not only can the back pad be shifted forward and backward, but the bottom pad that you sit on can be tilted up and down. I found this extremely useful to find the most comfortable position for the exercises.
Can It Do Anything Else?
Yes! Not only can you do bilateral and unilateral (one leg at a time) extensions and curls, but this bench allows you to do standing single-leg hamstring curls.
You can even do a "glute kickback," or what you may refer to as a variation of a single-leg reverse hyper.
Being able to do more exercises than anticipated is a huge bonus for a piece of home workout equipment.
Quality?
This is where I was pleasantly surprised. I have a couple other Titan pieces that I love, but upon close inspection you can see some blemishes and lack of finesse with the welding. But the Titan Fitness seated leg curl and extension bench is high quality.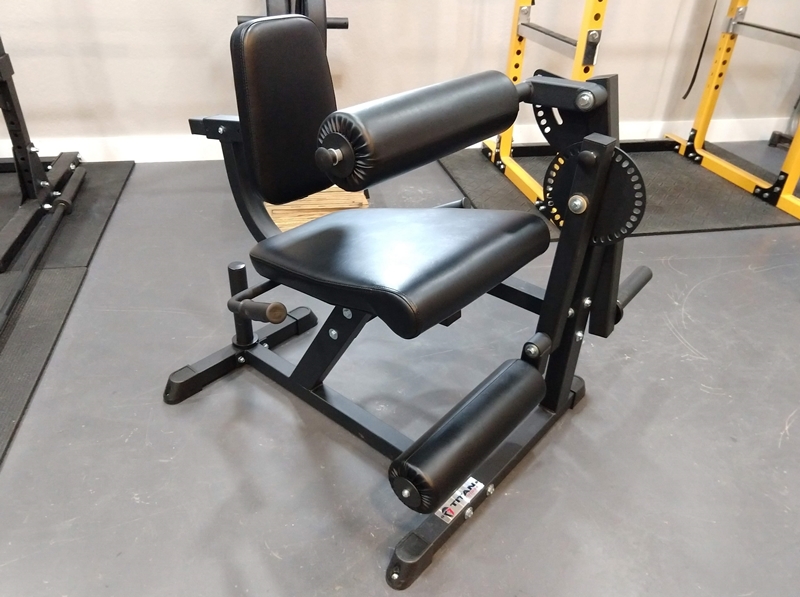 Even the padding is dense and feels durable, unlike some equipment I've bought in the past from other manufacturers where the padding mashed down into nothing over a short period.
Durability?
Only time will tell so I can't comment on this right now as I've only been using it for a few months. However, after having used lots of home gym equipment over the years, I am confident this piece will last, based simply on the assembly and "feel" of the equipment over the past several uses.
What Would I Change?
It would be convenient if the adjustment settings for the seat and leg attachment were numbered. While it would be easy enough for the seat setting, I don't think it's possible with the leg attachment, because of how it rotates when switching from leg extension to leg curl.
There is a post on the back of the bench to put weight plates for counterbalance. While it works well enough it's a bit awkward loading and unloading the plates in that spot. I would prefer to have two posts, one on each side instead of one smack in the middle, to make for easier loading and unloading.
Those are the only two tiny things I would improve. Other than that, I'm extremely happy with this purchase.
Click here to check out the Titan Fitness Seated Leg Curl and Extension Machine.