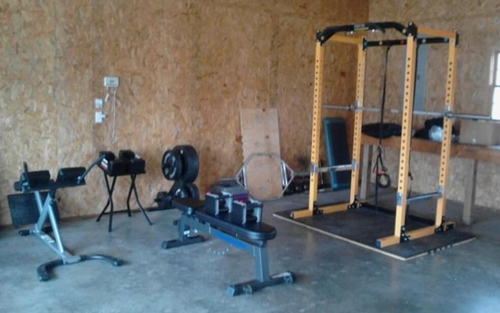 Creating a home gym depends on two main factors: your budget and the amount of available space.
And I will say this – it's not mandatory to have a huge home gym. You don't need a lot of equipment. Sure, variety is nice but you can get strong, lose fat, and build a healthier body with just a few tools.
The amount of equipment you have isn't what's important – making the most out of what you do have is what matters.
That's something to keep in mind whether you start your home gym with one piece of equipment or ten. Money saving tip: save money by checking out local yard sales, Craigslist, used sporting goods stores, and even eBay.
Now let's check out some options according to your budget and available space.
Please note affiliate links are used for the equipment discussed here.
Bodyweight-Budget Option
Bodyweight workouts don't always get the respect they deserve. Some people think it's not possible to get stronger, lose fat, and build muscle with bodyweight-only workouts. Another myth is that there's not much variety if you're just using your bodyweight. Both are incorrect.
The Bodyweight-Budget Option is the solution for those with a limited budget and space. Another tremendous benefit is that this gym is also portable. Take anywhere, anytime.
Here are the recommended equipment options for the Bodyweight-Budget home gym:
Suspension trainer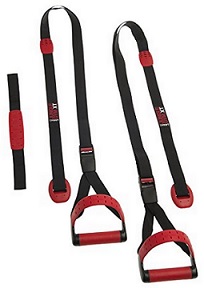 – this is the first piece of equipment I recommend because it's not too expensive, is travel friendly, and allows for a lot of variety. If you can only get one thing, make it a suspension trainer.
You can secure it in a closed door for most exercises, but it's helpful to be able to secure it to a bar/beam or other sturdy object for exercises like chin-ups and leg curls. My favorite suspension trainer is the Jungle Gym XT.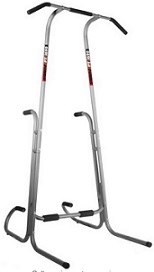 Multi-grip pull-up bar or a power tower – if you get a suspension trainer and can loop it around something a weight bar, sturdy tree branch, basement beam or anything else you don't need either of these, though they can provide some additional variety.
If I had to pick one of these it would be the power tower because it would allow for a bit more variety and is better for performing assisted pull-ups and dips. You could also secure the suspension trainer to the pull-up bar for exercises like inverted rows, leg curls, fallouts, and other exercises. But if you have limited space the multi-grip pull-up bar is a better option.
Great Free-Weight Home Gym Starter
Even if you want to do mostly free weight training at home, I still recommend a suspension trainer as shown above because of the variety it offers. Here are some great tools for free weight training that don't take up too much space or destroy your budget.
Adjustable dumbbells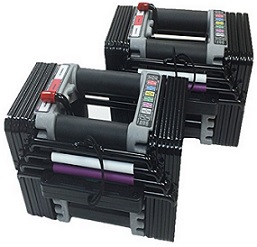 – I have PowerBlock adjustable dumbbells in my home gym, and I love them. This particular set adjusts from 2.5 to 50 pounds in 2.5 pound increments. They're compact so they don't take up much space, and mine have proven to be incredibly durable and they're much cheaper than an equal set of individual dumbbells (plus, with this particular set you can increase the weight by as little as 2.5 pounds).
Some additional tools can complement the adjustable dumbbells very nicely …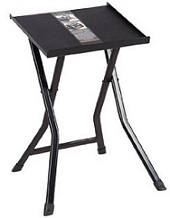 I also have a compact stand (pictured right) for the 'bells. This stand was cheaper than other options, but has proven over the years to be plenty safe and durable while taking up less space in my home gym.
It's nothing fancy and you could get away without one, but this is much easier to adjusting the weight of the 'bells and better than picking the dumbbells off the floor every single time you use them.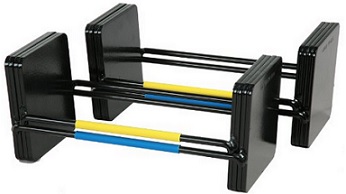 An expansion set is also something to consider for your adjustable dumbbell set. For my adjustable dumbbells I got an additional 20 pound expansion set so each 'bell goes up to 70 pounds.
You'll likely outgrow the 50 pound dumbbells at some point but you may not need to get the 20 pound expansion initially. You could get this for a purchase later on, but it's definitely worth considering.
Adjustable weight bench – you can still perform a wide variety of dumbbell exercises without a weight bench, but having one is great for variety. There are dozens of options but I recommend getting one that's adjustable for more versatility. The particular bench shown here also folds up if you need to save space.
Larger Budget & More Space
If you want maximum variety or want to perform barbell exercises, the next step would be to get a great barbell set and a power rack.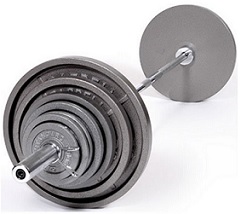 300 pound barbell set – this is the standard barbell set. Don't go super cheap here, otherwise you may be a low quality bar or weight plates that aren't truly close to their given weight. I've heard some people say they got the cheapest set they could find and some of the weight plates were off by a couple pounds or more.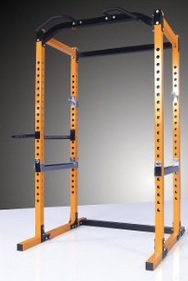 Power rack – if you want to be able to squat and bench press safely, a power rack is a must, especially if you train solo. If you get a power rack I recommend one with a pull-up bar and parallel bar dips. My power rack has these and I love them (pictured to the right). If you get a power rack with these features then you definitely don't need a power tower as mentioned in the Bodyweight-Budget option above.
I purchased my power rack during a Christmas sale at my local Dick's Sporting Goods store. You may be able to find one on Craiglist or a used sporting goods store.
More Fun Toys to Consider
If your home gym has adjustable dumbbells, a weight bench, suspension trainer, barbell set, and power rack, you've got plenty of options to keep you training with limitless variety.
And, yes, you can always add more toys depending on your budget, available space, and training preferences. Here are some other great items to consider:
I'm sure you can think of more, but that's a great start.
Important Reminder …
No matter what equipment you choose to get first, remember the most important things when it comes to achieving results from your workouts:
Use the best exercises
Improve your performance, gradually, when possible
Be consistent
That is what matters most regardless of how much equipment you have.
Check Out These Additional Resources
Here are some workout programs to get your started:
Hopefully now you have some great ideas to start building your home gym!
This article does include affiliate links for products. The commission I receive from these purchases help me keep this site running without ads or annoying pop-ups. Thanks for your support!