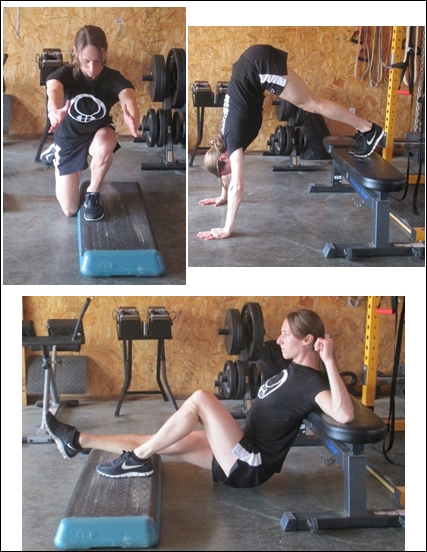 Do you include the exercises in this article in your workouts?
If you don't, you most certainly should.
Some people incorrectly assume that you can't lose fat, build muscle, or get stronger with bodyweight workouts. They think, since you can't "progressively overload" bodyweight exercises (i.e. add more weight as you can with dumbbell and barbell exercises) that you can't make progress long-term.
Now, if you only perform traditional push-ups and bodyweight squats with your bodyweight workouts long-term without any progression, that's absolutely correct.
However, if you use an appropriate variation for an exercise and progress to more challenging/advanced variations, then you're improving your performance and THAT is what matters most, no matter what workout tools you use.
Another reason these bodyweight exercises are so awesome is because you can do them absolutely anywhere: at home, at a local playground, when you're traveling … anywhere. And for those who are trying to save money and don't want to pay for a gym membership, bodyweight workouts allow you to keep training and getting results.
Below you're going to be presented with seven of my favorite bodyweight exercises and their variations. Whether you're an absolute beginner or a seasoned strength trainee, you'll be able to scale the exercises listed below to your current strength level, and see how to progress as you get stronger.
The criteria for these "best bodyweight exercises" are:
They must be scalable to a trainee's current strength level and have easier and more difficult variations
They must be compound exercises that work a lot of muscle mass at once
All exercises combined must work every muscle in the body so you can build an effective strength training program
Now that you know what qualifies the exercises, let's look at seven of the best bodyweight exercises you should be doing. Listed in no particular order …
1) Push-up
This is probably the most popular bodyweight exercise, but that doesn't make it any less awesome. This is one of my favorite upper body pressing exercises for the chest, front of the shoulders, and triceps. You also get the added bonus of working your core from having to stabilize your torso.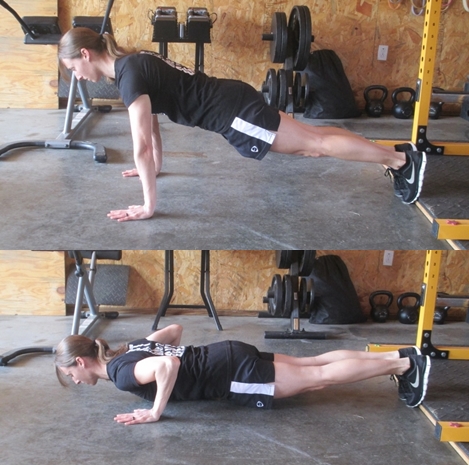 Those two pictures show what a good old fashioned push-up looks like. Always remember when performing a push-up to keep your stomach and butt squeezed HARD the entire time. This ensures your body stays in a straight line from your head to your ankles, and also makes the core-work portion of this exercise a bit more challenging. Be sure to pay attention to the position of my arms in the bottom position – they're somewhat tucked to my sides. If viewing from above my body would be in the shape of an arrow ↑. Your body should not form a T shape in the bottom position (this puts unnecessary stress on your shoulder joints).
What if you can't (yet!) perform regular push-ups? What if you can already do 20 or more?
That's when push-up variations come in to play.
To make any push-up (regular, close grip, etc) easier, simply elevate your hands.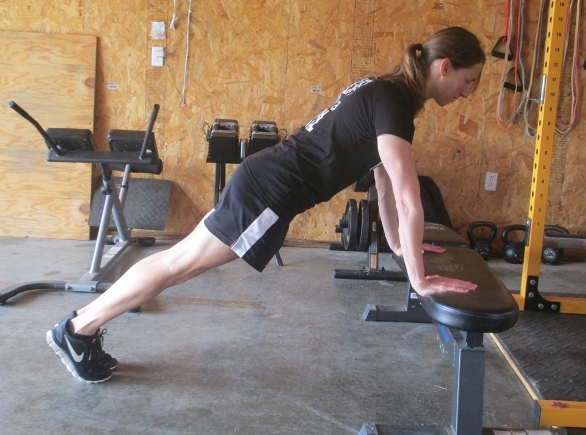 And to make push-ups more challenging you do the opposite: elevate your feet.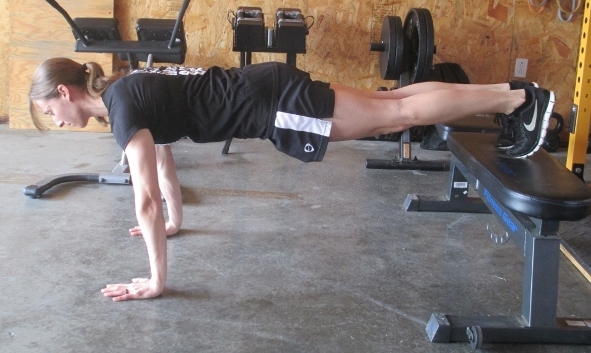 And when feet elevated push-ups become too easy, then you can start performing one arm push-up variations. Do the same thing with them: make them easier by elevating your hands, and as you get stronger, use a gradually lower surface. Working toward a true one arm push-up will keep you busy for quite a while!
2) Inverted Row
Inverted row variations are my favorite horizontal pulling exercise that primarily works the back and biceps. And just like a push-up variation your core has to work as well to keep your body in a straight line. It helps some trainees to think of this exercise as a "reverse push-up".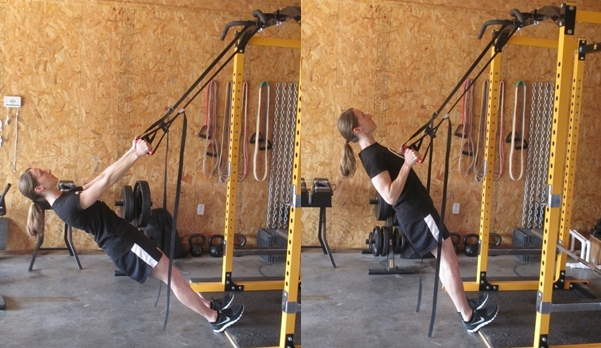 As with push-ups, keep your body in a straight line from the top of your head to your ankles, and squeeze your butt and stomach the entire time. As you pull yourself up to the handles, pull your shoulder blades down and back and squeeze them together hard in the top position.
To make inverted rows easier, you simply increase the height of the handles. The closer your body is to being perpendicular to the ground, the easier it will be. (I'm using the Jungle Gym XT suspension trainer in the photos, and that's an affiliate link).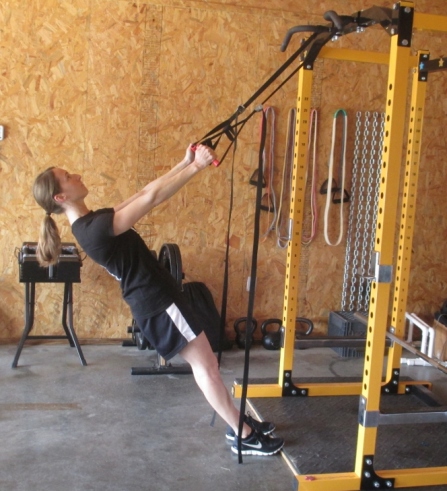 To make inverted rows harder, lower the handles. The closer your body becomes to being parallel with the ground, the harder it will be. And to make it even more challenging (once you can no longer lower the handles without hitting the ground) elevate your feet to make the movement even more challenging.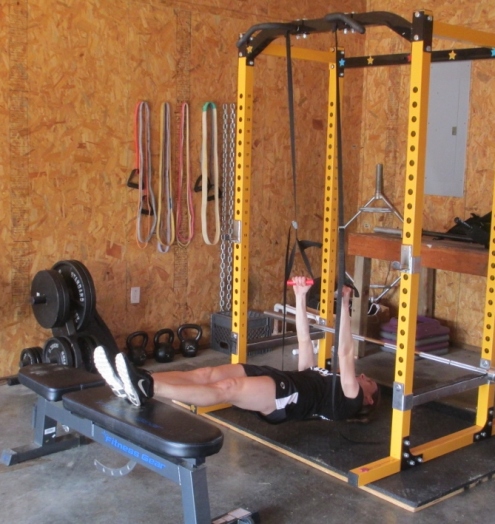 And what do you do when feet elevated inverted rows become too easy? Start using one arm inverted row variations. Make them easier by performing them at an angle and gradually lower the handle as you get stronger.
3) Single Leg Squat to a Box
Single leg squats to a box are one of my favorite bodyweight exercises for the lower body.
This exercise is not only great for working the quads (and also the glutes and hamstrings, especially as you are able to squat lower as you get stronger) but it's super easy to scale to your strength level.
Need to make this exercise easier? Squat to a higher box to shorter the range of motion.
Need to make this exercise more difficult? Squat to a lower box to increase the range of motion. This is a great way to progress to a full pistol squat, which is simply squatting all the way down to the point where your butt touches your calf.
4) Single Leg Hip Thrust
The single leg squat to a box primarily works the quads, and the single leg hip thrust is one of my favorite exercises that primarily targets the glutes (a.k.a. your booty).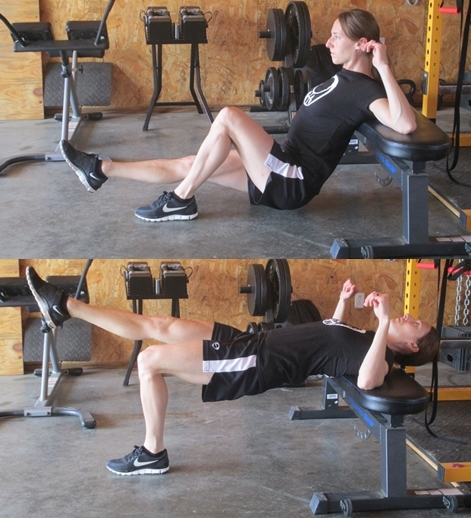 This is one of my all-time favorite glute exercises. When you perform single leg hip thrusts be sure to focus on "thrusting" your pelvis up to the ceiling, and squeeze your glutes HARD in the top position. I recommend holding the top position for 1-2 seconds before lowering down.
Make this exercise easier by performing a single leg glute bridge.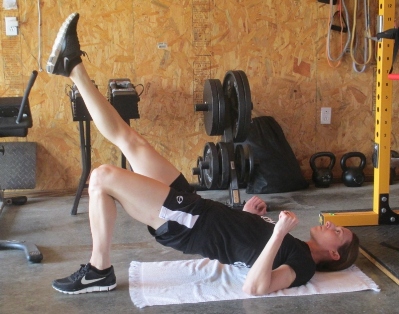 This is easier because the range of motion is shortened. Do the same thing: focus on thrusting your pelvis up to the ceiling and squeeze your glutes hard in the top position.
You can make single leg hip thrusts more difficult by increasing the range of motion.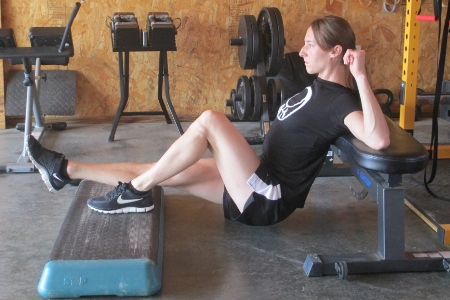 By putting the front foot on an elevated surface (generally between 2-6 inches) you're increasing the range of motion of the exercise, thus making it more challenging.
5) Pike Push-up
The pike push-up is a great bodyweight exercise that primarily targets the shoulders and triceps; it's the bodyweight exercise equivalent of an overhead press with a barbell or dumbbell.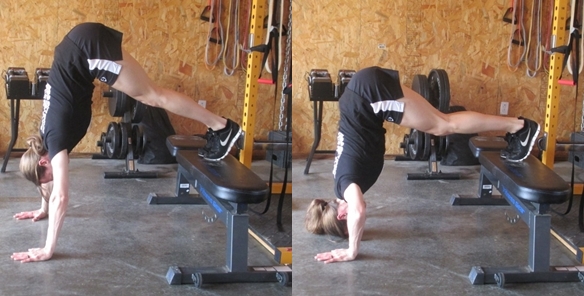 Your hands should be a bit wider than shoulder-width apart and you want your butt above your head; your torso should be perpendicular to the floor. Lower under control until your head lightly touches the floor, then press back up.
You can make this exercise easier by performing it from the floor.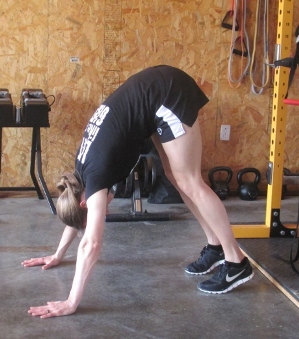 This pike push-up variation is easier because you'll be pressing a lower percentage of your bodyweight since your feet are on the floor.
You can make the pike push-up more difficult by either putting your feet on a higher surface (progressing to a height that's equal to your belly-button is a good goal to shoot for) or also by raising a leg above your head.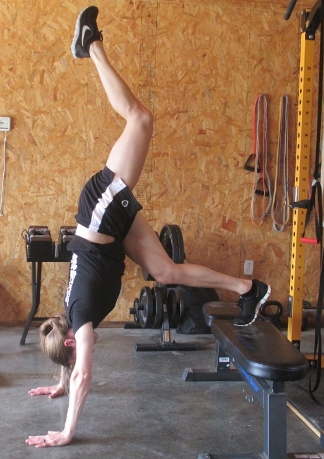 Try to have the extended leg be in a straight line with your torso. This make the exercise more challenging because you'll be pressing a higher percentage of bodyweight, due to the extended leg. Be sure to alternate legs every set.
Once pike push-ups from an increased height and with an extended leg becomes too easy, you can progress to handstand push-up variations or even assisted handstand push-ups.
6) Pull-up
We all know what a pull-up is, and you may have terrible (or great) memories of attempting to perform pull-ups in gym class.
There are two main to make pull-ups easier. The first (and my preferred way) is to perform assisted pull-ups with resistance bands. If you don't have resistance bands the other option is to use leg drive for assistance. Either use a bar that's low enough so you can keep your feet on the floor, or stand on a sturdy box/bench/chair and use as much leg drive as needed. If you can't (yet!) perform unassisted pull-ups, stick with those easier variations.
If even assisted pull-ups are a bit too challenging, stick with inverted row variations and focus on getting stronger with those. After you build your strength with inverted rows you can once again try assisted pull-ups.
And there will hopefully come a time for every trainee when they can perform several unassisted pull-ups in a single set. One way you can make pull-ups more challenging is to use more difficult grips (towel chin-ups are a favorite) or to progress to L sit pull-ups.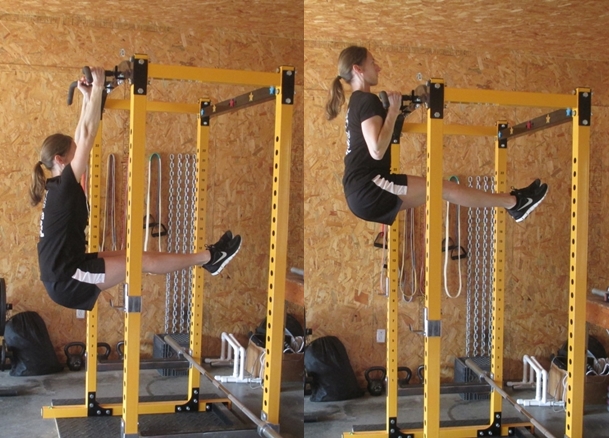 These are brutal, not only for your back, but also your abs. You can make L sit pull-ups easier by simply bending your knees and holding that position.
7) Skater Squat
This is an exercise that looks deceptively easy, but they're great for working your lower body.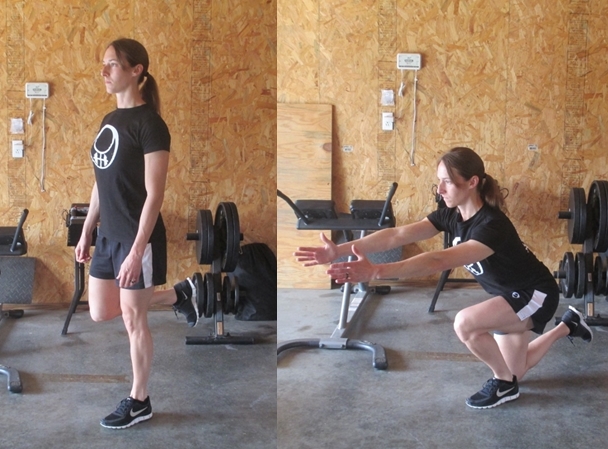 Bend the knee of the non-working leg, lower under control until the knee of the non-working leg lightly touches the floor, then squat back up. As you can see in the photo, I also like to extend my arms in front of me for counter-balance as I squat down.
Most trainees can't do this from day one, so it's necessary to perform an easier variation. All you need to do is decrease the range of motion.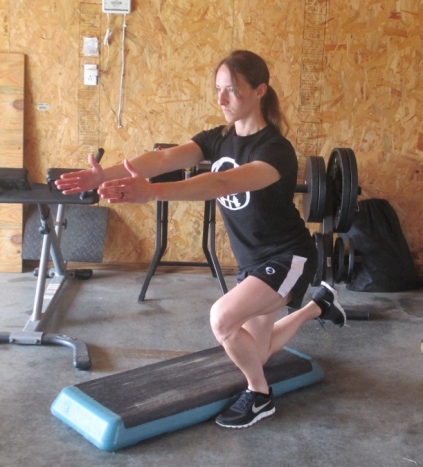 Decrease the range of motion (thus making the exercise easier) by putting a box/plates/mats under the non-working leg. The higher the surface you use, the easier the exercise will be. Gradually use a lower surface as you get stronger until you're eventually performing the regular version shown above.
To make the movement more difficult (once you can perform the regular variation), increase the range of motion.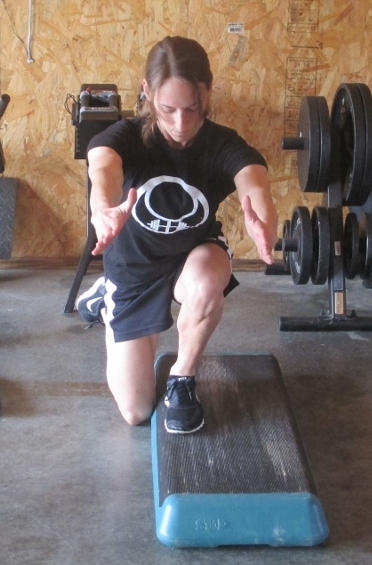 To make skater squats more difficult, begin by standing on an elevated surface with the working leg of about one inch. As you get stronger, increase the height by about one inch at a time. Progressing to a height of about six inches is a good goal.
There you have it – seven of the best bodyweight-only exercises (and their variations) you should be using in your workouts.
A great goal to shoot for is to progress to the more difficult variations of each exercise above. Do that and you'll definitely be stronger and likely build muscle or burn excess body fat in the process. I guarantee that when you're able to bust out skater squats from a deficit, advanced pike push-ups, and L sit chin-ups that you'll look noticeably different.
Bodyweight workouts are simply another way to strength train. It can present a fun new challenge and allow you to get stronger in a different way than traditional weight lifting. If you're getting bored with your current workouts, or want a new challenge, start performing the exercises presented above.
Want a Done-for-You Bodyweight Workout Plan?
If you want to work out exclusively with bodyweight exercises, then check out the complete, done-for-you, progressive workout plan, the Beautiful Badass Bodyweight Workout Guide.