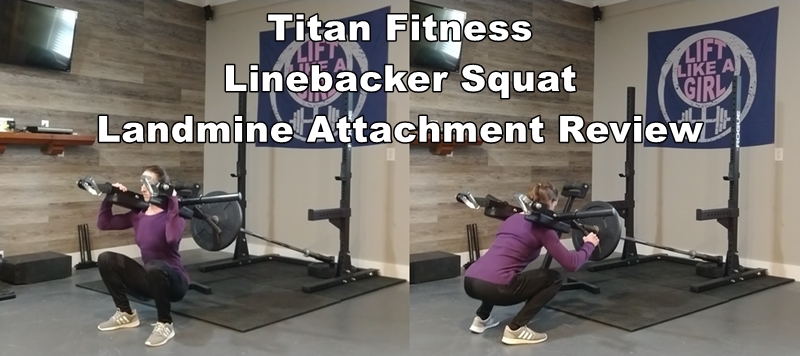 I've had the Titan Fitness Linebacker Squat Landmine Attachment and Landmine Stand for a couple years. Because I've received numerous questions about them when people see them in my workouts, I thought it was time to give a proper review.
Please note I purchased this equipment and I was not asked by Titan Fitness to write a review. Affiliate links are used for the products discussed here.
Why the Titan Fitness Linebacker Squat Landmine Attachment and Landmine Stand?
The primary reason: I was looking for a space-saving piece of equipment that would allow me to train my legs in ways I couldn't with barbell and dumbbell exercises. As much as I love barbell squats and landmine squats, I wanted to perform exercises that required less stability (in case of the former) so I could focus exclusively on my legs, and was more comfortable to perform (in case of the latter). Landmine squats are a great exercise, but they can be awkward and get cumbersome as you get stronger. You become limited not by how much you can squat but by how much you can comfortably hold in position.
The Linebacker Squat Landmine Attachment allows you to perform a "linebacker squat," or what I would call more of a front squat variation, and a "hack squat" variation. I quickly enjoyed these exercises because I could focus solely on smoking my legs while sparing my low back and not focusing on holding a weight in place. 
Front squat (i.e., linebacker squat)
"Hack squat"
You can see in the videos that the Linebacker Squat Attachment and Landmine Stand are a great pair. They are sold as a combo for just $230, which is a great price.
If you have no interest in the Landmine Stand, you can get the Linebacker Squat Attachment for $150.
Is It Worth It?
There are three important factors when purchasing equipment for a home gym one must keep in mind: versatility, budget, and space.
Because space is limited, every piece of equipment I get for my home gym must provide some versatility. That's why I love barbells and dumbbells because you can do a plethora of exercises with them. I quickly learned the Linebacker Squat Landmine Attachment would allow me to do more than squat variations, which was a big selling point for me.
Here are some pros and cons I discovered both upon immediate inspection and after two years of use.
Pros
Padding is dense and durable. I've been pleased with the quality of the padding. It's dense and has held up well over the years. There's no "squishing" as can happen with lower-quality products.
Lots of exercise variety. I've used the Linebacker Squat Landmine Attachment more frequently as I've found more uses for it. Here are some of the most common exercises I use it for, along with a few you may want to try for yourself.
Viking press demonstration (i.e., shoulder press)
One interesting thing to note: People who can't comfortably perform a standing barbell press may be able to perform this variation without discomfort. Something about the motion of pushing up and forward seems to be a great variation for people who can't perform a regular barbell press without discomfort. If you don't like the traditional barbell press, this could be the variation for you.
Calf raise demonstration
"Trap bar" deadlift demonstration
Romanian deadlift demonstration
There are certainly dozens more exercises that can be done: reverse lunges (I like these a lot too), shrugs, rows, rear-foot-elevated split squats, single-leg Romanian deadlifts, push presses. If you want to mimic an exercise where you normally hold dumbbells at your sides (like dumbbell reverse lunges) you can hold the handles of the Linebacker Squat Attachment. If you want to mimic a barbell variation of an exercise (like barbell reverse lunges) have the attachment on your shoulders.
The other two factors mentioned — budget and space — were considerations when purchasing this equipment. The footprint of both is quite small, and I think the price point was excellent when considering everything the equipment would allow me to do.
Cons
The first thing I noticed when I received the Linebacker Squat Attachment was the powder coating: It's not the best, and some had already flaked off before I even took it out of the box. The welding isn't clean and crisp when compared to something you would see from Rogue, for example.
The other nit-picky issue is that the handles aren't entirely symmetrical. The angles are a little different and both tilt to the right.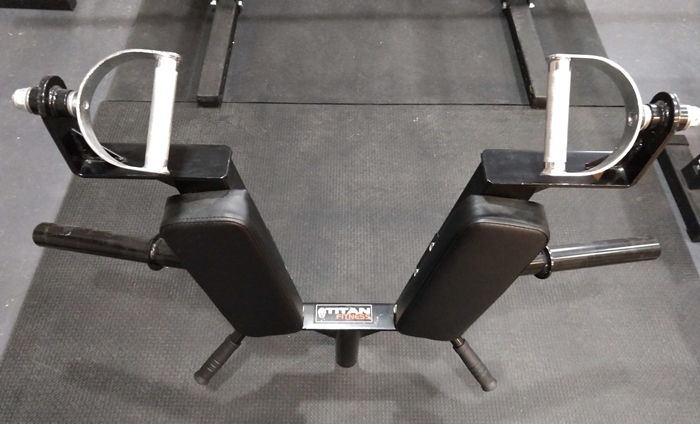 Despite those minor drawbacks, after regular use over the last couple years, these two pieces have held up well. They even survived an arduous move into my new home gym.
User Recommendations
There are side posts where you can put weight plates, but I would only use them for ground-based exercises, like deadlift variations or lunges when holding onto the handles. Loading the side posts when the Linebacker Attachment is on the Landmine Stand (like for presses or squat variations shown in the videos above) is too awkward and unsafe because it spins and can easily tip over.
For exercises like squats and presses, load plates onto the barbell sleeve (as shown in the videos) so you don't have to worry about it spinning and sending weight plates crashing to the floor. This means you'll have to take the squat attachment off every time you want to add or reduce weight, but it's quick enough to not be annoying. It's certainly easier than trying to balance it while loading plates onto the side posts!
So is the Linebacker Squat Attachment worth it? For the price and the variety it provides, yes, the Linebacker Squat Attachment is worth it. While I would like to see attention to detail addressed with future models, I am happy about this investment I made to my home gym. You can check it out here. It currently sells for $149.99.
Titan Fitness Landmine Stand Review
I think the Linebacker Squat Landmine Attachment and Landmine Stand pair together, especially if you plan on using the Linebacker Attachment for squat and press variations. If you can't safely create something at some to prop the Linebacker Attachment on, the Landmine Stand is a good investment.
The Landmine Stand adjusts easily and has several height settings. It's durable and has held up well over the past two years. There is a small change I would find beneficial: Coat the bottom of the stand with some type of "gripping" material. The smooth metal slides easily on a concrete floor. However, when the stand is on rubber matting, it doesn't have this issue. Just be mindful of where you place the stand in your gym. The Landmine Stand sells for $150.
If you get the Linebacker Squat Landmine Attachment, I think investing in the Landmine Stand is a good idea too. Otherwise it'll be quite cumbersome to come up with your own set up for making squats and presses easier to perform.
Click here to get them for a combo deal for just $230.
More Titan Fitness Product Reviews
You can also read the review of the Titan Fitness Seated Leg Curl and Leg extension machine right here. It's another great piece for your home gym, and it even had some unexpected, and awesome, surprises.