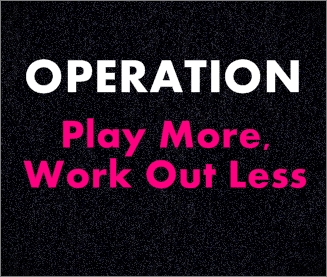 Exercise.
Work out.
I'm not sure about you, but sometimes those words have a negative undertone. Depending on how they're used, it can make your fitness regimen sound like a chore – another item to check off your to-do list.
Does this sound familiar after a long day at work? "Ugh. I have to go work out."
Perhaps you're like me. I'll go through spurts where I love strength training. I genuinely look forward to every workout and enjoy it from beginning to end. Sometimes strength training, in whatever form, be it bodyweight workouts or hoisting heavy barbells, is quite addicting, motivating, and just plain fun.
But then there are times where working out can be, well, boring. Sometimes you lose the zeal for training you once had and you just don't want to work out. This happens to me on occasion and for the past year or so it's been happening more often than usual.
My workouts started to become a chore. I didn't look forward to them, nor did I enjoy them. I did them partly out of obligation but also because I know the importance of resistance training for women. And as we know, it's easier to maintain a certain fitness level than to start back from zero down the road. I don't want to lose the strength I've built over the years.
But I still wasn't enjoying my workouts, and I finally realized about a month ago that things had to change, and the solution was simple – play more, work out less.
Introducing: Operation Play More, Work Out Less
Strength training was becoming progressively boring. It didn't matter how much variety I included in my workouts  because working out was the problem.
It wasn't fun any more.
Sitting on the couch and doing nothing wasn't an option, so I realized it was time to start playing instead of working out.
"What could I do at least once or twice a week that would present a new challenge, be a ton of fun, and get me physically active in a new way?" I asked myself.
That's when I decided it was time get back to an old hobby I hadn't done in 10 years – mountain biking.
There are several different trails where I live and this is something I can do year round. And it's definitely a change of pace from strength training!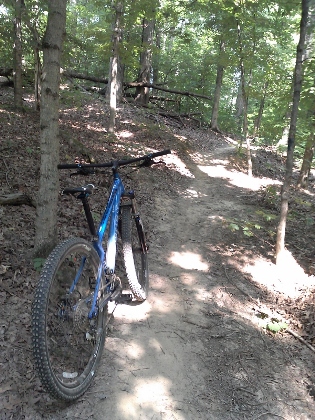 After deciding this would be our new hobby, we got some bikes, helmets (safety first, kids), and brushed up on some basic bike maintenance skills and hit a local trail that same weekend.
I'll be honest – after tackling an 11 mile intermediate level trail for the first time in 10 years, I was humbled. While strength training certainly had some carry-over to my new hobby, I quickly realized that my cardiovascular conditioning was . . . shall we say . . . about the equivalent of a new born baby.
I was sucking wind, my legs were giving out, and my heart pumped furiously. But I had a blast.
This was what I wanted. A new challenge. Something that got me outside and active in a new (fun!) way.
I just wanted to play and have fun.
It's been a few weeks since our first ride, and I'm enjoying my new hobby. Thankfully my lungs and legs are starting to improve a bit and I'm relearning some much needed mountain biking skills.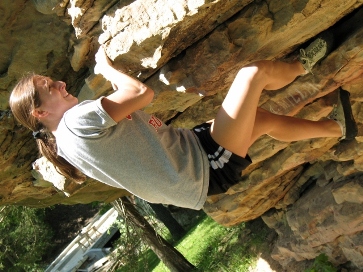 I'm also going to start bouldering once again, as you see to the left. It's basically rock climbing without ropes but you don't go very high – I usually don't go above 15 feet or so. All I need is a pair or rock climbing shoes, some chalk (which I have in my home gym) and I'm ready to climb.
We also have plans to start kayaking more frequently starting next summer since we live near a huge lake, but for now, mountain biking is our main hobby.
The whole point is – we're playing more, and working out less right now. We're having fun and being active at the same time.
So . . .
Am I abandoning strength training all together?
Absolutely not!
I'm still strength training about three times per week, but instead of those workouts being my main focus when it comes to physical activity, I'm now using them to supplement my other physical activities like mountain biking and bouldering. My strength training consists of bodyweight exercises (dips, push-ups, handstand push-ups, chin-ups, inverted rows, hip thrusts, etc), dumbbell work, various jumps, and safety bar squats.
That's the extent of my "working out". I'm spending the rest of my time playing.
What are the Benefits to Playing More, Working Out Less?
The short answer? There are a lot!
After only a few weeks of Operation Play More, Work Out Less I've already discovered several incredible benefits:
Make new friends: after visiting the local bike store and biking the local trails, I've made several new friends.
Learn new skills: mountain biking is more than just peddling through the woods. If you want to get good and be as safe as possible, learning basic skills is a must. And learning something new is always beneficial.
Develop new levels of fitness: I believe "health and fitness" is a relative term that means different things to different people. What did I learn from my first week of mountain biking? Sure, I'm physically strong, but my cardiovascular endurance is pathetic! The good news is that my endurance will inevitably improve with time.
Live life to the fullest: I'm still in my 20s and now is the time to do anything I want. I refuse to wake up at 70+ years old and look back at a life that wasn't spent taking risks and trying new things. There are no do-overs in life, so I want to make the most of every opportunity.
Turn have tos into want tos: for example, I don't have to work out tomorrow. I get to go mountain biking. This subtle change can have a huge impact.
See new places and try new things: this ties into living life to the fullest, but it's a huge perk nonetheless. We're going to travel to different states and explore new trails and territories, and even see new places in states we've already been.
Have fun! I feel like a kid again, and I'm enjoying every minute of it. We would all benefit from playing more and having fun.
Stay strong and healthy: exercising isn't mandatory for losing fat and building a strong, healthy body. You can achieve great better-body-building and health improving results from playing in an active way.
Those are just a few benefits to playing more and working out less, and I'm sure you'll be able to add to that list when you start playing more, too.
So now we must ask the question . . .
Should You Work Out Less?
If you enjoy your current strength training regimen and the information above sounds crazy, then you may not need to give this whole "play more, work out less" thing a try. Maybe you can file this away for later use, if necessary.
However, if your enthusiasm for your current regimen has waned, or you're simply craving a change of pace, then you should put this to the test and see what happens.
Does this mean you need to buy a mountain bike, kayak, or other toy? Not at all!
Take a look around and see what's available in your area. Maybe pick up some activities you did when you were younger. Try something you've always thought was interesting. Try a new sport or two. Take martial arts lessons. Participate in whatever activity is seasonal (e.g. hiking in the fall, skiing in the winter, kayaking in the summer, etc).
Get out of your comfort zone and take a risk or try something new!
Just find a way to play more, in an active way, and start working out less in the process.
If you're interested in joining Operation Play More, Work Out Less, be sure to check out the two following articles. This way you can still keep strength training but the workouts will be shorter in duration and less frequent so you can easily fit some great strength training workouts into your new play-first lifestyle.
The "I Don't Want to Work Out But I Know I Need to" Workout Solution – this article reveals exactly what I've been doing recently to keep my workouts short, simple, but still very effective. You don't need to spend a lot of time to get stronger and reap the benefits of strength training.
Two Day Per Week Strength Training Program – if you still want to strength train and get stronger, this article will give you an excellent template you can use to keep on getting stronger while only lifting two days per week. This is a terrific program that will allow you to improve your performance in the weight room while allowing you plenty of time to participate in other physical activities.
What if you're currently following a program from the Lift Like a Girl Store but want to play more and work out less?
Not a problem! Just scale back your workouts to two or three times per week (depending on how many days you spend "playing") and rotate through the provided workouts of that particular program. And if you'd like some personal help setting this up, just send me an email and I'll gladly help organize your schedule.
So . . .
Are you ready to play more and work out less?