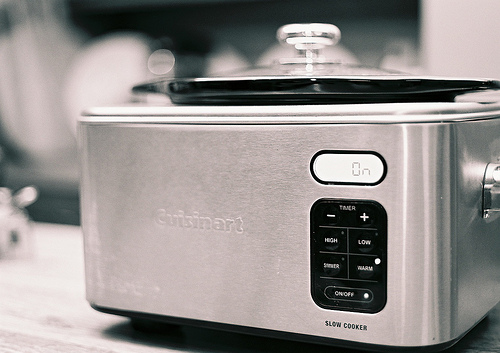 Convenient. Quick and easy. These are a few of my favorite words, especially when it comes to preparing delicious, good-for-you meals.
If you too like home cooked meals that save time and money, then check out these three kitchen tools I wouldn't want to live without that make life easier, and better.
First to answer your questions … how do these tools save time and money? They save time because you can use them to make delicious meals quickly. You'll save money because making meals at home is undoubtedly cheaper than going out to eat.
Now on to the tools you need to have in your kitchen.
Please note affiliate links are used for the products below. I own all of these items and recommend them highly. By using these links you help support this website and keep it running ad-free, and I thank you!
Slow Cooker
I've had my slow cooker for over a decade, and it's likely been used more than any appliance I own. Slow cookers can make myriad recipes from breakfast, appetizers, to dinners and even desserts.
Get a slow cooker that's at least six quarts, this way you can make large meals and save leftovers. Cook once, eat several meals. That's my motto.
My Crock-Pot has lasted for over a decade, and I'll definitely purchase the new model when this one gives out. The newer model, pictured above, is perfect for cooking meals you plan to transfer because the lid can be securely shut. Convenient feature worth having.
If you want fast, simple meals that taste dang delicious and are good for you, get a slow cooker and use it habitually.
Click here to check out this Crock-Pot on Amazon.
Time Saving Tip! Some slow cooker meals do require a bit of prep work, namely chopping vegetables for soup and chili. I suggest doing this the night before so you can dump the ingredients in the slow cooker in the morning and turn it on. Easy peezy, lemon squeezy.
You can find a few of my favorite crock pot recipes in this article, if you need some ideas to get you started.
Ninja Blender
Behind the slow cooker this appliance is used most often in my home.
Before we purchased our Ninja blender bought the cheapest blender at our local super market, but when our most recent blender crapped out we decided to upgrade. I was shocked when I found numerous blenders selling for over $200, some even cost over $400! I couldn't justify spending that much on a blender so after reading reviews and comparing models we decided on the Ninja.
It cost less than $100 and we couldn't be happier with our choice. It whips up smoothies in a matter of seconds and can even make soups, ice cream, pesto, and other recipes. When this blender gives out in the future, I'll replace it with the same thing.
Click here to check out the Ninja on Amazon.
Want some great smoothie ideas to put your new blender to the test? Check these out:
On to the third and final kitchen tool …
Espresso Maker
I love coffee.
You love coffee.
Damn near everyone loves coffee.
But I refuse to spend $4 or more on a silky cappuccino or eye opening Americano, so I make my own for a fraction of the cost.
Full disclosure. We weren't sure how much we'd like making our own so we purchased one of the cheapest espresso makers we could find, but this thing has worked wonderfully for the past three years. It may be one of the cheapest models, but I love it.
If you want to try your hand in the barista role but don't want to fork over a ton of cash to do so, check out the Mr. Coffee Espresso maker I own, pictured above. It costs less than $30, so you have no excuse not to give it a try!
Click here to check out the Mr. Coffee Maker.
And there you have it. Three terrific kitchen tools that save time and money, and make life easier and better. I hope you enjoy yours as much as I enjoy mine.
Like what you read? Never miss a thing! Sign up below to receive the newsletter.