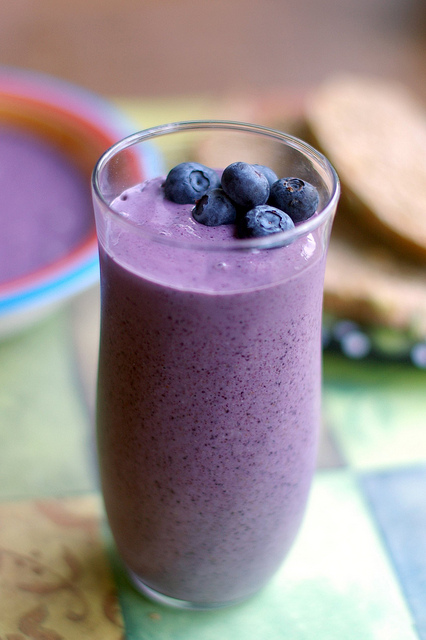 By far the greatest complaint I hear (and said before in the past myself) is that smoothies don't keep people full or satisfied for long.
"An hour after my smoothie I'm already hungry!" was one reader's comment.
That's because most people don't make their smoothies with satiating ingredients. Heck, a lot of "smoothies" I see people drink include nothing but fruit juice, ice, and some pieces of fruit. If your smoothies sound remotely like that, it's no wonder you're ravenous shortly after drinking it.
But my smoothies keep me full for hours, and they're incredibly tasty and have a lot of versatility.
And those are two things I don't compromise with my food (especially the first meal of the day): it must taste great and keep me satisfied for hours.
Lift Like a Girl Tip! Whether your goal is to lose fat, improve your overall health, or become the most awesome version of yourself, this smoothie is a great way to start your day. It only takes moments to make, is packed with good-for-you ingredients, and you can take it with you if you're short on time.
Here's a photo of my deconstructed-smoothie: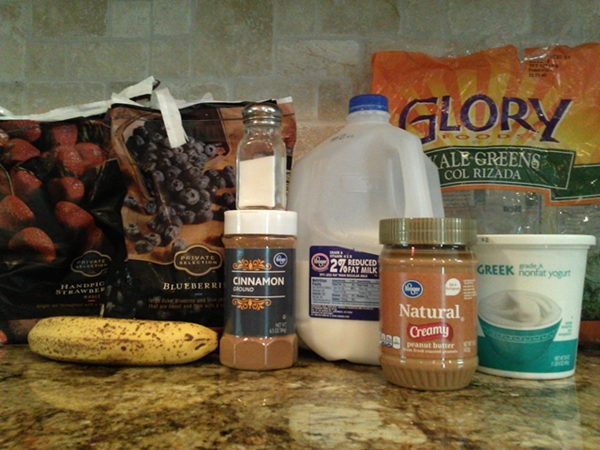 Pictured is a bag of frozen strawberries and blueberries, a ripe banana, cinnamon, salt, milk, natural peanut butter, Greek yogurt, and … yes … that's a bag of kale greens tucked away in the back.
How to Make It:
If you're using a regular blender, put the frozen fruit and banana in first. Then add the milk, salt, cinnamon, Greek yogurt, and then put the kale on top. Blend very well. Once it's blended I then put in a spoonful of peanut butter and blend one last time.
How Much of Each Ingredient?
That really depends on how hungry you are. My smoothies are quite large because I usually eat twice per day. But someone who prefers to eat breakfast, lunch, and dinner will likely want a smaller smoothie.
I've been making this smoothie every day during the week for the past couple months. It's delicious, keeps me full, AND is filled with good-for-me foods.
I know what you may be thinking, "What the heck? Why is kale in there? Doesn't it taste nasty?" Short answer – no, it does not taste nasty. In fact, I don't taste it at all. I used to put spinach in my smoothies but tried kale on a whim and actually prefer it. I find it hides in the smoothie even better than spinach.
The reason this smoothie keeps me full is mostly from all of the protein, thanks especially to the Greek yogurt.
The ingredients shown above are my favorite, go-to recipe, but here are some variations.
Smoothie Variations:
I get it. Not everyone will like the ingredients I use, so here are some substitutions.
Fruit – I prefer frozen berries (a combination of blueberries and strawberries are my favorite), but any type of frozen fruit works great. Cherries, mixed tropical fruit, or anything else that tickles your fancy. It's all awesome and allows for numerous variations. (Money saving tip: buy whatever is on sale).
Banana – you don't have to use a banana, but I prefer it for added sweetness. You can also freeze ripe bananas and use them.
Cinnamon – again, this is optional.
Salt – optional, but I prefer it.
Milk – I typically use almond milk for added flavor, but you can also use coconut, soy, or even good ole cow juice (but I prefer the added flavor from the other varieties).
Peanut butter – you can completely leave this out or substitute it for fresh nuts (almonds are great) or other nut butters.
Kale – I include this for one reason and one reason only: to sneak some extra leafy greens into my diet. You can also use spinach. I recommend adding this because we can all benefit from extra leafy-green goodness, and you can't even taste it.
Protein source – you can use protein powder but I prefer cottage cheese; it blends very well. You can also use Greek yogurt (if you like a bit of tang), half cottage cheese and half Greek yogurt, or even tofu if you prefer a vegan protein source. This high protein source is what provides long-lasting satiety, but you can also substitute cottage cheese or even tofu if you follow a vegan/vegetarian diet. Protein powder is an option too.
Additional ingredients – you're only limited by your imagination, or palate. You can include things like Chia and flax seeds, or anything else you enjoy. I usually add in a spoonful of flax seeds; it gives some great texture to the smoothie.
There you have it: a protein packed, berry-goodness, kale-sneaking smoothie that will keep you satisfied along with numerous variations. Give it a try for yourself.
Eat well, feel great, and definitely become more awesome!
Use the Best Tool for the Job
We go through at least one blender a year, so when our last one died we decided to stop buying the cheapest one. After reading reviews (and agreeing that spending over $100 was just ridiculous for a blender) we finally settled on a Ninja. I have to say – this blender is awesome.
It creates the best consistency and blends super quick, even against a lot of frozen fruit. It's also a terrific tool for pestos and frozen desserts. I strongly recommend you consider the Ninja too. It's likely one of the best blenders for less than $100. Check it out here (that's an affiliate link).