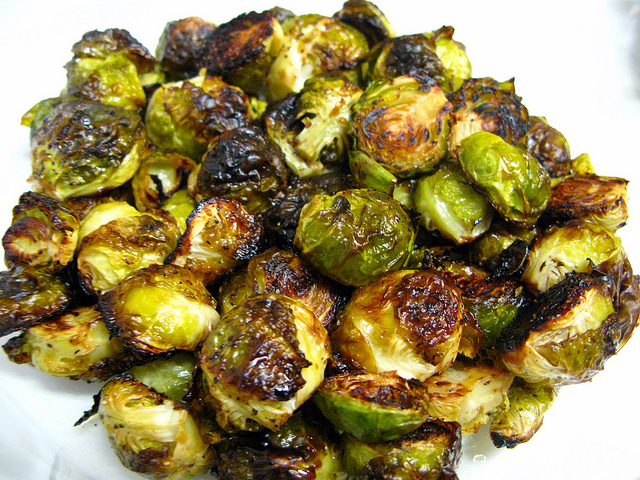 Forget what you think you know about Brussels sprouts, and if you've never had a Brussels sprout in your mouth and enjoyed it, you must give this super easy recipe a try. Even people who claim to hate Brussels sprouts end up loving this recipe.
I can't take credit for this delightful cruciferous vegetable goodness; my wife got this recipe from one of her coworkers, and we've made it several times already. It's officially a staple in our kitchen, and it's sure to be in your's too.
First, let's go over why you need to make this best, and easiest, Brussels sprout recipe ever:
Seriously, it's ridiculously easy to make.
You need to eat more veggies; we all do. This makes it easier because it's oh-so tasty.
Once you eat it, you'll agree that this will make a terrific go-to veggie when you don't feel like doing much prep work or cooking.
This is perfect for cooking in bulk so you have veggies to easily pack in your lunch.
Now that you know why you need to get this in your mouth immediately, here's how to do it.
Ingredients:
One-two frozen bags of Brussels sprouts* (I always use two)
Salt and pepper, to taste
About one tablespoon of olive oil
Minced garlic (optional)
Yes, that is all you need.
*I always make two bags and we were told to use frozen because they're convenient, and other people said they just turned out better than fresh.
Directions:
Preheat oven to 375 degrees.
Microwave the bags of frozen sprouts for about 1 minute (I do each bag separately); you're not cooking them — just getting the frost off.
In a baking dish toss the Brussels sprouts with olive oil, salt, pepper, and garlic if you're using it.
Bake for 50 minutes.
Enjoy the best, and easiest, Brussels sprouts you've ever made and thank me as you enjoy every damn bite.
Yes, 50 minutes sounds like a long time, but just do it. The Brussels sprouts end up with a beautiful, tender mouth feel.
Once you eat these and agree that they're wonderful, do what I do and keep a couple frozen bags in the freezer at all times. This way you have an easy to make veggie dish always on hand. (I've heard these are wonderful cold, but I've yet to try them that way.)
Want More Stuff That Tastes Good AND Is Good For You?
Try these next:
Hey! While you're here, be sure to grab the newly released 3rd Edition of the Beautiful Badass Mini Course. Enter your email below to join the newsletter and you'll get the Mini Course as a gift.