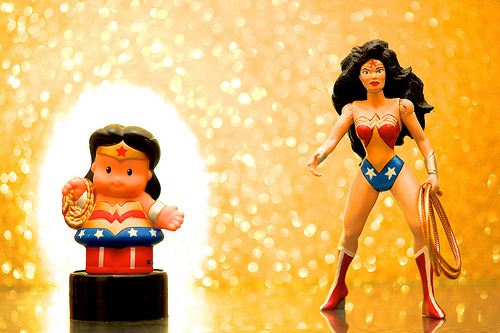 We live in a world that tells women to value themselves first by their physical appearance. We're taught from a young age that how we look matters most, and we should manipulate our bodies with diets and work progressively harder to fit society's ideals.
It's time for that to end.
Labeling the following mottoes "life changing" may seem lofty, but they can be. They have been for many of my clients and readers of this website, and myself.
Transcribe these mottoes into your DNA. Proclaim these from your innermost self. Embed these deep within your bones. Make them part of you, and encourage other women to do the same.
10 Life Changing Mottoes Women Should Embrace
In no particular order …
1) Numbers do not define you. Your weight, body fat percentage, bra size, age, the amount of weight on the barbell, or any other number does not define who you are or determine your self-worth.
2) Being a "real woman" means living true to yourself; being unapologetically you and loving your body because it's yours. Whether you're thin, have curves, muscle, or any other shape you're proud of who you are, and encourage other women to do the same. Being a "real woman" means doing what you want, looking how you want to look, and being the best version of yourself.
3) There's no miracle diet, magical supplement, or perfect workout program. It's about consistently doing the right things (i.e. the bare essentials) and having a little patience. Doing this not only keeps you from getting overwhelmed with an abundance of conflicting information, but it restrains you from chasing an illusive ideal of a perfect program or from riding the diet-hopping insanity train. There is no top secret program; it comes down to taking action consistently on the things that matter most.
4) Exercise is not punishment for eating and you don't have to earn your food. You never punish yourself for enjoying any foods, nor do you have to "earn" anything.
5) You move your body frequently in ways you enjoy, be it strength training, running, hula-hooping, or anything else you want to do. Moving your body not only keeps it healthy and improves your quality of life, but it allows you to discover and be proud of the wonderful things it can do.
6) Self-compassion is meant to be practiced liberally. You understand that beating yourself up for mistakes or failures is counter-productive. Trying new things and taking chances is part of life, and you can't expect to be perfect. When you fall short or fail miserably, you'll respond with kindness and give yourself a break because you know it's not possible to be the best version of yourself if you're constantly tearing yourself down. Learning from mistakes and failures is paramount to growing stronger; use those experiences to increase your knowledge.
7) It's the actions you perform most often over a long period of time that matter most. As long as you eat well most of the time and move your body frequently, it's okay to enjoy not-super-healthy meals on occasion or miss a workout here or there; this is real life and things don't always go as planned. If you miss a workout or don't eat well, don't beat yourself up. Get right back on track. It's not about trying to be perfect but harnessing the fact that sustainable, habit-based changes are most important.
8) Health and fitness is a tool meant to decrease stress, make your life better, and make you feel good about yourself. It's not something you revolve your life around. While it helps you build a healthier body and lose fat (if necessary) it makes you feel good about yourself and builds you up, physically and mentally.
9) Eating well is something you do to be a better version of yourself. You never ask permission to eat certain foods and don't apologize for indulging in your favorite treats. Nutrition should be as low-stress as possible and make your life better. Stick to some basic guidelines that can be tailored to your lifestyle and preferences.
10) You will proudly highlight your unique strengths and neutralize your weaknesses. You possess characteristics, abilities, talents, desires, and goals that are unique to you. Make the most of these wonderful traits and find ways to exploit them. Instead of wasting time trying to "fix" any perceived flaws or weaknesses, neutralize them. (More on this powerful perspective in Episode 2 of The Nia Shanks Show with the magnificent Dr. Krista Scott-Dixon).
These 10 life changing mottoes can be summed up with this statement: choose to be MORE, not less.
If you know someone who needs to read this, please share it will them. Let's all go forth and become the best version of ourselves.
Like what you read? Never miss a thing! Sign up below to receive the newsletter.