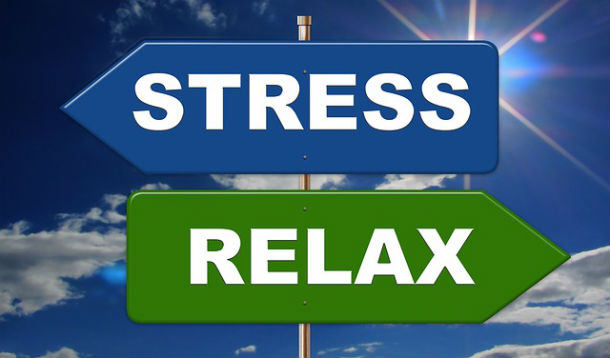 "What else can I do to speed up my results?"
"What should I add to my routine?"
"What additional changes do I need to make to my nutrition"?
The answer is always the same: do more. Rarely does this produce long lasting egg-traordinary (the above picture – get it?) results. That's why doing the opposite could be the answer. Instead of asking what you should add to your routine the real question is …
What can you remove from your routine that will lead to better, long lasting results?
Why should you do less when common knowledge says you should do more when you've hit a plateau? Egg-cellent (I'll stop now, promise) question, smarty-pants.
Doing too much at once can be a recipe for failure. I bet you can recall when you tried a new diet, or a rigid workout routine. You had set rules to follow when to eat, how much to eat, and what to eat. You probably had a set-in-stone workout routine to follow most days of the week too.
Basically, you changed everything overnight. How you ate, when you worked out, etc.
How long did you stick to that diet or workout program? Did you complete it? If you did complete it, what happened afterward? Did you revert back to old habits and gain everything back, and maybe some extra to boot?
The Answer – Do Less
Insanity has been described as doing the same thing over and over again expecting a different result. So why do people (you?) hop from fad diet to fad diet, grueling workout program to grueling workout program, only to end up at the same place every time?
Exhausted. Frustrated. Discouraged. Hopeless.
This is why the answer is to do less … not more.
"Doing more" may work temporarily, but it's oftentimes not practical, or you can't maintain that routine for more than a few weeks or months. Then it's back to old habits and thus goes the cycle of chaos.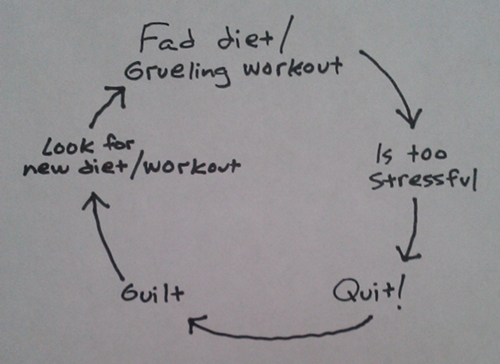 The best way to defeat the cycle of chaos is to avoid it.
How you eat and work out should not rule your life. It should be part of your life, but it shouldn't take up more mental energy, or time, than necessary. Health and fitness should empower you. It should make your life more awesome.
Related Article: The NEW Definition of Health and Fitness
This is not what you see plastered on magazines or the newest diet book. But it's time to get out of the cycle of chaos and strip away the non-essentials. Why? Because you'll achieve results AND maintain them long-term.
Strip Away the Non-Essentials
Get rid of the excess with …
Your Workouts
For a few months experiment with removing exercises you don't really need. Instead of doing 10 or more exercises every workout, choose 3-4 great ones and perform them with purpose. Use a challenging load, correct form, and improve your performance each time you repeat a workout.
Need some ideas? Check out Triple-Exercise Total Body Workouts for sample workouts.
Are you doing complexes, intervals, and other workouts in addition to strength training? Cut it out for a few weeks and see what happens. Better yet, instead of doing high intensity work, replace it with something less taxing like walks, yoga, hiking, or something else just as good for your mind as it is for your body.
It may be intimidated to do less, but try it for at least 6-8 weeks and see what happens. You'll likely be pleasantly surprised.
Your Nutrition
Without question nutrition causes the most stress and confusion. It doesn't help that we're bombarded with messages like ABZZ ARE MADE IN THE KITCHEN! and NOTHING TASTES BETTER THAN SKINNY FEELS! and FOOD IS JUST FUEL! These statements are not helpful and for many are a catalyst to disordered and binge eating habits.
Many diets make people afraid of food. Afraid to eat certain food groups, combinations of food, or at certain times of the day. People are left feeling guilty and ashamed if they enjoy a few cookies or a damn sweet potato and they go into damage control.
Forget about all of the get-slim-quick "rules" and tricks and embrace the basics. Yes, you can get results AND be significantly less stressed in the process. Refer to the Nutritional Survival Guide for more information but start by …
Eating mostly minimally processed foods you enjoy
Include a good source of protein in your meals
Make it a priority to eat plenty of fruits and vegetables
Yes, it can be that simple.
Related Article: These are the Bare Essentials & They Produce Extraordinary Results
Bottom line – don't search for more to do or elements to add to your health and fitness regimen. Do the opposite. Do less. Choose to focus exclusively on the few BIG things that matter most, and ignore the rest.
Want more information? Better Body by Minimalism is a done-for-you guide that reveals the bare essentials of nutrition and working out (including four workout programs, exercise demonstration videos) and a step-by-step action guide.
Click here to check it out if you're interested.