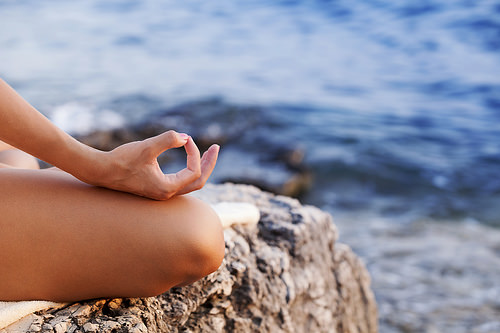 WARNING! There is a rant ahead. As with the recent, and popular, rant on Fit and Fat Shaming, this is something that needs to be said.
(Note: I wanted to title this An Article Every Woman Should Read That Can Drastically Impact Your Health and Fitness in the Best Way Possible or even Some Health and Fitness Stuff is Pissing Me Off but Complaining about It is Worthless so Here's How We Can Make a Positive Change, but both seemed a tad too long. Let's move along …).
Hey, you. Yes, you.
Why do you work out? Why do you choose to eat, or not eat, the foods you do?
What thoughts drive you to perform your workouts? What are you thinking when you decide what to eat for breakfast or dinner?
Do you feel compelled to change the shape or appearance of your body because you've been told how you look "isn't good enough" or that you're "flawed"?
Let's cut to the chase …
If you work out or eat a certain way because you're concerned with what someone else thinks or because what you think they want, you need to stop everything you're doing. If you think, "This is going to make me fat" when you eat certain foods or you praise yourself for "being good" when you eat others, you need to stop everything, right now.
Trying to change your appearance because you want to please other people or meet the expectations of someone else AND using negative motivation to drive your behavior (e.g., "I can't eat that because it will make me fat") leads to resentment and dissatisfaction.
Regardless of whether you're at a healthy bodyweight or you have excess fat that you need to lose to improve your health, it doesn't matter. Where you're currently at in your journey or how far you have to go is irrelevant. The only thing that matters is WHY you do these things. What is your driving force that keeps you going? What are you thinking before you take action?
Once upon a time my food choices and workouts were fueled by hatred for my physical appearance and all I could think about was "undoing the damage" from overeating and fixing my "flaws." I hated my stomach. I hated my butt. I looked at everything I ate in a "this will make me fat" or "this will help me lose fat" perspective.
But now, thankfully, my reasons for doing the things I do are much better, and you should embrace these reasons too. I like to call these the next "fitness revolution" and the reasons one should adopt, or continue performing, health and fitness habits.
To build a body that serves you and allows you to do the things YOU want to do
To be physically strong
To move well and feel better
To become the best version of yourself
To appreciate what your body CAN DO, instead of focusing on how it looks
To relieve stress
To boost your confidence
Empowerment
As you can see, exercise is not punishment and you don't have to "earn" your food.
Most people, unfortunately, don't work out or eat well for these reasons, but they should be THE reasons. Women are constantly encouraged to eat less, weigh less, and simply be less. Heck, many women I know are always on some sort of diet. How amazing would it be if we all embraced those reasons for performing and sustaining our health and fitness habits? Not only would it be a positive, wonderful experience for us, but it would send a tremendously positive message to the younger generations.
Related Articles:
My friend and fellow coach Jen Comas said it beautifully:
I'm not currently working towards fat loss, and haven't been for quite awhile. Interestingly enough, this seems to surprise some people if I mention it. A trainer friend asked what I'm currently doing for fat loss, and failed to hide his surprise when I replied with, "Nothing. I'm not trying to lose fat."

For some reason, the common assumption is that every female on the planet is always trying to get leaner.

Not me.

This doesn't mean I believe I'm ripped, or perfect, because neither are true. What is true, however, is that I'm perfectly content with my body right now. I'm happy, healthy, fit, strong, loving life, and lean enough for me.

Working towards fat loss because you want to, or because you need to in order to enhance the quality of your life is great, otherwise … fat loss doesn't *have* to be the goal.
Jen does what she wants to do, for reasons that are important to her. She couldn't care less what anyone else thinks of her food choices or extracurricular activities (riding dirt bikes, as one example). One of her goals was to build a body that ultimately serves her and allows her to do the things that make her happy.
Related Article: Ultimate Guide on How to Not Care What Others Think and Live the Life You Want
Join the Revolution
We need to change our language and thoughts for why we do what we do to something much more positive and empowering.
We need to stop valuing ourselves based on what we eat or how much we weigh.
We need to stop mentally punishing ourselves when we over indulge or miss a workout.
We need to focus only on becoming the best versions of ourselves and do these things — eat well and work out consistently — because we want to build ourselves up mentally and physically, and encourage others to do the same.
This, my friend, is what it really means to Lift Like a Girl, and it starts from the inside out.
For more information on how to eat, think, and Lift Like a Girl to become the best version of yourself, check out the Train to be Awesome Guide.