Welcome to The Resource Guide for Lift Like a Girl.
If you haven't already read the book, please do that first. Otherwise, the information below won't make sense.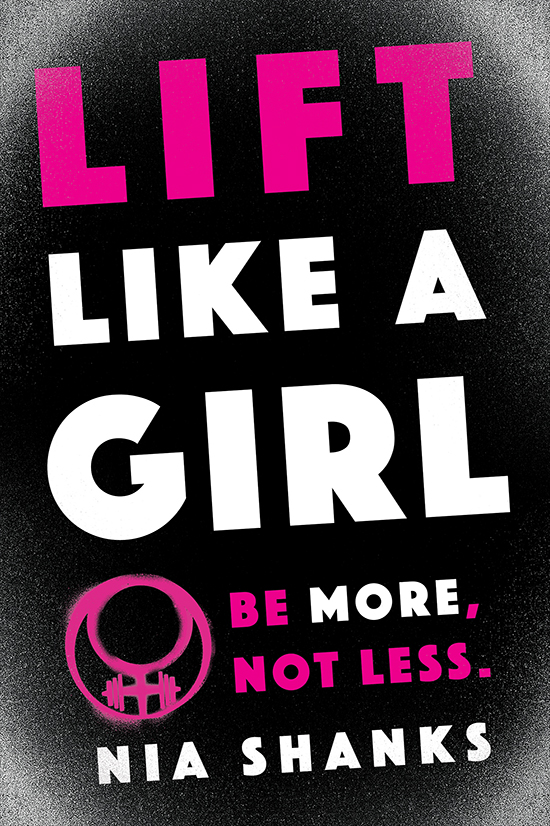 Don't have the book? You can grab it on Amazon.
Click here for the Kindle version.
Click here for the paperback version.
While you're here, be sure to sign up to receive the free newsletter. Just enter your email below and you'll get updates for new articles, the occasional insider-only newsletter, and much more.
Rest assured, I will not spam you. I hate that junk as much as you.
Enter your primary email below.
Lift Like a Girl Resource Guide
If you've read Lift Like a Girl, chances are you have a few lingering questions. You can find some of the most frequently asked questions in this Resource Guide along with additional information that will lead you to success, and some valuable resources.
Please note that some affiliate links are used here. I do not recommend or support anything I haven't used personally.
Oh, and if you haven't actually read the book yet, you should do that first. Otherwise, what's in this Resource Guide likely won't make sense.
You can get the Kindle and paperback versions directly through Amazon.
---
Frequently Asked Questions
I want a specific protein guideline to shoot for. What would that be?
Aim for 0.7 to 1 gram of protein per pound of bodyweight, to keep things simple. A leaner individual can shoot for 1 gram while someone with excess fat to lose can use 0.7 as the target. It doesn't have to be exact – just get close to the target most days.
This amount of protein will help you recover from your workouts and improve satiety. And, yes, it's a safe amount. (The exception being if your doctor has given you specific guidelines or you have kidney disease or issues.) If you include a lean source of protein in your meals and snacks, you should hit this amount easily.
How do I tailor the nutrition guidelines to lose fat? What about to build muscle?
Before you do anything else, commit to following the information in the nutrition chapter for a minimum of 6-8 weeks. See how your body responds to those changes. The provided guidelines are typically all that's needed for someone to move in the right direction toward improved health and body composition.
If you can get the results you want from implementing those flexible guidelines, why would you want "more" information? Remember, more is not always better.
That said, if after 6-8 weeks and, I cannot stress this enough, you have actually been applying the guidelines consistently, and aren't experiencing the results you're after, then some changes can be made.
For fat loss: You must be in a caloric deficit to lose fat. Period. Apply the provided guidelines, and make sure you're eating a good source of lean protein with every meal and snack. Then, find simple ways to consume fewer calories. Instead of eating a whole potato with dinner, have half. Instead of eating half a cup of mixed nuts for a snack, have Greek yogurt. Instead of two slices of cheese on a sandwich, use one. Find ways to easily reduce calories, and track your results over the next 4-6 weeks.
Keep in mind, someone with quite a bit of excess weight to lose can expect to lose fat quicker (about 1% of bodyweight per week), whereas someone with less fat to lose is better off losing it slower (about 0.5% of bodyweight per week) to preserve muscle mass.
One important note with fat loss: It's not a linear process, and you need to be okay with that now. You may start out losing a couple pounds per week at a steady rate (if you choose to weigh yourself) and then suddenly seem to stagnate. Don't get discouraged – be proud of everything you've done to get to that point. Don't panic and drastically cut calories or start exercising more. Keep eating well, keep strength training, and see what happens over the next several weeks. It may be helpful to keep a food journal again to see what's going on.
To gain weight/build muscle: You must maintain a caloric surplus. Follow the guidelines provided in the nutrition chapter in Lift Like a Girl, perform the workouts provided in the strength training chapter, and see what happens over the course of 6-8 weeks. If you're not progressing like you want to, find ways to eat more. Add a snack or two to your daily eating habits. Eat a whole potato with your meal instead of half, etc. Find ways to add a little bit more food to your eating habits. Try to include as many real, minimally processed foods as possible so you don't just get the added calories, but you also get nourishment.
I strongly recommend you begin by applying the guidelines in the nutrition chapter, regardless of whether you want to lose fat or build muscle. Start with the guidelines, perform the workouts in the strength training chapter, and see what happens over the course of a couple months before making any other changes.
What if my gym doesn't allow deadlifts?
Switch gyms or, better yet, build a home gym.
If that truly isn't an option, make do with what you can perform at your gym. Most likely your only deadlift-variation option will be RDLs. You'll find more alternative exercises below.
What if I don't have bumper plates and can't deadlift 135 when I begin Phase 2?
You'll need to elevate the plates so they're approximately the height the bar would be if loaded with a 45-pound plate on each side (about 8.5 inches from the bottom of the bar to the floor). You can do this by stacking the plates on blocks, mats, or use safety bars in a power rack if they can go low enough. Do this until you're able to use a 45-pound plate on each side (unless you have access to bumper plates – all weights are the same diameter).
What if I can't properly deadlift from the floor?
Most of the time people are using incorrect form, and thus they think they can't properly/safely perform a traditional deadlift. But if you can't get your back into a rigid, neutral position and maintain that position throughout the entire lift, do this: check your performance and see what's going on. If you're certain it's not an issue with form, then you can elevate the plates 1-4 inches (by stacking the plates on mats, aerobic steps, pieces of wood, etc.). Aim to use the lowest possible height increase. For example, if you only need to elevate the bar one inch to be able to use and maintain proper form, don't raise it three inches.
That usually corrects the issue.
What if I want to give my legs and glutes more work?
Don't make any changes to Phase 1. When you get to Phase 2, however, you can swap out the one-arm dumbbell rows in Workout B for split squats. Once you can perform the allotted sets and reps with just your bodyweight, add weight by holding a dumbbell in each hand.
What if I get stuck and can't add more weight or perform more reps?
I am hopeful you heeded the suggestion to purchase (or create your own for a fraction of the price) a set of fractional/micro-plates. These are extremely helpful for bench presses and standing presses, because those lifts naturally can't use the same weight squats and deadlifts can.
Make your own fractional plates and add even just one-half pound to the bar. It may not seem like much, but it adds up over time.
If you legitimately get stuck, try this: Decrease your weights by about 10 percent and slowly work back up. This back-off period should allow you to break through the previous sticking point. Let's say, for example, you got stuck squatting 135x4x5 (135 pounds, 4 sets, 5 reps) and couldn't add reps and didn't feel comfortable adding more weight.
Lower the weight about 10% to 120 pounds the next workout, and perform 4×5 with that weight. Next workout increase the weight to 125 pounds and perform 4×5, then keep adding 5 pounds each workout. You should be able to bust through the 135-pound sticking point. Then you can add reps to each set or continue to add weight.
You can use this same technique with other exercises too.
Can I include isolation exercises? (E.g., bicep curls, triceps extensions, reverse crunches, lateral raises.)
For the first several months perform the program as designed. All of your energy, focus, and subsequent recovery needs to go into improving your performance with the big, basic exercises. After a few months, you can add a couple isolation exercises at the end of the strength training sessions.
Sample arm superset: dumbbell curls and cable press-downs
Sample glute and ab superset: reverse crunches and single leg hip thrusts
Sample shoulder and upper-back superset: face-pulls and lateral raises
Keep isolation exercises to 2-3 sets for 10-12 reps. Remember – more is not always better.
What if squats/deadlifts hurt my back?
For most people, most of the time, improper form is the culprit. For example, some people who say squats hurt their knees allow their knees to "cave in" when they lower down and squat back up – this is why their knees hurt and is a common error. Making sure their knees track in line with the toes usually takes away the pain. It may behoove you to get an experienced strength coach to teach you correct form. You can also go over the exercise explanations in the book a few more times and really pay attention to the provided cues. Then use light weight and hone proper technique.
Record your sets on your phone and compare your form to that described in the book, and make corrections as needed. If you don't have the luxury of a great strength coach, this could be one of the most helpful things you do.
If pain persists, see a physical therapist. Try to find a PT who is knowledge about strength training.
My squat doesn't look like your squat. What's wrong?
Everyone's squat will look a little different. This is because everyone has different anthropometry measurements. My squat (I have a short torso, long legs and arms) will look different than someone with the opposite body type (long torso, short legs and arms). I naturally have to lean a bit further forward because my femurs are longer than someone with short femurs who will maintain a more vertical torso angle.
The important thing with squats (and all barbell lifts: deadlifts, bench presses, and presses) is to apply the correct coaching cues. So, for example, with squats you want to make sure you:
Have the closest grip you can comfortably maintain on the bar
Have your shoulder blades squeezed together and the bar on your traps below your C7 vertebrae (the bony "bump" at the base of your neck)
Have your chest pushed out slightly to maintain a neutral spine which you will maintain throughout the entire lift – you do not want to look up so high you hyperextend your neck, nor do you want to hyperextend your lumbar spine at any point
That you squat down – while maintaining a neutral spine and your knees are in line with your feet/toes – to the point that the crease in your hips is a bit lower than your knees
That your hips and shoulders rise at the same time as you squat back up while your knees again remain in line with your feet/toes
That the bar travels in a vertical line over the mid-foot at all times
Those are the most important cues, and your squat may look a bit different than mine, especially if we have different body types.
What if I can't maintain a neutral spine when deadlifting and squatting? What weak links do I need to work on?
One of the main goals of Phase 1 was you teach you how to maintain a rigid, neutral spine. You may want to start over with Phase 1 and learn this skill. Lower the weight and learn correct form. You don't need to bring up "weak links" at this point – you need to learn proper form and get stronger with the basic exercises.
What if I'm only interested in aesthetics?
Many women incorrectly assume they should be using mostly isolation exercises or dozens of exercises if they only care about looking better. Whether you want to get stronger, leaner, or just build a great looking body, it would serve you well to focus on building strength for several months before using other exercises.
The exercises used in the Lift Like a Girl strength training programs are the most efficient exercises you can use to get stronger and build a great body. Respect them and commit to getting stronger with those exercises, and you'll be rewarded with a better, stronger body.
What if I can't perform some of the exercises? What alternative exercises should I use?
You shouldn't have any problem with the exercises in Phase 1. For Phase 2 exercises, are you absolutely certain you're using correct form? If not, find out. Read the exercise descriptions and record yourself performing the warm-up and works sets – compare your form to the description and make sure you're applying the coaching cues. If correct form isn't the issue, then you can use alternative exercises. Below are the exercises used the Phase 2 program and possible alternatives.
Squat – front squat, safety bar squat, low bar squat (as taught by Mark Rippetoe in Starting Strength), double dumbbell/kettlebell squat ('bells held at shoulders), rear foot elevated split squat, goblet squat, leg press
Bench press – low inline bench press, slight decline bench press, push-ups, parallel bar dips, dumbbell bench press
Deadlift – deadlift with plates elevated 1-4 inches, sumo deadlift, RDL, stiff-leg deadlift, trap bar deadlift, kettlebell deadlift, single leg RDL
Standing press – one arm dumbbell press, one arm dumbbell push press (If you can't perform any overhead pressing stick to horizontal pressing options: push-ups, parallel bar dips, dumbbell bench press variations)
Do you have any demonstration videos?
Yep! Here are some resources that include videos and other tips:
If it's important for the barbell to travel in a vertical path for standing presses, deadlifts, and squats, can I just use the Smith machine?
This question is asked because a Smith machine (a barbell fixed between two steel rails) can only travel in a fixed vertical path. I'm not a huge fan of the Smith machine for squats, deadlifts, and presses because it eliminates the coordination and stability elements from the barbell variations. When you use a barbell, you have to use coordination and stability to make the bar travel in that path, but with a Smith machine, it does that work for you.
To get the "greatest bang for your buck," so to speak, I recommend using a barbell, not the Smith machine. That said, if your only option is a Smith machine (as is becoming increasingly common in some commercial gyms) you can use it. Better to work with what you have than not do anything at all.
Note: you may wonder why I didn't include bench presses in the exercises that require the barbell to travel in a vertical path. That's because the way we perform the bench press in Lift Like a Girl, the bar doesn't travel in a vertical path. A vertical path with a barbell bench press would require you to lower the bar directly over your shoulders, and this can be hard on the shoulders. That's why the bar starts directly over the shoulders but is lowered to your mid-chest – it's easier on the shoulders.
What if I can't perform some (or many) of the exercises because of an old injury or physical limitation?
Make do with what you have. Focus on what you can do. Depending on your situation that may mean using mostly dumbbells, or even machines. If that's all you can do – do it. Something done consistently and progressively will always yield better results than doing nothing.
I have an injury. Can you help me?
No, I cannot. Please don't email me asking how you should work with, or around, an injury. Go see a physical therapist. Seek one who is knowledgeable about strength training.
---
Training Gear & Useful Tools
Wear firm, flat-soled shoes for your workouts.
You want a firm base to stand on and support you (this eliminates running shoes with built-in "shock" absorption). The last thing you want is a shoe that will squish down when you have a barbell in your hands or on your back. The most common example is the good ole Chuck Taylor (Adidas Samba is another example). Get what's comfortable, as long as the sole is firm. I've never worn them, but I have many clients and friends who like Reebok Nanos. They seem to be a good "all around" shoe for lifting, walking, etc.
And because I know some people will ask: Yes, you can wear weightlifting shoes for squats. For most people starting out or those who aren't interested in competing in a powerlifting meet, flat-soled shoes work well and are much cheaper. I've had a couple pairs of weightlifting shoes, but my current (and favorite) pair are Adidas Powerlift (they're much cheaper than other versions I've seen).
Nike, Reebok, and several other companies make weightlifting shoes.
Chalk.
Not every gym allows chalk but if yours does, use it. It's particularly useful for barbell lifts (especially deadlifts) but I also use it for dumbbell rows. It makes a big difference with your ability to securely grip the barbell or dumbbell.
Straps.
These can come in handy for deadlifts and RDLs once the weight gets heavy. I prefer to use a double-overhand grip as long as possible. A mixed grip (one hand palm facing up, one hand palm facing down) is a popular option once a double-overhand grip isn't possible. Some people don't like this grip because it puts strain on the bicep with the palm-up grip. If the mixed grip isn't comfortable, or you don't want to put additional strain on your biceps, use straps.
Note: if you use straps you still need to squeeze the hell out of the bar. And only use them when necessary – use the double-overhand grip for all warm-up sets, and as many work sets as possible. You don't need anything fancy; cotton straps are cheap and work great. I used the same pair for over a decade. Recently I switched to Iron Mind sew-easy straps; they're my new favorite pair.
Fractional plates.
If you want to make steady progress with barbell exercises, invest in fractional plates, or make your own for a fraction (ha, get it?) of the price. The smallest plate with traditional Olympic plates is 2.5 pounds, meaning the smallest weight increase possible is 5 pounds. While that's manageable during the early stages of training, especially for squats and deadlifts, that increase can be too much for bench presses, and especially standing presses.
Many fractional plate sets have pairs of ¼, ½, ¾, and 1-pound plates. This allows you to increase the weight by ½ pound. A much cheaper alternative is to make your own with 2" washers from a hardware store. Just weigh them out to the desired weights and glue them together. (For more help just search online for how to make your own fractional plates.)
I can't recommend these enough. They'll come in handy early on with the press and bench press. You may scoff at a mere ½ or 1-pound increase on the bar, but an increase in weight is an improvement.
Do you need a weightlifting belt?
Short answer: No, you don't need one. But, if you're interested in lifting as much weight as possible then you may want one.
Belts should not be used as a crutch. Their main purpose is to help increase intra-abdominal pressure, and this helps support your spine/back.
Don't even consider wearing one until you've nailed down proper technique – a belt does not make up for poor form. If you get one, most women do well with 3-4 inch belts (go with a 3-inch if you're short) and wear it for deadlifts, squats, and possibly even standing presses. And, yes, there's a learning curve to wearing a belt correctly. You can grab a belt at Elite FTS, Rogue, and Best Belts.
You should not use a belt if:
You have high blood pressure, as the use of a belt increases intra-abdominal pressure and blood pressure. (Consult your doctor before using a belt.)
You don't know how to "brace" your abs already. If you're not sure if you're bracing your abs with a set of squats, deadlifts, or overhead presses, learn to do this first.
You aren't already using proper form. This deserves repeating – a belt will not save you from poor technique.
A composite notebook for recording your workouts.
It is mandatory that you record your workouts. Track the exercises performed, weight used, and the sets and reps completed. A notebook is also handy for making notes (e.g., Squat felt great today – I really made sure my hips and shoulders came up at the same time and the bar stayed over mid-foot).
This way you know what you need to do next time you repeat the workout – either perform more reps with the same weight, or increase the weight slightly. Another bonus to keeping a workout log: It's damn fun and empowering to look back through it after a couple months of training to see your progress.
You may want to bring some music with you if you train at a commercial gym.
This is useful because you can forget everything going on around you and get in a zone. Pop on your headphones, listen to your favorite tunes, and train hard (and smart, but that goes without saying).
---
Lift Like a Girl Official Apparel
I know what you were thinking when you looked at the exercise demonstration photos in Lift Like a Girl – "Nia, I love your shirt. Where can I get 387 of them?!?!"

You can get tanks, tees, zip-up hoodies, and other seasonal items by clicking that photo.
Here's the direct link too: https://teespring.com/stores/lift-like-a-girl
---
Additional Lift Like a Girl Workouts & Courses
If you're interested in more strength training programs that also include demonstration videos for all exercises, or you want a six-month course that delivers a new workout program every month, then be sure to check out the store.
Click here to go to the store.
Want the direct link instead? Here you go: https://niashanks.com/shop/
---
Resources
There's a plethora of nonsense in health and fitness, and it's my goal to help you avoid it. The following are some excellent websites and resources.
Citadel Nutrition – when the words "honest, transparent supplement company" are in the same sentence, you're likely to assume it's an oxymoron. Not this company. They truly are wonderful people with science-based, third-party tested products. I use their fish oil because of its high quality and lack of fish burps. (Cool note: you can even see the studies they used to design their supplements – they tell you the "why" and the "how" of what they make.)
Want to get 15% off your order from Citadel Nutrition? Use this coupon code: liftlikeagirl
True Nutrition – protein powder is great for convenience, and this is where I get mine. This company gets their products third-party tested and they sell in bulk, so you can get protein powder for much cheaper than other places. My favorite is the cold-filtered whey protein isolate (I personally prefer this to whey concentrate because it's easier on my stomach, but some people have no issues with whey concentrate, and it's also a bit cheaper). They also have vegan-friendly protein powders too.
You can get 5% off your True Nutrition order with this coupon code: liftlikeagirl
Speaking of supplements …
There's a ton of crap out there that will only lighten your wallet. Examine.com is a phenomenal resource that shares the latest science on what works and what doesn't. Here are some articles you can check out regarding some of the most popular supplements:
Books and resources about nutrition
Precision Nutrition
Examine
Additional nutrition books
Nutrition articles
If you want to increase your strength training and health and fitness knowledge, here are some additional books to add to your shelf:
Want to connect on social media?
You can find me on social media — Instagram, Twitter
Sign up below to join the free newsletter. You'll receive the newest articles and be the first to know when new stuff will be available.