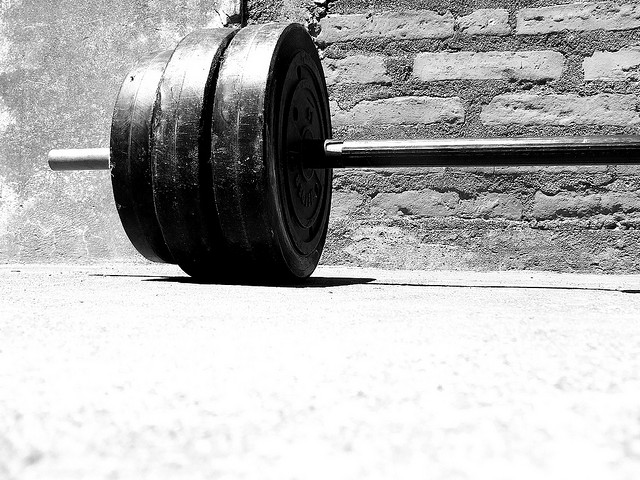 This is a guest post from Jon Goodman, author of Ignite the Fire. He shares 12 awesome ways you can change practically any exercise (beyond just changing how many sets and reps you perform). Refer to these if you want to change up your workout routine or simply want to experiment with some new methods.
Conventional thinking is that the only way to alter an exercise is by changing the weight, sets, or reps. The reality is that training is a lot more fun and varied once you understand the basic principles outlined in this article.
Below are 12 ways to vary any exercise. Some variations make the movement harder, some easier. Others change the purpose of the exercise all-together.
1. Lever Length
When people think of levers they often think of construction, a crowbar, or lifting something heavy. Rarely do they think of themselves as one big set of levers.
In reality, the human body is a series of levers and, like any lever, the closer the load to the fulcrum the easier it will be. Consider a shoulder lateral raise. Conventionally you'd start with your arms straight holding the weights by your side and raise them with a slight bend until your arms are parallel to the floor, palms facing down. In this variation the exercise is done with almost-straight arms, therefore the weight is far away from the body. It's difficult to perform this exercise with heavy weight largely because of the biomechanical disadvantage.
Now consider a variation of the same exercise but instead of starting with straight arms by your side, you bend your elbows to 90 degree and then perform a lateral raise while maintaining that 90-degree bend. The exercise is much easier because the weight is closer to the fulcrum, your shoulder, and you can perform it with heavier weight. This is a basic biomechanical principle you can use to make any exercise easier or harder.
Want to increase the difficulty of movement? Move the weight away from the fulcrum. A great example to increase the difficulty of a core exercise is to change the arm position of the plank. Generally the exercise is performed on the elbows, which are placed directly below the shoulders. This is a strong position. If you were to take one or both arms and either extend it to the side or in front of your body, the exercise will increase in difficulty.
In this video Nia demonstrates the ab rollout. As she rolls further out the exercise gets much, much more difficult:
While this principle applies to any exercise, please note that it's a simplistic approach. There's some muscle physiology mumbo-jumbo like motor unit size and optimal recruitment patterns that also has an effect. For most it's a pretty good heuristic to train with.
2. Balance
The more balanced you are, the more force you'll be able to produce. Altering your center of mass or putting yourself off-balance changes the challenge of the exercise.
Not only that, but the closer your center of gravity is to the ground, the more balanced you'll be. Ever take a look at the body composition of top wrestlers or judokas? They're usually as wide as they are tall and the result is that they're much more difficult to knock down.
The most common way to teach form on a new exercise is to maintain a balanced position. For example, a bodyweight squat is done with legs shoulder width apart and soft knees. This is a good way to learn a movement because it's usually the easiest way to perform it, but there's a lot of variation and fun to be had by changing your balance.
So how do you alter balance? A few ways: First, if you ever want to generate more force on a movement you can either widen your base of support by widening your legs or you can lower your center of gravity by crouching down further.
If you want to increase the stability challenge you can do a whole bunch of stuff ranging from standing on one leg to putting your feet together to using a variety of wobbly, bouncy, shaky things you'll find in most gyms.
If improving power or maximum hypertrophy (muscle gain) is your main focus, then you'd want to focus on lifting a lot of weight and won't be manipulating balance much. On the other hand, you can increase the glute and ab recruitment during an exercise by playing around. Here are two examples:
Dumbbell curls while standing on one leg
One arm dumbbell bench press (performing just one arm at a time increases demand on your core)
This comes with a warning — always keep your goal as the #1 priority. A squat on a Bosu ball makes the exercise harder, but it isn't going to make you stronger. Always respect the rule of specificity.
(Nia here): I definitely suggest evaluating exercises on a "risk vs reward" strategy. For example, squatting on a stability ball is very challenging and requires great balance, but it has a very high risk of injury. It's for this reason I suggest you avoid high-risk exercises; they're just not worth any potential benefits.
On the other hand, performing a plank with your elbows on a stability ball does have a small risk factor, but it's a great way to work your "core" to a greater degree.
And, finally, single leg RDLs (Romanian deadlifts) do require balance, but they're a tremendous exercise for targeting your glutes and hamstrings and you can make them easier by putting your hand on a bench, as shown in the video below.
Train safely and use the "risk vs reward" evaluation before you start doing a lot of off-balance training.
Here's Nia demonstrating a great progression towards the single leg Romanian deadlift:
Here Nia demonstrates the single leg squat which requires balance:

3. Manipulate Reps
Certain exercises can have their reps manipulated more than others.
You would have a hard time performing the lateral raise, for example, in the heavy-weight/low-rep zone. How much to manipulate reps is contingent on your goal, but you can always just "do the opposite" of what you're currently doing. For example, if you do the typical 3×10 (3 sets, 10 reps), try flipping that and doing 10×3 (10 sets, 3 reps) for a new challenge. (Note: low rep sets are not recommended for isolation exercises such as biceps curls, triceps extensions, or lateral raises – use this for large, compound exercises only such as squats and barbell bench presses).
One other fun way to manipulate reps is by doing partials. In a conventional rep, tension is relieved before starting the next (i.e. locking your elbows at the top of a bench press to rest for a second before starting the next rep). In a partial, each rep becomes extended for 1 and ½ or more times putting the muscle under more tension.
Take the conventional pushup for example. You can manipulate reps in a lot of different ways:
Increase weight either with a band or weight on your back and decrease reps, making it a power or muscle gain exercise
Perform the exercise with your hands elevated, making it easier and perform more reps, making it more endurance based
Perform 1 and 1/2 's by bringing yourself to the floor, pushing up 2-4 inches, back down, and then back up stopping just before lockout for one rep maintaining constant tension
The same protocol as above can be done with a squat:
Increase weight and decrease reps making it a great exercise to gain muscle
Decrease weight and increase reps making it a great endurance exercise
Perform 1 and 1/2 's by dropping yourself down, squatting up 4-6 inches, back down, and then back up stopping just before lockout for one rep maintaining constant tension
4. Tempo
Tempo is ignored far too often. In order for me to talk about it, you've got to understand the nomenclature. Every rep of a lift can be broken up into 4 phases: eccentric, pause, concentric, pause, all measured in seconds. A bench press with a "41X0" tempo would call for 4 seconds in the down phase (eccentric); a 1 second-pause at the bottom; an explosive press (concentric, denoted by the "X"); and no pause at the top before starting the next rep.
Oftentimes when you see a workout printed in a magazine you'll see 3 or 4 numbers as shown above (sometimes the final rest isn't listed). A tempo will change dependent on the goal of the exercise. A blocker on a football team, for example, would do a more explosive version of the bench press – somewhere in the 20X1 range. Somebody looking for max hypertrophy is going to want more time under tension (TUT) and may opt for a 4020 on that same bench press.
You can manipulate tempo to fit your goal, or for a new challenge.
(Nia here, again!) I personally like manipulating tempo with
bodyweight exercises
because it's a great way to make exercises more challenging without having to add extra load. For example, you can make a bodyweight push-up more challenging just by adding a pause in the lowered position; lower down, hold that position without touching the floor for 1-2 seconds before pressing back up, to experience this for yourself.
5. Weight
If it's heavy, it's hard. You can always start lifting heavy singles and triples.
6. Shape of Implement
While not always commercially available, odd-shaped implements are fun to lift and can add in a new dimension to training. Sandbags, for example, have uneven and changing weight distribution. Be creative and you can build some fun equipment pretty cheap.
Perhaps the most common example today is the kettlebell. Because the weight distribution isn't uniform (the weight is concentrated at the end) the bell generates more inertia farther away from the body. This forces a different muscle engagement pattern than a conventional weight – even swinging a dumbbell is different. The extra inertia caused is the primary reason why it's such an effective piece of equipment to develop the posterior chain.
For years I organized a get together every Sunday morning in the summer. In addition to my kettlebells, my arborist friends brought rope (make-shift battle ropes), and we built tools like slosh pipes from PVC piping. You can have some fun with this. Don't think that you need to lift perfectly symmetrical dumbbells and lubed-up machines to get in shape.
Some kettlebell swings for ya:
Nia shows you how to make your own sandbag:
Yes, way back in the day this website had a different name!
7. Stance
Despite popular belief, the only way to stand when performing an exercise is not with soft knees and your feet shoulder-width apart. Stance, when manipulated properly, is a powerful variable that can jumpstart your program. Here are my favorite variations:
Split stance. (One foot a few inches in front of the other) . This is easier on the back and allows you to maintain a strong posture. The wider the split, the more balanced you'll be. Switch the leading leg evenly to get an oblique benefit on each side. (Nia here: I perform standing overhead presses with a slight split stance and alter it each set).
Kneeling. A great way to get the abs firing on a host of upper body exercises is to do them on your knees. Instead of sitting on a bench or ball, do your shoulder presses or biceps curls kneeling maintaining a strong upright posture.
Half-kneeling. (One knee on the ground, the other leg in front of you bent at a 90 degree angle; see video below). This is in-between standing and kneeling. There's a great core benefit here and the glutes on the side of the resting leg will fire as well. Not only that, but you'll get a nice stretch in the hip of the trailing leg.
Here's Nia demonstrating a half-kneeling pull-down:
8. Rest Time
Rest between sets is another one of those variables that isn't used properly often enough.
A basic overview:
0-45 seconds of rest builds endurance
45 seconds to 90 seconds (1.5 minutes) of rest builds muscle
1.5 minutes and more of rest is for building strength
You can vary the rest intervals by decreasing or increasing the time (duh). Decreasing the time will make the exercise more aerobic. You won't be able to lift as much weight but if you're looking for fat loss it may be warranted. Increasing the rest period to a maximum of 3 minutes is advised for maximum strength training.
If you've been using long rest periods, experiment with shorter rest periods for a while, and vice versa, for a different training effect. You can use them all in the Triple-Exercise Total Body Workout templates.
9. Loading Schemes
Loading schemes can add or decrease intensity of a workout, or the challenge to a particular muscle group. In general I use the term "loading schemes" to describe the order that exercises appear in relation to one another.
There are too many to list here but two favorites are pre-fatigue and post-fatigue.
Pre-fatigue. This is when an exercise is performed that exhausts a single muscle group, immediately followed by a multi-joint exercise using that muscle. For example: dumbbell flies followed by push-ups. This can be dangerous if the lifter isn't experienced, so use caution! For example I wouldn't perform hamstring curls before a deadlift unless the lifter has a couple years of lifting experience.
Post-fatigue. This is when a multi-joint exercise is followed immediately by a single joint movement that uses one of the main muscles of the multi-joint movement. For example, a deadlift followed by a hamstring curl or a squat followed by a leg extension would be considered post-fatigue.
The order that you perform the exercises in your workout will have a large impact on the intensity and result of the session.
10. Pauses
Adding a "pause" to a rep makes the exercise more difficult. Pausing can be used for three purposes:
Increase intensity – Pauses at various stages of a rep can lengthen the total time under tension (TUT) of a rep, adding to the difficulty of each set.
Improve power generation – Lifting with momentum (like bouncing the weight on a deadlift) can be good or bad. If you're working on your power then you probably want to avoid it. Additionally, pauses can be good to strengthen weak points of a lift.
Learn form – You cannot unlearn habits. Instead you've got to learn a new habit powerful enough to replace the existing one. It follows that the stronger an existing habit, the harder it will be to replace it. When learning a new exercise it's important to only practice it well. This generally means reducing fatigue in the learning stage. Pauses after each rep to recompose yourself and ensure good form will speed up the learning curve.
Here's Nia demonstrating a pause at the bottom of the squat:
11. Range of Motion (ROM)
We're taught to perform full ROM movements all the time and, for the most part, it's a good idea. There are times when cheat techniques of semi-reps are warranted as long as they're performed safely. I always said, "If the choice is to get 0 percent because you cannot perform a full rep or get 30 percent and perform a partial rep, I would choose the 30 percent".
Partial reps are also great for keeping constant tension on the muscle. The next time that you do lunges don't lock out at the top, keep tension on your hammies and glutes the entire set. It's nasty. You'll see what I mean.
You can also make exercises more challenging by increasing the range of motion. For example, you can make a reverse lunge more challenging by starting from a 2-4 inch step/platform. You can make traditional push-ups more challenging by placing your hands on a pair of hex dumbbells (or each hand on a weight plate) to increase the range of motion slightly.
12. Grip
I left grip for last because of how strongly I believe every trainee should master it. Different grips force the body into different positions, engage different recruitment patterns, and force the body to use different muscles.
There are countless ways to alter the grip on most major exercises. I'll use the chin/pull up as an example. You can perform the exercise with your hands wide, medium, or close together. It can be done on a thick bar; a thin bar; rings; or even playground equipment. You can also grip the bar with your palms facing up, down, or each other. These are just some examples.
Every major exercise has a host of different grips. These nuances are what make training fun and interesting. If you've been doing a lat pull down or chin up for a while, change your grip or use any combination of the options listed above. A small change can make a big difference.
When you consider all of the ways to vary an exercise it's easy to see how diverse your options are. Have fun, but don't lose sight of your goal.
About the Author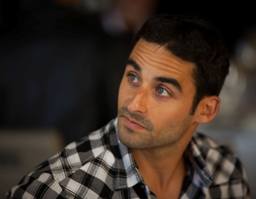 Jonathan Goodman is the author of Ignite the Fire, a book that teaches how to become a personal trainer and build a successful career. To learn more about his personal training books and free collaborative resource for trainers, go to the Personal Trainer Development Center.
Join the Lift Like a Girl revolution! Sign up below to receive the newsletter AND claim your free gift – the Beautiful Badass Mini Course.