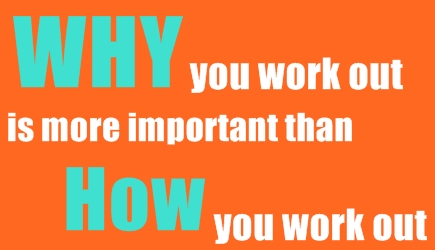 Strength training, and working out in general, should never be used as a form of punishment.
For example, proclaiming to perform an extra, or just a more challenging workout, because you overate or indulged in some Halloween candy is not a good idea. If your workouts are fueled by the punishment mentality, then you really need to change things up. Now.
I quote my good friend, Jen Keck, very often and I'll do so once again:
"Train because you love your body, not because you hate it."
It's a simple phrase, but let's examine it a bit closer.
How many times have you done a workout because you over indulged at a party, ate more cookies than you initially planned, broke into your kid's Halloween candy stash, or enjoyed a spontaneous dinner at your favorite restaurant?
An extra, or more grueling workout, was in order because you had to "work off" or "un-do the damage" from what you ate and get back on track with your fat loss plan..
Sound familiar?
As a result of the indulgence you force yourself to squeeze in an extra workout, or maybe you push harder and longer.
If this sounds like something you do, then STOP!
If you use workouts as a form of punishment, you're doing it wrong.
Don't ever allow your workouts to be fueled by negative motivation or to be used as a form of punishment.
We desperately need to ditch this mindset that we must be "perfect" and that we better not "eat too much" or "give in to our cravings" or something similar because, if we do, then we'll have to punish ourselves for "not being disciplined enough".
I say this because several years ago I expected nothing less than perfection from myself.
If I over ate or enjoyed something "unclean", then I'd beat myself up for "screwing up".
Then I'd punish myself with an extra, or more intense, workout.
And do you know what came from that "I've gotta burn off all those extra calories" mindset?
Nothing good, that's for sure!
For one, I would always feel guilty about enjoying my favorite treats. Then, I'd force myself to perform a super challenging workout to "make up" for the damage. Not only was this mentally draining, but I started to dislike strength training because it became punishment. This "punishment" mentality also lead to some severe binge eating habits.
When I finally learned to relax, keep things super simple, and stopped putting so many restrictions on myself and focused on consistency instead of trying to be perfect, then things finally turned around.
No longer do I "punish" myself with an extra workout, and neither should you.
The only goal you should have with your workouts is to become a stronger, more awesome version of yourself.
THAT, my friend, is what matters. And it will keep you motivated long-term.
So the next time you happen to indulge more than you planned, don't punish yourself with an extra, or more grueling, workout. Forget about it and move on.
Your workouts should only serve the purpose of allowing you to become even more awesome. To set some personal records. To add more weight to the barbell. To build your self-confidence. To discover what your body is capable of doing.
This is why I believe why you work out is more important than how you work out.
Mindset matters. It matters a lot.
And when you can shift your perspective, as in the case of this article, from using exercise as a form of punishment to something that's exclusively meant to build you up, make you stronger, and make you more awesome, then you'll not only be less stressed, but you'll enjoy your workouts and be much more motivated to train consistently.
So the next time you enjoy a favorite treat or not-so-healthy meal, enjoy it, forget about it, and move on.
And what should you do with the extra, glorious, calories you consumed? Use them to become even more awesome and maybe set a new personal record or two.