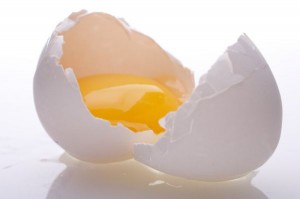 From time-to-time I get on certain food kicks that last for months. Right now, I am all about breakfast. Sausage, bacon, scrambled eggs, homemade French toast, and other breakfast-type foods are my current favorites.
While I love breakfast foods, I don't eat them in the morning at the allotted breakfast time (mainly because I don't eat breakfast at all). So, I've been eating these meals at night for dinner.
The following recipe is a meal I typically make once per week, and I call it an egg scramble. It is officially a weekly staple in my home. Not only is it nutrient dense and delicious, but it only takes a few minutes to make. That's a win-win-win as far as I'm concerned.
Ingredients
Green or red pepper – diced
Small onion – diced
Sweet potato – cooked and diced
15 ounce can of fire roasted tomatoes – drained
One pound sausage (I prefer local sausage because it doesn't have any preservatives, it comes from farm raised pigs, and it tastes amazing. You can also use turkey or chicken sausage)
5-8 eggs (this all depends on how many eggs you want and how many people you're feeding. I buy Organic, cage free, free range eggs)
Directions
First, you need to cook the sweet potato. After it's cooked, cut it in half and allow it to cool so you can handle it. Once it's cooled down a little, cut it in quarters and then dice to about one inch pieces.
In a large pan over medium heat, add a little coconut oil (about one to two teaspoons) and sauté the diced peppers and onions until tender.
While the veggies are sautéing, cook the sausage in a separate pan (I don't cook it in patty form, I just break it up).
Once the veggies are cooked, add in the cooked sausage, the diced sweet potato, and the can of fire roasted tomatoes. Stir to combine and heat through.
While that yummy mixture is heating up, cook your eggs. I prefer to scramble them and serve on top of the sausage-veggie mixture, but you can also cook them sunny side up, over easy, or whatever way you prefer.
Spoon the sausage-veggie goodness on a plate, top with the eggs, sit down, grab a fork, eat, and enjoy!
Optional Add-ons
I like to put a fair amount of hot sauce on top of that delicious pile of yummy goodness, but some other good add-ons are salsa or even a little chipotle chili powder.
You can also use a regular potato instead of a sweet one, but I prefer the flavor from the sweet potato.
Give this egg scramble a try and let me know what you think!
For a couple of other great recipes, check out the Meatza & Fajita Bowl.