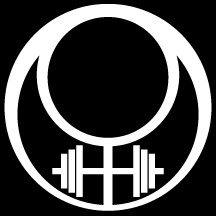 Wanna be a Beautiful Badass?
Not sure?
If you're interested in building a better body, regaining your sanity from the surplus of confusing information, ditching diets and OCD eating habits for good, and actually having fun during your workouts, then it's time to begin your Beautiful Badass journey.
1)  The most important trait of a Beautiful Badass is attitude.
I've received dozens of emails and read numerous comments from women saying, "I hope to one day earn the title of Beautiful Badass". This usually comes after they see a video of a woman deadlifting or squatting a lot of weight, or busting out bodyweight chin-ups.
I don't care if you "only deadlift your bodyweight" or you can "only do five push-ups". Heck, I don't care if you can't do a single push-up or bodyweight squat. Being a Beautiful Badass is all about the attitude you possess.
Every woman has her own workout preferences, strengths, and personality. I just so happen to love lifting heavy stuff, particularly off the floor. And over these past few months, I've been addicted to bodyweight training. That's what I enjoy.
Do what you enjoy and what builds your body, mind, and confidence levels.
Whether that means lifting heavy weights, training with kettlebells, bodyweight, or anything else – have fun and do what works for you.
Just have the right attitude and intent in your training; which leads up to number two.
2)  Get stronger and improve your performance.
I don't care if you want to set a world record in powerlifting or if you want to be able to perform 10 picture perfect pull-ups. No matter what your goal may be (or what equipment you train with), you should constantly improve your performance.
Can you perform five push-ups right now? Make it a goal to perform 10 and set up your training to accomplish that goal.
Want to lose some excess body fat? Start running hill sprints a few times per week and either increase the number of sprints every few weeks or decrease the rest periods between sprints.
No matter what you goal may be (get stronger, lose fat, build muscle) you must improve your performance in some way.
3)  Control your bodyweight.
No, I'm not talking about the number on the scale.
Push-ups, inverted rows, parallel bar dips, chin-ups, pistols, handstand push-ups, and other bodyweight exercises are truly badass and will help you build a stronger, leaner, and healthier body.
You don't have to get great at all of them, but at the very least strive to be able to perform perfect push-ups, inverted rows, parallel bar dips (if your shoulders allow it), and chin-ups. These bodyweight exercises are Beautiful Badass approved.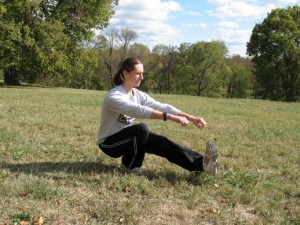 4)  Pick up something heavy.
Yep, this one is a personal favorite. Most women lift very light weights for high reps, if they lift weights at all.
A Beautiful Badass does things differently – she challenges herself and picks up weights that are challenging.
Pulling a heavy deadlift for five reps while the other women in the gym are on the elliptical machine? Yep – that's training like a Beautiful Badass.
BB's know that lifting heavy weights is a great way to build a lean, strong, healthy, and sexy body. It won't make her look like a muscle bound gorilla or something equally outrageous like many of the magazines will have you believe. Lifting heavy will help you build the physique you want.
5)  If you're going to do "cardio", make it Badass cardio.
There's definitely a time and place for long slow cardio. In fact, I go for a walk first thing every morning with my dog. Walking outside in the sunshine and fresh air is good for everyone, and more people should do it.
However, when a Beautiful Badass wants to shed some extra body fat, she can't go wrong with performing activities like hill sprints, pushing a Prowler, pulling a sled, jumping rope, swinging a kettlebell, and other badass finishers that will have you breathing like a locomotive and sweating in a matter of seconds.
Forget about hopping up and down on a BOSU ball or plodding along on an elliptical machine multiple times per week. Beautiful Badasses sweat, get out of breath, and build their mental toughness along with their physical strength.
Click these links for Part 2 and Part 3 of How to be a Beautiful Badass.
Are you loving this information and want to know more about being a Beautiful Badass? Snag the exclusive Beautiful Badass Mini Course and also get insider only information by signing up below.