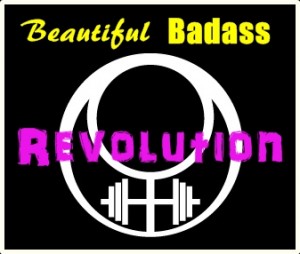 Last week you got Part 1 of How to be a Beautiful Badass. If you missed it, make sure you check it out before moving on to Part 2.
Let's get to the next four ways to be a Beautiful Badass.
6)  Don't Diet
Beautiful Badassesdon't diet or revolve their lives around OCD eating habits. They eat smart and follow simple nutrition principles that allow them to build the healthy, strong body they desire; but they don't diet.
Building a lean, strong, and healthy body doesn't mean you'll be forced to count calories and weigh food for the rest of your life, or at all for that matter. None of my clients do that and they never fail to achieve the results they want.
Don't become obsessive-compulsive about what, when, and how you eat. Eating is something we do every day, and it shouldn't add any stress to our lives – it should add enjoyment, build our bodies, and improve our health and performance.
Now I will throw a "but" in here – for some people counting calories may help them achieve their goals; it may keep them on track. Also, women who compete in figure and bodybuilding competitions may find it necessary to track their macronutrient and caloric intake. I understand these circumstances, but for the majority of women who just want to look, feel, and perform better, I don't think it is necessary.
But like I always say – do what works best for you and what you enjoy.
If you are one of the individuals who enjoy tracking calories and macronutrients, then more power to you. If, however, you are like myself and absolutely hate the thought of counting calories and weighing food and it makes you develop OCD eating issues, please know it is not mandatory. You can find more in Beautiful Badass Nutrition Principles.
7)  Don't Fall Victim to Gimmicks or Fads
Beautiful Badasses know what works when it comes to working out and nutrition. They don't wait around for the latest and greatest gadget, workout program, or miracle pill to come along.
There will always be fads like the Shakeweight (don't get me started on this one) and popular diets that "take the nation by storm"; but the Beautiful Badass knows better. That crap is nothing but smoke and mirrors, and a total waste of money that won't help you build a better body.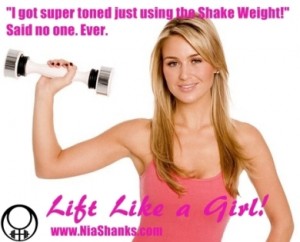 Let others waste their hard earned money on the here-today, gone-tomorrow fads. You'll be too busy getting real results from smart training and nutrition.
8)  Believe in the Basics
Like it or not, big compound movements like squats, deadlifts, glute bridges, single leg exercises, overhead presses, chin-ups, parallel bar dips, push-ups, and inverted rows will never go out of style, or be replaced.
If you want to get the best results possible with the least amount of gym time, then you should center your training around those exercises.
While there are plenty of other excellent exercises you can use, few things are more badass than pulling a heavy deadlift, squatting a lot of weight, or controlling and dominating your bodyweight. The Minimum Training for Maximum Results workout is a terrific example.
And please, don't think for a single second that squatting on a BOSU ball or stability ball is "functional training" and in any way superior to squatting on the ground. It's not. It's just stupid and very dangerous.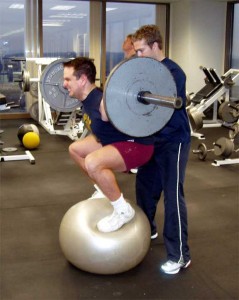 9)  Challenge Yourself
The Beautiful Badass knows that she must challenge herself in the gym. She must constantly improve her performance. She must step out of her comfort zone on occasion. She must do things other women in commercial gyms believe are insane (any BB who has lifted heavy weights while other women do triceps kickbacks with a pretty pink pastel dumbbell knows what I'm talking about).
If you're an up and coming BB or you haven't seriously lifted weights before, you may be intimidated at first. This is quite normal and I've witnessed it with practically every woman I've ever trained (when we first start working together, that is).
Most women are straight up intimidated at the thought of lifting a weight that makes them strain a little; after all they're used to lifting baby weights or have never strength trained before.
Just suck it up, throw some weight on the bar you know you can handle, have the right attitude, use perfect form, and bust out some [insert exercise].
Get comfortable with straining when you lift. Get comfortable with pushing your limits. Get used to sweat running down your face as you get ready to grab the bar for your next set of deadlifts. Get ready to build some mental toughness (hill sprints, anyone?).
Get ready to see what you're truly capable of doing in and out of the gym.
Challenge yourself on a regular basis, and you'll know just how Badass you truly are.
Don't forget to check out Part 3 of How to be a Beautiful Badass.
Want MORE information on how you can become a Beautiful Badass including a Free workout? Sign up below for the exclusive BB Mini Course. You'll also get insider only information.