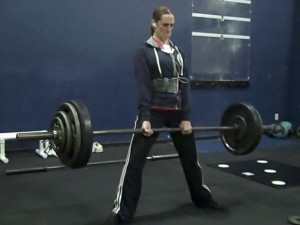 Each week I receive numerous emails and comments from women who have experienced the amazing side effect of improved self confidence from weight lifting. Building greater self confidence isn't the first perk of lifting weights women usually think of, and many are shocked when they experience it themselves.
Here is a comment from a fellow Beautiful Badass that was posted on the Beautiful Badass Fanpage:
Confidence is the main reason why I strength train….others just follow. Strength training changed my life completely…..took me from shy, insecure, and fearful to outgoing, bold, and daring!
I know exactly what this Beautiful Badass means, because I have experienced the same thing throughout my strength training career. Whether you have grown more confident through strength training and you want to take your confidence to new levels, or you want to experience this tremendous side for the first time, the following information will help you.
Why Should You Care about Increasing Your Self Confidence?
With greater self confidence you will not only perform better in the gym (and ultimately build the body you want), but you will experience the carryover into your everyday life as well. You may not believe me, but start getting stronger in the gym and you will witness this firsthand.
Challenges and obstacles that once overwhelmed you will not seem nearly as daunting when you realize you are capable of pulling a double bodyweight deadlift, perform several pull-ups in a single set, sprint up a hill at full speed, or other physical feats you once thought were out of reach.
Explained simply – getting strong in the gym and improving your performance through strength training will reveal to you what you can do. That breeds greater self confidence.
I dare you not to get more confident as your performance improves and you find out what you are truly capable of doing with a loaded barbell or your bodyweight.
How Can YOU Get More Confident?
First and foremost – get strong!
And then when you get strong, get even stronger!
Physical strength can be displayed in numerous ways – through traditional barbell lifts like the squat, deadlift and overhead press, and also through bodyweight training, kettlebell exercises, strong(wo)man challenges, and other methods.
I don't care which method(s) you use; just train smart, do what makes you happy and what you enjoy, and improve your performance.
For some specific examples, be able to achieve some of the feats of strength below and watch your confidence soar to new heights:
double bodyweight deadlift
squat 1.5 times your bodyweight
perform 15 push-ups
perform parallel bar dips
perform bodyweight chin-ups
sprint up a hill numerous times
complete the RKC Iron Maiden Challenge
This is a very short list with just a few examples of some strength markers you could achieve, and you can definitely come up with your own as well.
And, please, don't look at the physical abilities of some women (or the list above) and proclaim, "There's no way I'll be able to do that." For example, some women see me deadlifting 295 pounds for 3 reps and they think they'll never be able to do the same. (Hell, I'm guilty of this as well when I see women snatching 200 plus pounds over their head, or performing muscle-ups, walking on their hands and other advanced bodyweight exercises that I can't perform).
Keep in mind, and this is very important, there was a time when 135 pounds was my max deadlift. There was a time when 225 pounds was my max deadlift. As of right now, my max deadlift is 330. Sometime in the (hopefully near) future my max deadlift will be triple bodyweight.
The point is, I didn't just wake up one day and decide to pull 200 plus pounds off the floor just like other women didn't snatch 205 pounds without a ton of training and persistence over time. We all had to slowly but surely increase our strength.
We all Possess Natural Abilities – Discover Yours
This is an important fact to keep in mind. For example, I am naturally built to deadlift because of my long arms and leverages. Someone with a long torso and short limbs will naturally do better at squatting and bench pressing.
Discover what you are naturally good at, and become great. This is a fun and simple way to improve your self confidence, and to see what you can accomplish in the gym.
If you haven't seriously strength trained for any appreciable length of time, this may take a little while to discover. You may even learn to love a specific lift you once hated or never even tried. It's possible you don't like the thought of squatting, but once you realize you can push some heavy around, it may be your favorite lift.
Maybe you want to focus primarily on bodyweight training and you can't perform a single bodyweight push-up yet. Do not feel discouraged. We all have to start somewhere, it's just important that you actually start.
And don't be afraid to experiment and discover what you enjoy and what you naturally excel at in the weight room or with your own bodyweight.
Something to Keep in Mind
More than likely you won't achieve the strength results overnight. For example, it's not practical to say, "I want to deadlift twice my bodyweight within the next two months" if you've never even deadlifted before. Be sure to set practical, realistic, yet challenging goals.
As a personal example, it's been my goal for a couple of years now to deadlift three times my bodyweight. That has been my goal for years, and I'm still 45 pounds away from reaching it. However, I have celebrated the milestones along the way to that goal, and with each victory comes greater self confidence.
A recent PR on my way to my ultimate goal of a triple bodyweight deadlift.
The bottom line is this – strength training is an excellent way to build greater self confidence. It is my challenge to you to start getting stronger in the gym and make that your sole focus. This can be accomplished with bodyweight exercises, kettlebells, barbells, dumbbells, or any other training tool of choice.
And remember, don't just focus on the primary goal, enjoy the journey of building strength and confidence!
PS – Want to increase your confidence even more with heavy, low rep sets for the first time? Check out this article => How to Lift Heavy Singles and Triples for the First Time.