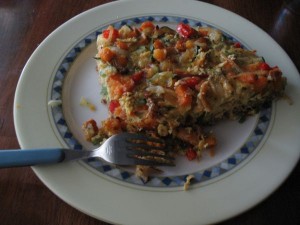 I love eggs.
I especially love locally raised, free range eggs. They taste absolutely amazing and are a versatile ingredient.
One of my favorite meals (that I eat every Monday) is a few slices of local bacon, scrambled eggs (cooked in a little bit of the bacon grease), and a huge serving of steamed asparagus with fresh squeezed lemon juice, salt, and pepper. Absolutely delicious.
Another one of my favorite eggs meals is my Egg Scramble.
However, I was craving something a little different this week, and so I attempted at making my first egg casserole. It turned out better than I imagined and I was told that it has to be a weekly staple for dinner.
I love this recipe because it's a great way to sneak in a lot of veggies, and you can use whatever you have on hand, or any combination of your favorite veggies and meat. The following recipe highlights my favorite veggie combination.
Ingredients
One package of sausage (preferably purchased locally)
One onion, chopped
One red bell pepper, chopped
One zucchini, chopped
One sweet potato, cubed
10 eggs (purchased locally, or at least organic free range)
One teaspoon dried basil
One teaspoon dried parsley
Salt and pepper, to taste
Directions
Crumble up the sausage and cook it in a large skillet. When it's cooked thoroughly, remove it from the pan, reserving the grease, and put the sausage in a large 13×9 baking dish.
This would be a good time to preheat your oven to 350 degrees.
Cook the chopped onion, red bell pepper, zucchini, and sweet potato in the sausage grease. Add salt and pepper, if you want. Cook until tender.
While the vegetables are cooking, use an electric hand mixer to whisk the eggs (Please. Please, use the entire egg. Every time a yolk is tossed, a baby kitten cries), basil, parsley, salt, and pepper until they are a little foamy. You want to mix them this way so they are "light and fluffy".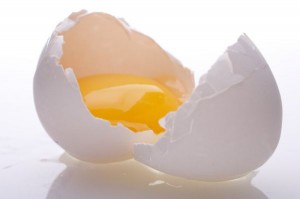 Eat the yolks!
When the veggies are done, pour them over the cooked sausage. Then pour the whisked eggs evenly over the veggies.
Put this soon-to-be-yummy-goodness in the oven and cook for approximately 40 minutes, until the eggs are set. I recommend checking on it after 30 minutes.
When it's done, let it set for 5 minutes.
Cut. Serve. Eat. Enjoy.