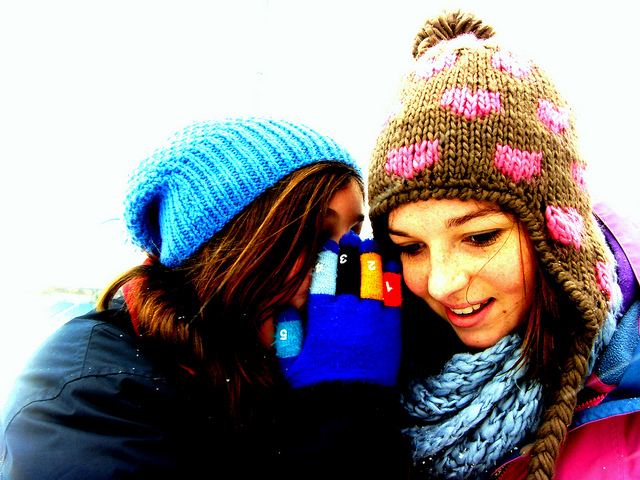 Allow me to end the suspense. Motivation? It can be utterly worthless. Unlike love, it is not all you need. That's the dirty little secret.
I'm ready to take on the world!
Nothing is going to stop me! (Cue aggressive fist-pumping.)
This time is different. I'm really going to lose weight and improve my health.
How many times have you read an article or heard a motivational speech that left you amped up and ready to accomplish your goals? You just knew you were going to be an unstoppable, relentless woman.
You became a tsunami of destructible force and nothing or no one was going to stand in your way or slow you down. Your anthem became Ludacris' early 2000 hit song "Move, bitch! Get out the way, get out the way, bitch, get out the way!" (Or something like that … I was in high school when that was popular, so give me a break.)
And then all of that intense, life-changing, get-out-the-way motivation just seemed to disappear. Like a balloon with a small hole you gradually became deflated.
What the heck happened? Why did that overwhelming motivation vanish? It was like a magic trick you saw in grade school. One second it's here and then POOF! it's gone. Only, it really is gone, and you would love for it to appear as quickly as it dissolved.
Motivation is Perishable
Motivation is perishable. It's temporary like a late spring snow. Beautiful, majestic even. And then it's gone before your eyes. Being inspired feels amazing … until that feeling is gone and you're looking for the next thing to get you pumped up.
Please don't misunderstand me. I want to empower and inspire you, but not at the sake of inaction. Motivation that makes you feel great but doesn't lead to any positive changes is essentially useless.
Yes, I want you to read the articles here and listen to episodes of the podcast and be encouraged, but I want you to use that information to live your life to the fullest. I want these things to propel you forward and build upon what you're already doing.
Doing being the key word.
And this is why motivation can be worthless – if it doesn't lead to action.
What is the Solution?
How can you achieve lasting motivation?
You already know an important piece of the puzzle: motivation that doesn't lead to consistent action is worthless. Being excited and practically foaming at the mouth with determination is utterly useless if you do nothing with it. It doesn't matter how revved up you get or how many endorphins are surging through your body if you don't actually do anything that leads to progress.
Action creates results, which builds momentum, which keeps you going.
Because motivation is perishable you must find something worth doing over and over again. In many cases it means never being able to say, "I'm finished!" There's no final destination. This is the power of being purpose-oriented instead of the goal-oriented route most people take.
What's the difference between purpose- and goal-oriented? Using health and fitness as an example: someone's sole reason for eating better and moving her body could be because she wants to lose 25 pounds. This is a goal-oriented focus and she can declare being "finished" when she achieves it.
Contrast this with another woman who eats well and moves often because she wants to increase her energy, remain independent, boost her self confidence, and be the best version of herself. This is purpose-oriented because there's no final achievement. It's a lifelong, enjoyable endeavor. There's a greater reason to keep going forward.
Purpose > Goal
Here are more examples to bring the benefit of being purpose-oriented to life.
Learning — No one can claim to know everything and say they're finished learning. You can't read one book or one thousand and declare to know everything. Learning is a beautiful, beneficial, lifelong endeavor. You're never "finished" with learning. You can always dig deeper or move on to a different subject.
Growing — I'm much smarter at 30 than I was at 20, and hot damn I intend to be more knowledgeable at 40 than I am at 30. Not just more intelligent, but I want to be the best version of myself, in any and every way possible. Growing as a human should never have a finish line. It means taking risks, learning from our mistakes, and using those experiences to become wiser. (It should also include a healthy dose of not caring what other people think and doing the things you want to do.)
Work — The power of being purpose-oriented has been shown to be effective with your work life. Research indicates that chasing a bigger "why" instead of money can lead to greater success, as discussed in this article. Instead of simply chasing a paycheck, have a greater reason to show up to work each week. Those who do reap the rewards.
Health and fitness — Many adopt healthy lifestyle habits for the sole purpose of losing fat and looking better. I couldn't care less why you first start working out or eating better, but in my experience those who have long lasting success focus on other factors beyond physical appearance, as mentioned above.
Look beyond the upcoming swimsuit season or special event. Find a reason to eat well and move often that is more purpose-oriented. Something that you can never check off as complete to keep you going. (Refer to 5 Health and Fitness Principles for Those Who are Tired of the Nonsense to get you going.)
And let's not forget: doing things over and over again create habits, and habits are what we can rely on when motivation is absent.
Goals Aren't All Bad
This isn't to say you can't have goals along the way. For example, perhaps you want to save up to buy a house in cash. That's a terrific goal! But you'd continue to be responsible with your money after you achieve it. Maybe you want to read two books this month. That's a great goal, but don't stop after a month or two; commit to being a lifelong learner. Maybe you want to perform your first unassisted pull-up. That's awesome! But discover what else you can do once you reach that goal.
Goals can be useful mile markers on this lifelong road trip. They let you know where you are, how far you've come, and where you're going, but they're not the final destination.
Use Motivation to Your Advantage
If you're suddenly bitten by the motivation, nothing-is-going-to-stop-me bug, put it to use right away. Don't let that motivation go to waste. Use it by taking action, over and over again. And hopefully when motivation takes a nosedive, you can rely on the new habits you've developed to keep you going.
Motivation can help you jump-start your journey, and it builds momentum to keep you charging forward.
Decide on a purpose-oriented focus to keep you going for the long haul. Take action today and don't stop. Inspire and motivate yourself through your actions and achievements. Never be finished.
Previous article … Screw Perfection.
Like what you read? Never miss a thing! Sign up below to receive the newsletter.