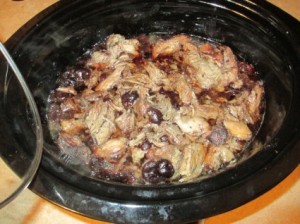 I love my crock pot (or slow cooker, if you prefer).
It's perfect for those busy days that you don't want to spend time cooking a meal. Plus, after you eat, you only have a single dish to clean. Win-win, baby.
Ah, the joys of opening the door to your home and being greeted with the aroma of slow cooked, crock pot cherry pork tenderloin. It's an intoxicating smell, really. Once you get a whiff of the yummy goodness that awaits you, you may do the can-can right there in the kitchen. However, you may wanna stretch first so you don't pull a hammie.
Anyway . . .
The following is one of my favorite recipes that I make at least once per month. I'll also include some variations afterward for those of you who don't care for pork, or if you want to change things up a bit with other options.
Ingredients
3-4 pound pork roast (tenderloin is my favorite)
salt and pepper, or seasoned salt
2 pounds frozen cherries (you can use one, but two is better, in my opinion)
2tsp ground cloves
2tsp ground cinnamon
2tsp nutmeg
zest of one orange
1/4 – 1/2 cup of honey (optional, but very good and recommended)
Directions
Put your roast in the crock pot and season with either salt and pepper or seasoned salt. Whichever you prefer is fine and both work well.
In a large bowl, combine the cherries, spices, orange zest, and honey. Mix well. Pour this around the pork roast.
Here's what it looks like when it's all put together before cooking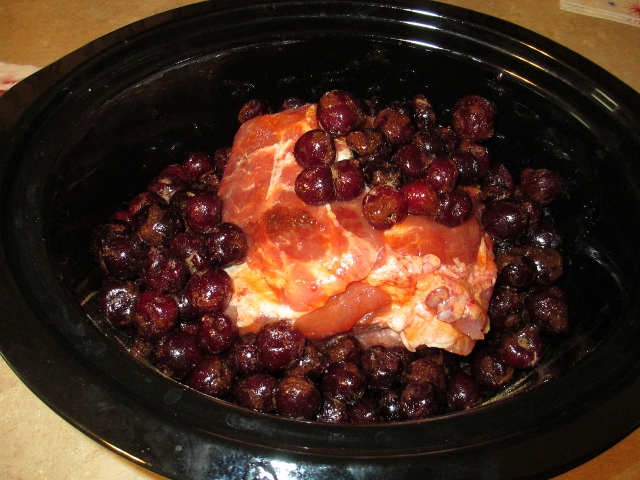 Cook on low for 8-9.5 hours, depending on the size of your roast
Once there's about half an hour left on the timer, I like to shred it up so the juice can soak into every piece of porky, yummy goodness.
Eat and enjoy.
Just so you know, you can break the roast apart with a spoon; it comes out that dang tender. It's phenomenal.
Here's what it looks like once it's cooked and shredded **drool**
If you'd like, you can put this all together the night before and keep it in the refrigerator, that way all you have to do the next morning is put the pot in the heating element, plug it in, and turn it on.
Other Options for Crock Pot Yummy Goodness
I prefer to use pork tenderloin, but you can use whatever cut you prefer. I recently tried a pork butt, as pictured above, and it turned out incredibly well, too.
If you don't like pork, or you want to change it up a bit, use a turkey breast. If you use a bone-in breast, be warned – it gets so tender that it breaks apart and little bones can sneak onto your plate, and in your mouth.
You can also use fresh cranberries. This is what I first used with this recipe, but they became a little tough to find throughout the year.
If I were you, I'd put that recipe at the top of your "to make list" very soon. Give it a try and let me know what you think.
Other Recipes for You to Try
Desserts
Dinners
Happy eatin'!