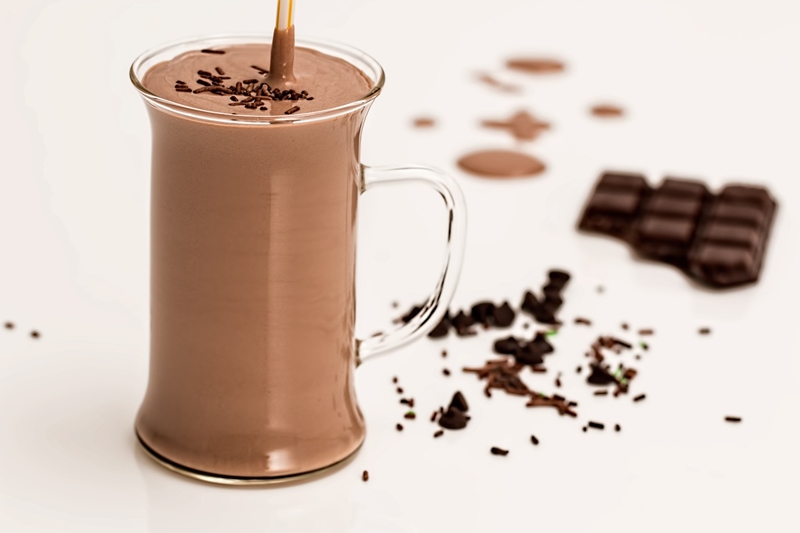 Would you rather listen to this article? Use the player below or download on iTunes.
How many times have you tried a "healthy" recipe that boasted it tastes just like the real thing! only to be immensely disappointed…again?
My list of never-make-this-food-abomination-again recipes is a lengthy one; I don't care if it's healthier than the original recipe it impersonates because if it tastes terrible, it's not worth eating. Plus, that perpetuates the idea that healthy food can't taste good, and that just isn't true.
Recently I tested this recipe out on my picky spouse. The immediate wide-eyed response: "A protein shake shouldn't taste this good. It tastes like you put ice cream in it." Now that I've boldly hyped up this chocolate protein shake that actually tastes like a milkshake recipe, let's get to it so you can make it right away and enjoy its smooth, tasty, protein-rich deliciousness.
The Protein Shake Ingredients
1 cup almond, cashew, or soy milk*
1 scoop chocolate protein powder**
1 tablespoon unsweetened cocoa powder
1 cup frozen blueberries (cherries or strawberries are excellent options too)
1 tablespoon peanut butter (optional)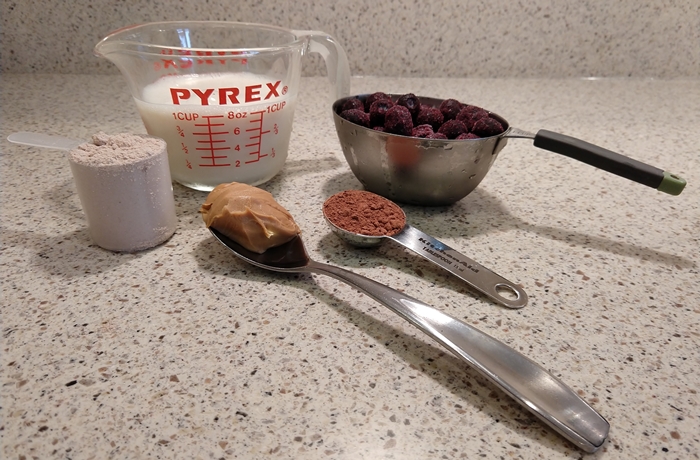 Put all the ingredients, except the peanut butter if you plan to use it, in a blender (I've been using my Ninja for over four years; it gets a ton of use and still works perfectly and was much cheaper than other popular blenders).
Blend on high speed for 30 seconds. You may want to scrape down the sides and blend for another 20-30 seconds if you're not using peanut butter.
If you do use peanut butter, drop it in. Blend on high speed for another 30 seconds.
Pour, drink, enjoy, and sing praises to my name that you finally discovered a simple protein shake recipe that actually tastes like a milkshake.
*Unsweetened almond or cashew milk works well and only contains 25 calories. Vanilla soy milk is my personal favorite (makes the shake extremely creamy and more milkshake-like in flavor and texture) but has 100 calories per cup. Note: If you want the protein shake to have the closest taste and texture to a milkshake, use vanilla soy milk.
Use your favorite milk source; be mindful of how many calories it adds, especially if you want a lower-calorie shake option.
**The choice of protein powder makes a huge difference in flavor and texture. A whey/casein blend works best for this shake, but whey is okay too. A protein blend tastes better, in my opinion, and makes the shake creamier. I use the chocolate fudge brownie Team Skip blend from True Nutrition (you can get 5% off with the coupon code liftlikeagirl). Use your chocolate protein powder of choice, as long as you think it tastes good, otherwise the shake will be disappointing; no recipe can save a protein powder that tests your gag reflex. (Another tasty chocolate protein powder is PEScience select protein, chocolate frosted cupcake flavor.)
Pea protein is notoriously thick and creamy, so if you like pea protein powder or need a vegan or dairy-free option, then a chocolate one could work.
Again, to make sure you get the tastiest shake possible, I recommend a chocolate whey/casein blend you think tastes good on its own, but use whatever you think tastes good.
The Nutrition Details
I've seen many a protein shake contain way more calories than people realized. It's easy to keep adding stuff to them and it can get to the point where you might as well have a real milkshake from the ballooning calorie count. (There's not a thing wrong with enjoying the real thing. For more information check out the popular article Eating in Moderation: How to Do It Right.)
The exact calorie and protein content of your shake will vary, depending on what milk source and protein powder you use (the unsweetened almond and cashew milks contain 25 calories per cup). My shake contains about 235 calories without peanut butter (and packs 26 grams of protein), and 330 calories with one tablespoon of peanut butter (about 30 grams of protein).
Depending on your calorie needs, keep an eye on which ingredients you use and add to the shake.
What About a Lower-Calorie Peanut Butter Option?
Some people like powdered peanut butter because it delivers a peanut butter taste with fewer calories (about 45 per serving). If you prefer a lower-calorie option but still want a peanut butter flavor in your shake, then use powdered peanut butter in place of the real thing.
How to Make This Shake a Meal
This chocolate protein shake is a great fast-and-easy breakfast. My favorite way to make this shake a hearty breakfast: use 1 cup vanilla soy milk (100 calories), 1 scoop chocolate protein powder (120 calories), 1 cup frozen berries (80 calories), 1 tablespoon cocoa powder (10 calories), and 2 tablespoons peanut butter (190 calories). That brings this shake to 490 calories and it has 39 grams of protein and 10 grams of fiber. You can decrease the calories by using less peanut butter, using a powdered peanut butter explained above, or omitting it entirely.
That's a shake that will keep you satiated for hours.
How to Make This Shake a Low-Calorie Meal Replacement
If you're trying to lose fat, this shake is a tasty meal replacement. In that case, stick to using unsweetened almond or cashew milk and omit the peanut butter. The shake will contain 235 calories (1 cup milk, 1 cup frozen blueberries, 1 scoop chocolate protein powder, 1 tablespoon cocoa powder). It won't be as thick and creamy as you get with the vanilla soy milk, but it's still tasty.
Another option to bring the calories down more: use one to two cups of ice stead of frozen fruit. That would make this shake only 155 calories.
This chocolate protein shake recipe is versatile and can be tweaked depending on your preferences and needs. It's also a great way to fuel a Beautiful Badass workout, or a refreshing easy-to-prepare post-workout shake.
Hello there. If you're new here, you should join the newsletter so you're the first to get new articles. Enter your email below.