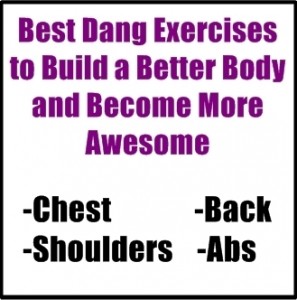 Yep, you read that right. This is the first article in the Train to Be Awesome series will show you the best dang exercises to build a better body and become even more awesome.
In this edition you'll get the best exercises for the upper body (chest, back, shoulders) and abs. The other installment covers the Best Dang Exercises to Build a Better Body and Be More Awesome – Deadlift Variations, Quads, Hamstrings, and Glutes.
Be sure to use these exercises to create the Best Dang Workout Programs to Build a Better Body and Be More Awesome, too.
Best Dang Exercise Criteria
First, the lists for best dang exercises is not all-inclusive. I want to state that now before someone gets all huffy because their favorite exercise(s) isn't on the list.
Here is the criteria I used for deciding which exercises to include on the Best Dang Exercise lists.
Allows for progressive loading. If you want to build a better body and get more results in less time, you must be able to improve your performance, so that means the exercise must allow you add more weight over time or perform a more challenging variation. For example, a push-up works well because you can add weight or perform a more challenging variation. However, a triceps kick-back will only allow you to increase the weight to a certain point before you risk injuring your joints or just can't increase the weight since it's such a small muscle.
Big, compound exercises that provide most bang for the training buck. This article is about the best dang exercises for building a better body and allowing you to be awesome. Hoisting a heavy dumbbell overhead via a push press will provide more bang for your buck than a skullcrusher. Not saying the skullcrusher exercise is bad, it just won't produce the results a push press will.Remember, if you're going to do isolation exercises, you've gotta earn them.
Most people can learn proper form quickly. I included exercises that can be learned quickly. For example, it's easier to learn how to properly perform a pull-up compared to a barbell hang clean.
Most people can perform the exercise safely without a spotter. Notice I said "most people". Some people just do stupid things. But most people could safely perform a dumbbell bench press if they were training solo compared to a bench press if they didn't have a power rack to protect them. We've all seen the YouTube videos of a guy getting stapled to the bench when training alone.
Does the exercise allow you to Train to be Awesome? Bodyweight chin-ups are awesome. Squatting your bodyweight for the first time is awesome. Calf raises, while effective for building nice lower legs, are not awesome. (Note — I did include some abdominal exercises that hardly make you "awesome", but I wanted to include my favorites since people would ask for them anyway).
I must be able to do the exercise(s) in my home gym. I have a power rack, barbell set, adjustable dumbbells, weight bench, back extension, a few kettlebells, resistance bands, suspension trainer, and some other odd and end toys. The only exercises included are ones I can do with this equipment.
So you get a grasp on the criteria above, let's compare two wildly popular "chest" exercises — Barbell Bench Press versus Push-up.
The push-up meets all of the above criteria, but a bench press does not. Many trainees wouldn't feel comfortable bench pressing alone, especially if they don't have a power rack for protection. Also, a trainee can learn how to perform a proper push-up quicker than a bench press, and it's much more shoulder friendly.
Best Dang Exercises
For simplicity the exercises will be organized according to the prime movers — chest, back, shoulders, abs, etc.
Chest
This video demonstrates some of my favorite chest (or, as I prefer to say, horizontal pushing) exercises.

The only exercise in the video that won't be suitable for some trainees are parallel bar dips. If your shoulders don't tolerate them, don't do them. I couldn't help include them for the simple fact that they're awesome.
Shoulders
Here are two of my favorite Best Dang Exercises for shoulders. Most trainees can do these without any issues (unless they have jacked up shoulders and/or mobility issues).

Handstand push-ups and easier variations are also great shoulder exercises, and undoubtedly awesome. Here's a video that shows you how to work up to handstand push-ups for the first time.

And finally, the list of Best Dang Shoulder exercises wouldn't be complete without the standing press.

I use this with trainees who have zero shoulder issues and love hoisting heavy weight over head. As you see in the video, I like to use Fat Gripz since pressing with a bigger grip puts less strain on the elbows and shoulders.
Back

The only pull-up variation I demonstrated used a neutral grip. That's because this is the "safest" variation for most trainees. Using rings or a suspension trainer is also excellent for elbow and shoulder health. Use other hand positions too if they don't cause you any issues, but I use those variations (neutral and suspended) most frequently.
Cable pulldowns (not demonstrated because I don't have a cable stack) are also a good back exercise. But since I don't have the equipment for a pulldown, I demonstrated another vertical pulling exercise I use with trainees who can't perform bodyweight pull-ups and/or don't have a cable stack — a one arm half kneeling pulldown with a resistance band.
Abs
I'm not gonna lie — I loathe direct abdominal training. It bores me to tears.
But, some people love it and/or need it, so here are some of my favorite direct ab exercises.

Build a Better Body & Be More Awesome
There's a reason most of the exercises above are staples in my workout programs and manuals and the proven Train to Be Awesome Guide. They'll allow you to build a better body and become more awesome.
If you're not getting the results you want, make sure you're using most of the exercises above in your workout program.
For a sample workout plus insider only information, be sure to sign up to receive the Beautiful Badass Mini Course below.