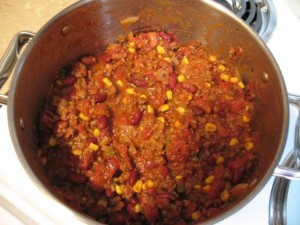 Oh wonderful yummy goodness. Forgive my lack of photography skills. The chili looks better than the picture shows.
I am not one of those people who "eats to live". If something doesn't taste good, then I don't want to eat it. Yes, I understand that food is fuel for our bodies and that we should eat foods that provide the highest quality nutrition possible. We should be eating foods that make us healthier, prevent disease, increase our energy levels, and help us recover from workouts.
But I also believe that food should taste good.
Very few people can live off of the same old boring, bland, tasteless foods for any extended period of time. "You can't eat delicious food and be healthy" is a terrible myth.
And not only can you eat delicious foods that improve your waist line and overall health, but you can cook some amazing meals in a matter of minutes.
With that said, today I am going to share with you an amazing bison chili recipe. I got the original recipe from Brian St. Pierre. I've made it several times and have tweaked it until I finally got it just right for my personal taste and preferences.
I made it Monday for about the fifth time, and it's finally just the way I like it.
Ingredients:
2 pounds ground bison (you can also use grass-fed beef)
1 large onion, diced
1 large green pepper, diced
Four 15 ounce cans of fire roasted tomatoes
One 15 ounce can of tomato sauce
Three 15 ounce cans of beans, drained and rinsed (I use dark and light red kidney beans, but use any combination you like)
One 15 ounce can of corn, drained
2 – 3 tablespoons of chili powder
Salt and pepper to taste
I really love the taste of bison, and there is a local bison farm in my area. If you can't find bison, then substitute grass-fed beef.
Directions:
1) In a large pot, cook the bison with the onion and green pepper over medium heat. I also add salt to the meat and veggies.
2) Once the meat and veggies are cooked, add the remaining ingredients. Cover and simmer for about 20 minutes. Again, add salt and pepper to taste.
3) Ladle some into a bowl, eat and enjoy.
I like to add a good amount of hot sauce to my bowl of chili, and if you prefer your chili spicy as well, I suggest you give it a try.
As you can see, this recipe is very quick and easy to make.
For another simple yet delicious meal, make sure you check out Revamp Your PB & J if you haven't already.