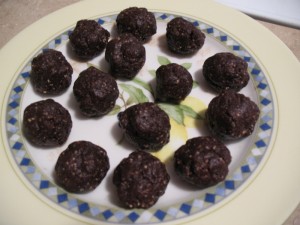 Yep. I'm not gonna lie. I wasn't sure of a good title for this quick, easy, all natural, and delicious dessert recipe, so I settled on Brownie Balls, because that's what I think they taste like.
The next time you want a quick and easy, all natural dessert recipe, I encourage you to give these a try.
Ingredients
1 cup raw nuts (I like to use half a cup of almonds, 1/4 cup pecans, and 1/4 cup of walnuts. Use any combination you prefer).
3/4 cup raisins
1/4 cup cocoa powder (I use a heaping 1/4 cup because, well, I really like chocolate.)
1 teaspoon vanilla extract
water
Directions
Put the raw nuts and raisins in a food processor. Blend on high until the nuts and raisins are chopped and incorporated.
Add in the cocoa powder and vanilla extract and blend/pulse until the nuts are finely chopped and all of the ingredients have combined.
You want to be able to form the mixture into balls without crumbling apart, so I usually add in a teaspoon of water. This allows the mixture to bind together. Add very little water and only add more as needed.
You just want the balls to hold their shape, but not be wet.
Once you've attained the proper consistency, divide the mixture and form them into little brownie balls.
I prefer to put them in the refrigerator for a couple of hours.
That's it. Super quick and easy.
You can also substitute some of the ingredients. For example, I've used dates instead of raisins, and I've experimented with different nuts as well. Oh, and unsweetened coconut makes a great addition, too. You're only limited by your imagination and taste preferences.
Want Some More Recipes?
Here are some of my other favorite recipes: