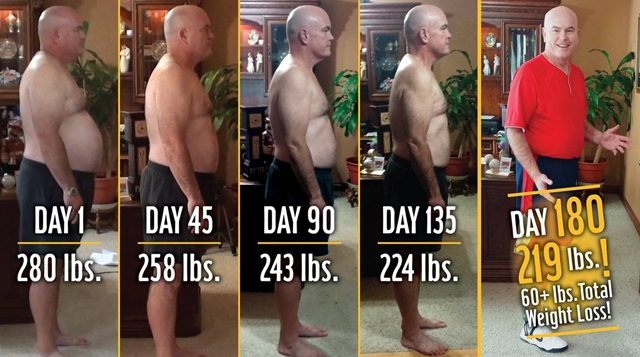 You've likely seen it. The story of a 55 year old science teacher who lost 56 pounds eating nothing but McDonald's for six months.
"I ate 540 straight meals at McDonald's," John Cisna said.
He lost 56 pounds and he improved his blood pressure, cholesterol, and other blood profile numbers.
And yet, some fitness enthusiasts and professionals are pissed.
"This is stupid!" they yell.
"His health would be twice as good if he ate real food."
"Great, now everyone is going to think they can live off McDonald's!"
First, I suspect some people comment before watching the 19 minute video about Cisna's experiment. Second, the teacher, John Cisna, said repeatedly he wasn't saying people should do this. It was an experiment. It was a challenge for his students who had to put together his meals with two guidelines:
Keep him at 2,000 calories per day
Track 15 different nutrients to keep him in line with the standards set by the FDA
Here's the video.
https://youtu.be/rPp27kQpkmE
The Main Lesson
What did the experiment prove? That it's acceptable to live off fast food? No. It reinforced what research and science has stated all along: caloric intake and expenditure are critical for weight loss and health.
Regardless of Cisna eating 540 straight meals at McDonald's, his health markers improved. Here are the improvements he made in the first three months:
Cholesterol: started at 249 and lowered to 170
Triglycerides: from 156 to 80
LDL: from 170 to 113
Those are terrific improvements in 90 days and you cannot claim he's not healthier as a result of the experiment.
And why are some people so upset? Because he "didn't do enough" and should have eaten real foods? Come on, people. You're missing the point entirely.
It likely would not have been practical for this gentleman to eat nothing but real food every day for every single meal without fail for six months straight.
People shouting that this doesn't prove anything are missing the forest for the trees. How many millions of people in the United States alone are obese or overweight? If you think the answer is to tell everyone to trade their morning McDonald's meal for a homemade omelet and cook dinner from scratch when they're used to going out to eat is going to work … well … it hasn't yet. And for most people it won't.
Demonstrating, as Cisna did, that it's possible to lose weight and improve your health eating McDonald's provides real world application for many people.
Dr. Brad Schoenfeld said it well in response to criticism of the experiment:
"The point is to show that if you reduce calories below expenditure, you'll lose weight regardless of (and despite) the nutritional components. I'll also add the most important aspect of any diet is adherence. Sure, it's nice to speak of ideals. But what good is giving someone a "healthy" nutritional approach if they don't follow it?"
Well said, doc.
It's not always about what's "ideal". It may have to be about what's doable for the individual at first.
Implications Going Forward
Why do many people never successfully lose weight or improve their health?
One reason could be because many "experts" tell them they can never eat fast food. That they must eat every meal at home. And more often than not this advice doesn't work because it's not sustainable for them.
Case in point. I purchased celery at the grocery store and the cashier asked what it was. She said she couldn't identify most fruits and vegetables. Do you think telling someone who, like her, can't identify common fruits and vegetables that she needs to eat only real foods, drink a homemade smoothie every morning, and make a salad with green onions, peppers, and zucchini is going to be practical? If she wanted to improve her health how long do you think she could realistically eat nothing but real food? Hell, would she even know where to start?
We have to meet people where they are. If we have to tell people who eat most of their meals at a fast food restaurant that they can lose weight and improve their health, then that's where we need to start. Then we can introduce them to additional healthy habits. Maybe they can start walking 30-45 minutes most days per week, as Cisna did. Maybe they can make one meal per day at home. Maybe they can add a salad to their daily eating habits.
Research has shown that as people develop new habits establishing additional ones later on becomes easier. But we must first show them they can have success and build momentum.
This all-or-nothing mentality does more harm than good. Telling someone eating below their caloric needs at McDonald's isn't good enough and that they should eat real foods all the time from day one is setting many up for failure.
Related Article: Doing Too Much Causes (Unnecessary) Stress & Costs You Long-Lasting Results
My job as a fitness professional is to meet people where they are. For those who eat mostly fast food, the experiment Cisna conducted could be encouraging. It could be less intimidating since fast food is familiar to them. Obviously for people who rarely eat fast food but are still overweight, they would make different changes.
You wouldn't tell someone who hasn't cooked a meal in his life to make a flawless beef wellington. No, you may first start by teaching him how to make a fried egg.
Likewise you wouldn't expect a young adult to solve a calculus equation if they haven't taken algebra 101.
Health and fitness is no different. Someone's starting part may be different than another's. Someone's first step toward making better health choices may mean swapping out a Big Mac for a regular cheeseburger, or getting a small fry instead of a large. That is likely, for many, easier and more practical than going from a Big Mac to cedar plank roasted salmon and vegetables.
It's about making better decisions, gradually, that lead to long-lasting change.
One more example with a person who smokes a pack of cigarettes a day, and has done so for years. She wants to quit and has tried going cold turkey more times than she can count, and it obviously never worked. This time she knows she has to try something different. She has to try something more doable. Her plan is simple: for the next week smoke one less cigarette per day. Week two, smoke two less cigarettes per day. Week three, three less, and so on.
Now would anyone tell this woman, "What you're doing is dangerous! Don't you know smoking is terrible for your health and has been shown to increase your risk of cancer? You need to quit all at once, cold turkey, overnight or it's not good!"?
No, of course not. Because she is making positive change. Only this time it's at a manageable rate. She'll like increase her self-confidence once she gradually quits smoking. And research has shown that as people form new habits, it's easier to form additional habits. So she may start exercising. She may even start to make better food choices. More than likely, she make additional choices that improve her health.
This adds up and it all started with smoking one less cigarette a day for a week. Months and years down the road she'll have a new, much healthier lifestyle.
This is the power of meeting people where they're at and making gradual, consistent, better choices.
Is This "Dangerous"?
There's no one-size-fits all, and everyone starts from a different position. Helping them figure out how to move forward in a sustainable way is crucial if we want people to improve their health long term.
Because I know it's coming … I am not saying eating nothing but McDonald's is the way to go. I am not saying it's the best option. Cisna's experiment was about demonstrating the importance of caloric intake, regardless of the source. Start there if you must. Get some results, start improving your health, build momentum, and then slowly introduce additional healthy lifestyle habits.
And for those who currently eat mostly real foods and can't relate to this story, you can use this as an example the next time a friend tells you she can't successfully lose weight because she can't eat salads and oatmeal all day. "I refuse to eat like a rabbit" or "I've tried every diet and nothing works," you've likely heard. Meet them where they are.
Is it ideal to tell people to eat fast food? No, and no one is making that claim. But if it gets them moving in a direction of improving their health, it's better than nothing. Some will argue this experiment is "dangerous" and encourages people to eat more fast food. But I would argue it's dangerous, and irresponsible, to set unrealistic guidelines from the beginning that have proven to fail people time and time again. It's clear that strict diets don't work long term for most people and we must get them on the path of success.
Yes, food quality is important, and we can teach that too. But for many who have lived decades of their lives eating fast food, we may not be able to start there. We may have to first show them how to eat what they're familiar with, but at a lower caloric intake. Then, once they've mastered that, we can start to teach them more healthy habits.
Let's not miss the forest for the trees. Let's learn what we can and help people live a healthier life, regardless of where they must begin.
Recommended Reading:
Like what you read? Never miss a thing! Sign up below to receive the newsletter and you'll get the Beautiful Badass Mini Course as a free gift.