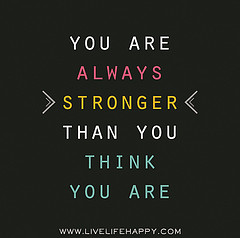 I get it, really I do.
Sometimes (not for most Lift Like a Girl readers, but definitely women who start strength training for the first time) the thought of lifting a heavy barbell is intimidating.
Some women think (or have been brainwashed into believing) they'll never be able to do chin-ups without any assistance.
Perhaps a double bodyweight (or more?) deadlift is out of reach or too hefty of a goal to strive for.
But, and here's the important thing — you're much stronger than you think you are.
You're capable of much more than you realize.
We had a conversation on the Lift Like a Girl Facebook page the other day about this very topic, and here is what a fellow Lift Like a Girl reader, Joy, had to say: "I lift more at 35 than I did at 25 and it's all because someone told me that I am stronger than I think I am."
Here's the exact post:
It's been suggested to me, on a few occasions, that I "tone down" some of my suggestions.

Telling women to set goals such as performing a bodyweight chin-up for the first time or deadlift twice their bodyweight is "too intimidating".

My response?

Good!

I want women to shatter these self-imposed limitations and to stop thinking, "I can't do that" and to experience just how strong they truly are.

Can these things be intimidating at first? Yes, of course. But this presents an opportunity for growth. Set challenging goals for yourself. Get out of your comfort zone. Unleash your strength. Break through the barriers.

Chances are you CAN do those things you thought were impossible, and much, much more.
It's too bad there are still a lot of trainers, websites, books, and other fitness paraphernalia telling women "not to lift too heavy" or set challenging strength goals, such as performing pull-ups. Heck, some gyms still have dedicated "women only" areas that have nothing more than a few pastel colored dumbbells and an inner and outer thigh machine. You definitely won't see a power rack or barbell set in these areas.
But maybe you're not intimidated by big strength goals or heavy weights. But you still might be asking the wrong questions or holding yourself back.
So don't ever think, I can't do that.
Instead, ask the question, What are you going to do?
And then after that, What else can you do?
Get out of your comfort zone no matter how scary it may be, because it's then we discover our capabilities. I know from personal experience that the times I challenged myself and drifted beyond my comfort zone (not just with working out but in other areas of my life) I reaped the greatest rewards.
The journey is where the magic happens.
Unleash your potential. Discover what you're capable of doing. Shatter any self-imposed limitations that are holding you back.
I'm willing to bet you'll be able to do the things you were once told were unachievable, but I also believe you'll do so much more.
So — you're stronger than you think you are. And what are you going to do about it?
Related Articles:
Like what you've read? Don't miss a thing! Sign up to receive the Lift Like a Girl Newsletter below. You'll also get a free gift, because you're awesome.