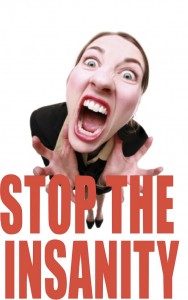 There's been a rise of what I'm terming  fitness and nutrition insanity. On a daily basis I'm bombarded with emails from women who are frantic, confused, frustrated, and stressed out from their nutrition and workout regimen.
Their intentions are good – they want to improve their health, performance in the gym, and physique. But, they're revolving their lives around eating and working out. They don't know how to maintain their newly sculpted bodies or eat and workout without micromanaging every aspect of nutrition and training.
It's because of these ever increasing emails, messages, and comments from my clients that I'm writing this article.
Let's move on.
When you can step back and force yourself to strip things down to the bare essentials, and you stop following strict, rigid guidelines that have been whittling away at your sanity and energy, there's a tremendous relief. It's as if a huge burden has been removed from your shoulders, and . . . ahhhh . . . you can breath again. It's my goal that by the end of this article, you too can experience that relief.
I encourage people who feel overwhelmed or trapped in obsessive eating patterns to simplify everything and take the Sane and Simple Nutrition approach. Stop obsessing over what has a higher quality nutrition profile, or what has more antioxidants between strawberries and blackberries. Stop stressing over consuming the best sources of protein. Stop making yourself avoid social gatherings out of fear of eating something you think should be "off limits". With working out, stop worrying if it's more optimal to perform six reps or five, or if you should rest 60 seconds or 30 seconds between sets.
We've become obsessed with obsessing about health and fitness. We argue, debate, nitpick, research, tweet, blog, think, try and then give up on countless health fitness theories on a daily basis, all in the name of chasing the promise of 'health'.

This is something I have grown tired of – especially the endless promotion of obsession as health, exhaustion as virtue and suffering as dedication.

-Brad Pilon
There are far more important things in life to be concerned with than wasting precious time on the minutiae of health or building a better looking body. Yes, I love fitness – it's a huge part of my life. But I especially love helping people who have walked a similar path that I've experienced first hand in regards to disordered eating patterns and spending copious amounts of time and energy thinking about food or performing grueling workouts.
I know what it's like to revolve my life around an eating schedule. I know what it's like to have food on my mind every second of the day, from the moment I wake up until I fall asleep, only to repeat the same process the next day. I fell victim to OCD eating habits and wanted to break free.
I know what it's like to revolve my life around a workout schedule. Training to complete and utter fatigue and exhaustion on a near daily basis. I know what it's like to feel overwhelmed, lost, hopeless, and frustrated because I just wanted a simple way to eat and train for better health and a great looking body. I didn't want to stress about it everyday!
Thankfully, because of my personal experience, I can better help those who have, or are, struggling with a similar battle.
Yes, some people have no trouble whatsoever with meal plans, counting calories, rapid fat loss protocols, and following a more rigid nutrition regimen. In fact, some people thrive on this sort of plan. If that's you, then that's awesome and I encourage you to keep doing what you enjoy and what works for you.
However, if you feel overly stressed out from your nutrition and if your life revolves around thoughts of food, then perhaps you can benefit from this article; that's my sincerest hope.
Insanity – doing the same thing over and over again and expecting different results.

~Albert Einstein
How Can We Apply the Term "Insanity" to Nutrition?
Simple – how many times have you enthusiastically started a new diet or eating regimen? You saw the latest and greatest new thing and with fierce determination you started immediately.
How often did you end up stressed out and frustrated, only to give up entirely? And, more than likely, a little time passes, you come across the latest fad, and once again you start this new promising program full of gusto.
Insanity. You keep doing the same thing – starting a rigid, stressful eating regimen you can't maintain long-term – and end up with the same results: frustration, disappointment, and moving on searching for the next potential "solution".
How Can We Apply the  Term "Insanity" to Workouts?
In my experience, most people primarily experience "insanity" with nutrition and eating patterns. But, some people do the same with their workouts. First, allow me to share a message I received on my Facebook page (emphasis added):
Throughout 25 years of cardio & yo-yo dieting, I only ever managed to lose & subsequently re-gain the same amount of weight (if not more) each time, resulting in me becoming obese and unable to walk up the stairs at home without getting out of breath. I made a decision 18 months ago to put a stop to all that once and for all. 

Initially I started the same as usual because I didn't know there was any other way, ie lots of steady cardio & low fat/calorie route and achieved the same old results. However, the difference this time, was once I hit the inevitable plateau, I plucked up the courage to sign up with a personal trainer in Sept last year. Fortunately for me, he promotes weight lifting/strength training for women together with straightforward nutrition. I developed a passion for lifting, which in turn made me hungry for more information. Needless to say, I have never looked back.
As you can see, she experienced nutrition and workout insanity first hand, on multiple occasions. She did the same thing over and over, and got (or, didn't get) the same results. In her case it was relying heavily on cardio, in regards to workout insanity.
It's particularly common for women to resort to cardio machines in hopes of attaining a better looking body. But, and this is happening more much these days, women go to the gym with the sole goal of training to complete and utter exhaustion. Now, I'm all for training hard, but you shouldn't aim to finish each workout totally worn out. You shouldn't be on the verge of vomiting during every training session.
Some women nowadays go to the gym religiously, workout incredibly hard, and after attempting to maintain that frantic, relentless pace for weeks and months on end, they end up burned out and/or injured. Going to the gym becomes a dreadful chore, and oftentimes workouts get skipped. Because some women possess this "train till I puke or I didn't workout hard enough" mentality, they think there's no point in working out at all if they can't maintain crazy high intensiveness. (Again, if you do this with your training and love it, then keep on keeping on.)
Many of these women give up completely after a while because they can't maintain the neck-break pace. Then, after being riddled with guilt for not working out, they pick up where they left off only to repeat the cycle yet again. Insanity.
If you nodded your head in agreement as you read through this article, it's time to get off the insanity train.
It's time to do something different.
How to Rid Your Life of Fitness & Nutrition Insanity
Take a step back, and simplify as much as possible – that's the first thing you must do. You can do so by following a few basic strength training and nutrition principles and let the other details sort themselves out. You can find numerous articles right here on this website and even some great Tutorials.
The decision is yours, but if you're frustrated and don't want to constantly obsess over your training and nutrition regimen, I encourage you to get off the insanity train right now.
And how will you know if what you're doing is going to work long-term? Make sure you can answer Yes to this One Question Fitness Regimen Test.
You may also want to check out this 3 Step Process to Achieve All of Your Fitness Goals.