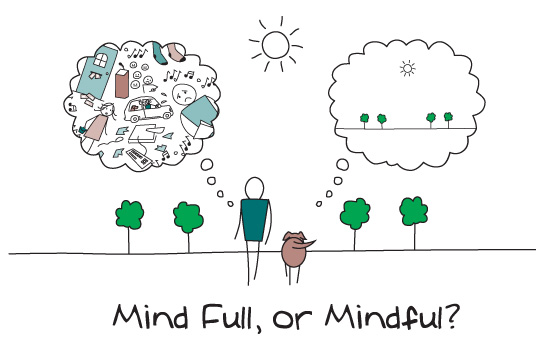 Brace yourself.
The topic of this article, mindfulness, is an excruciatingly boring topic of conversation to some people but DON'T CLICK AWAY JUST YET!
Years ago it was something I had no interest in learning about, let alone discussing. The moment someone said, "Mindfulness is important and beneficial" my eyes would glaze over in immediate boredom. I would start playing reruns of Family Guy (giggity, giggity) in my head or think about my favorite song. Anything to drown out the self-help non-sense that was being blabbered about.
After all, if you want to build a strong, healthy, and good looking body, all you need to do is eat well and work out consistently. The mindset stuff, I thought, was for people that just couldn't do the work that needed to be done.
Thankfully, I eventually realized I was very wrong. Neglecting to embrace and ultimately discuss the power of mindfulness was a huge mistake on my part. It wasn't until I finally gave in and made mindfulness a priority by intently focusing on individual components of my health and fitness regimen (which we'll discuss in a moment) that I had a huge "aha!" moment.
Mindfulness can help you achieve your health and fitness goals and may even be more important than just eating well and working out. It can also have positive effects on the rest of your life as well.
Now, if you're like I was, there's a chance this topic is a big bore to you and you're ready to click the back button, but please hang in here with me a little longer because . . .
Here's the simple truth:
Yesterday has passed.
Tomorrow is not guaranteed.
That means all we're left with is today.
If you take a few moments to ponder this truth, it can be humbling and freeing.
Embracing today is the essence of mindfulness, and exploiting this truth can have a huge impact on your life. I know it has for me.
When I slow down and focus on today – even this very moment as I write this article for you – I'm less anxious and not overwhelmed with things that are out of my control or the other things I need to accomplish.
Before settling in to write this article I was on the front porch with my pup, sipping my morning coffee, listening to the birds chirp on this beautiful morning, and took numerous breathes of fresh, crisp fall air. I may have only been out there a few minutes, but I made sure to be present the entire time, and enjoy it. Instead of thinking about everything I need to do today I enjoyed those few minutes.
Later today I'll perform a lower body strength training workout and then I'll work on the binge eating book that will be released in the very near future.
Tonight I'll cook dinner (hopefully a very tasty one!) that I'll share with my amazing spouse. We'll chat, catch up on our day, and hopefully share several laughs. Heck, I may even enjoy a delightful pumpkin ale as I cook. (Who am I kidding – I'm definitely going drink a pumpkin beer).
The point is, I will give my full attention to each moment, and embrace it. I won't simply go through the motions of my normal daily tasks, but will strive to do everything with purpose and make the most of each opportunity.
How Can You Use This?
Being mindful can positively impact every area of your life, and when it comes to the health and fitness component, the benefits can be tremendous too. For example, it's so easy to get caught up in the "when" portion of our goals. You know, as in "I'll finally be happy when I reach [insert your goal]."
We allow our happiness to be determined by a goal that will be achieved in the future, and as a result, we rush to make it a reality. Until we reach that goal, we're just passing time.
But when we do that – when we live for the when and focus too much on the future – we miss out on today.
The solution is simple: whether you're trying to lose fat or improve your overall health, make it a point to be mindful of the things you do today. Enjoy every meal you eat and be present the entire time. Pay attention to how it smells and tastes. If you work out today, focus on every single rep you perform.
Resist the temptation to just go through the motions.
Be present.
Put a little (or a lot!) less emphasis on the outcome and focus on the process. Enjoy it.
Focusing on these things, the things you do today, is a great way to reduce or eliminate stress and anxiety as well.
If you're currently how I was and think all this mindset chatter is stupid and pointless, I hope you'll take a chance and give it a try. That way you can experience it for yourself and you won't need to take my word for it. Maybe it'll be beneficial to you  . . . maybe it won't. There's only one way to find out.
Related Articles:

And to make sure you never miss a thing, join the Lift Like a Girl newsletter below. You'll also get a free gift, just because you're awesome.