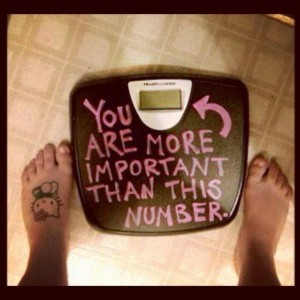 Part One of Letting Go of the Fat Loss Mindset discussed the individuals that could benefit from saying good-bye to constantly focusing on fat loss along with the "why".
In Part Two, I will discuss the how to portion of letting go of the fat loss mindset. Some people wanted more information on putting the suggestion into action, and this article will provide you with tips to do so.
While I have some great suggestions I have used personally and with my clients that will help you let go of the fat loss mindset, I am still a work in progress myself. I have good days and bad days, too. Some days I'm strong and mentally confident. But, then again, there are days where I feel like I need to "improve" on certain things.
I do my best to take these bad days in stride, and make them less and less frequent. Thankfully, over the past few years, my "bad days" have occurred much less often. It's my sincerest hope that this article helps you do the same.
Here are some of the tips I use with my clients and myself to let go of the fat loss mindset.
Stop Obsessing & Relaaaaaaax
Impatience. It's a characteristic that appears to plague anyone who wants to improve their body composition or health. We want change, and we want it now. Heck, we wanted it yesterday. We most certainly don't want to wait until tomorrow or several weeks from now to notice visible results.
Because of this impatience (and I can be guilty of this myself) we obsess about things on a daily basis, from the moment we wake up until we go to sleep. Sometimes our day may center around our training session and meals. We may put other aspects of our life on hold because they don't coincide with our training regimen.
If your daily thoughts and actions revolve around training and eating to achieve fat loss, then it's time to take a step back and just relax.
Take a deep breath, exhale, and realize there is no reason to obsess on a constant basis.
Stop Striving for Perfection
I have no idea what would be considered the "perfect body" because everyone has a different definition. For example, personally, I prefer to carry more muscle. Many women don't want a lot of extra muscle.
Some women want to be thin with no discernible muscle definition. Other women want shapely curves.
Whatever body type you want or may be striving for, stop trying to reach the illusive state of perfection in relation to your physical appearance.
I encourage you to make the best choices you can on a daily basis in regards to how you eat and how you train. I recommend you make small, consistent changes that improve your overall health that you can maintain in the long term so you achieve your goals.
What I do not recommend, however, is trying to achieve some form of physical perfection. Everyone has things about themselves they wish they could change.
Hips. Breasts. Nose. Thighs. Arms. Stomach. Stretch marks. Weight.
Like it or not, you will never be able to change some things about yourself. Your limb length, torso length, and other physical features were given to you from your parents.
Don't beat yourself up over things you simply can't control or change. Stressing about such things accomplishes absolutely nothing and wastes energy that could be applied to something much more positive.
I've been guilty of this before. I hated my nose growing up because kids always made fun of me. As I got older I began to appreciate my nose. And, more importantly, the people who love me, and who's opinions I actual take into consideration, don't love me any less because of my big ole nose. Looking back, the people who judged me and made fun of me because of my nose weren't worthy of my time or emotion.
In the not too distant past I also didn't like my arms. They're just . . . really long. While they may not look "ideal" to me, I discovered that they were an advantage for deadlifting. Now, I love my long arms because of what they allow me to do. Consider this "turning lemons into lemonade", if you will. I suggest you do the same with your natural abilities and body build.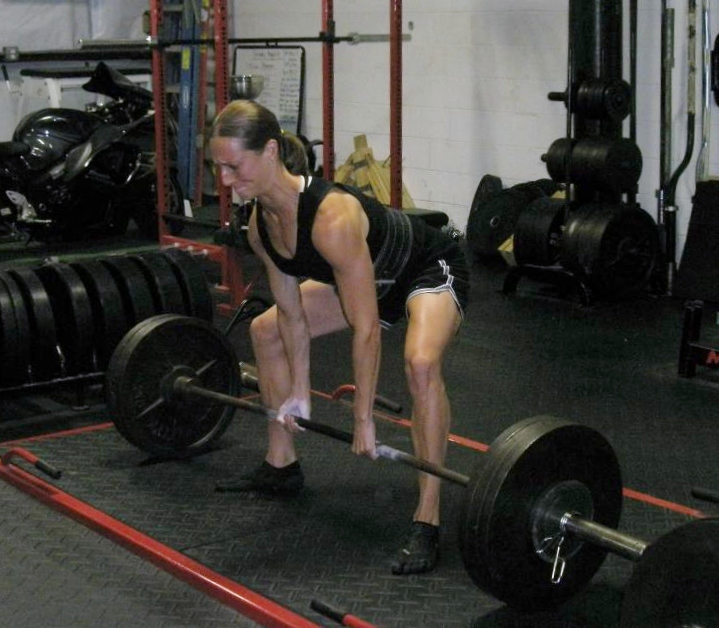 My long arms in action pulling a 330 pound deadlift
Bottom line on this tip – taking positive action to improve your physical appearance and health is not a bad thing. However, striving for perfection as dictated by others is not recommended. Make the most of what you have, and appreciate it.
Eating
I recommend focusing on natural foods, first and foremost – grass fed meats, free range eggs, wild caught fish, lots of fruits and veggies, and nuts and seeds. Those foods should compromise the majority of your diet.
Other than that, I don't really care what you do with regards to eating patterns.
Maybe you enjoy intermittent fasting as a simple method to weight loss, and maintenance. If so, do it.
Maybe you prefer to keep you nutrition as sane and simple as possible. Again, if you enjoy a certain style, do it!
Don't force a square peg in a round hole. For example, some of my clients enjoy intermittent fasting because it's simple and stress-free. Then again, a some of my clients simply don't like it. I don't force them to adopt that eating style if it doesn't work for them. We move on to the next thing to find what works for them.
As long as you're making smart food choices, I don't care how you choose to set up your eating patterns. Experiment if necessary and discover what works best for you and what keeps your stress to a minimum when it comes to food.
Strength Training
No matter what primary objective a client may have with training – get stronger, increase muscle mass, or even fat loss – we focus on positive, performance oriented goals.
Depending on what interests the client possesses or improvements they need/want to make, we'll set goals such as pulling a double bodyweight deadlift, performing 15 push-ups, 5 bodyweight pull-ups, squatting their bodyweight for 20 reps, or any other performance goal.
Even if you just want to lose body fat, I encourage you to focus entirely on your performance, and nothing else. Come up with some performance goals you would like to achieve, and set up your training accordingly. Maybe you want to compete in a powerlifting meet or the RKC Iron Maiden Challenge? The possibilities are endless.
Not only is training for performance much more enjoyable, but you're more likely to remain consistent with your training. Furthermore, as long as you're eating intelligently, fat loss will become wonderful side effect from your training. Let go of the fat loss mindset when it comes to training – don't focus on fat loss. Focus on performance.
Love Yourself
Yeah, this one may sound stupid, but it's important. You need to love yourself entirely, and that includes your perceived shortcomings in regards to your physical appearance.
Yes, as previously stated, there is nothing wrong with seeking physical improvement in the form of fat loss, getting stronger, faster, or building muscle. But you need to love yourself the way you are now.
I've been very guilt of this in the past. When I was in the midst of my disordered eating, I absolutely hated myself and how I looked. Training, along with nutrition, was a method of punishment more than anything else.
I trained and dieted because I hated how I looked.
This went on for a couple of years, and I didn't make much progress. Negative motivation hinders progress more than spurring it forward, as it turns out.
Once I came to the realization that loathing my appearance was hurting me and my progress, I forced myself to change. On a daily basis I tried to appreciate and love myself for how I looked, regardless of the "changes" I wanted to make to my body.
Loving myself with my perceived flaws made it much easier to make progress, and training and nutrition were no longer a chore or method of self torture.
This attitude has served me well over the years. Now, when I want to "change" how I look, I take a much different approach and actually enjoy the process.
For example, I don't care for my calves. I think they're too small. Heck, my biceps are bigger than my calves! So, for the past few months I've decided to do something about it and train them, with gusto.
In the past when I had a self-loathing attitude, I would have trained my calves in vain with negative thoughts and motivation. I would have trained my calves because I hated how they looked. But, now, I'm enjoying the process and anticipating the changes that will occur as long as I'm consistent. I don't hate my calves for how they are now, but I'm excited about the changes that soon occur.
The following tip builds on to this one.
Positive Self Talk
You talk to yourself more than anyone else.
What are you saying most of the time? Are you making negative comments that tear you down, or do you build yourself up with positive remarks?
Pay close attention to what you say.
Yes, once again I know this tip may sound cheesy, and maybe even plain stupid, to some people. But if you're constantly engulfed in negative self-talk, this tip can serve you well.
I challenge you to pay close attention to what you say to yourself over the next few days.
If you want to let go of the fat loss mindset, it would behoove you to start engaging in positive self talk. Heck, it doesn't just have to be in reference to your physical appearance. The comments can be about your job, your performance in the gym, your role as a wife, mother, or sister, or anything else. Just be positive and allow those thoughts to transcend to your physical appearance as well.
Ditch the Scale (Read This!)
Confession time – I once mounted the scale on a daily basis. Then I decreased the frequency to a couple of times per week.
As those of you who get on the scale on a regular basis know, it can play some crazy mind games with you.
For instance, have you ever felt really good right before getting on the scale? You ate well and trained hard the past week and you get on the scale expecting to see a decrease, but, the number didn't change, or even went up!
All of a sudden your good mood diminishes, even though moments before that event you were happy.
Why do we allow such an arbitrary number to have such a great effect on us?
I suggest you do what I did a few months ago – ditch the scale. You don't have to throw it away entirely, but I suggest making "weigh-ins" much less frequently; maybe once a month at the same time.
In fact, it's not uncommon for a beginner strength trainee to gain weight when they adopt a strength training regimen. After training hard and eating smart for several months they may end up weighing five to 10 pounds more than they did at the beginning. However, they have lost a significant amount of body fat, have built some muscle, lost inches from previous measurements, wear smaller clothing sizes, and look and feel great.
The increase in scale weight may shock them because they look and feel better. This is one reason why you shouldn't let the number on the scale determine your happiness, or sorrow. It can be very misleading at times.
To measure your progress, I suggest using alternative indicators of body composition and fat loss – how your clothes fit, how you look in the mirror, and a few simple measurements (waist, hips, stomach, etc). Take these every four weeks or so to track progress; they are much better markers than scale weight.
Put Things in Perspective
Yes, looking good is awesome. Achieving, and maintaining, low levels of body fat is even quite simple. However, there are more important things in life than looking amazing every day. Well, at least that is my opinion.
Look, some people can maintain very low levels of body fat year round, without any issues or struggles. Some people, on the other hand, experience daily and weekly battles to stay very lean even with smart training and nutrition.
Some of us simply focus too much on fitting an "ideal mold" that is flaunted and expected from society.
If you, like I once did for years, focus on fat loss and how you look all day, every day, then I suggest you try to put things into perspective.
At the end of your life, I'm guessing you won't be thinking, "I wish I could have lost just a little more fat, and had more defined abs."
Please don't misunderstand; the point of this article is not to provide you with an excuse to stop eating healthy and training hard or from achieving your health, body composition, and performance goals. Far from it.
I encourage you to take a more relaxed, stress-free approach to achieving those goals. Make the necessary to changes to let go of the fat loss minidset and adopt simpler methods, with training and nutrition, to achieve those goals.
One Day at a Time
As I mentioned at the beginning of this article, I still have my good days and bad days when it comes to letting go of the fat loss mindset.
If you constantly focus on, and worry about, fat loss, don't expect a complete change overnight. Take things one day at a time and don't beat yourself up on your less-than-stellar-days.
Make small changes. Maybe you can start by training for performance. Once you have the down, try experimenting with easier, more sustainable eating patterns. Focus on positive self-talk instead of berating yourself with negative comments.
Just take it one day at a time, and remember to relax, and enjoy the journey.