Affiliate links are used in this review. All opinions are my own.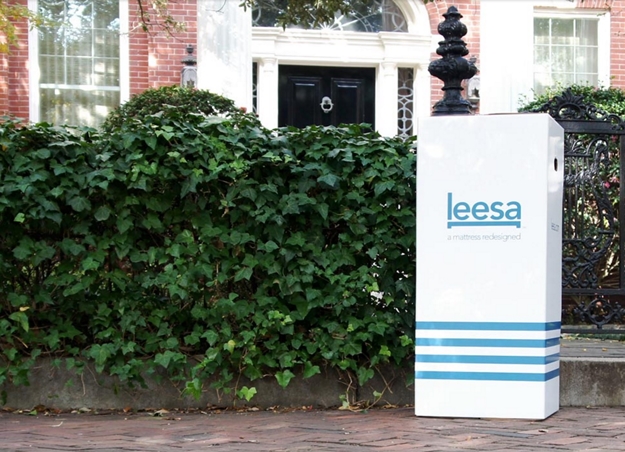 Can a bed that's delivered to your front door, rolled up in a box, really be awesome?
That's what I wondered months ago when the time came to buy a new mattress. I planned on visiting a local mattress store when I recalled a conversation with a friend about how she loved her "bed in a box." Intrigued by this "bed in a box that gets delivered to your door" concept I dove into the internet and did some searching.
A combined nine hours later (yes, nine hours) I had read about these foam mattresses that are delivered in a box to your home. I researched different companies, learned about the materials used to create these foam mattresses, and read as many reviews as I could find (about the mattresses and the companies that create them).
Here were some of the key points that made me strongly consider this "bed in a box" rather than buying one at a local store.
Significantly cheaper — many of these foam mattresses that come in a box are a mere fraction of the price of store-bought mattress. Save money? Uh, hell yes.
Foam mattress comfort and durability — now, many companies use different materials, but overall the consensus on foam mattresses was incredibly positive. Having only slept on spring mattresses I was excited to put this to the test.
Satisfaction guarantee — yes, many of these online companies have a guarantee. If you don't love the mattress, you get a full refund. Brick and mortar mattress companies would never offer anything like this.
Hours after reading, researching, and even contacting a few companies, I happily chose Leesa for several reasons:
Everything, from the design to the cover to the mattress and even the box used to ship it, is made in the USA.
Many foam mattresses are 10 inches deep. What I like about Leesa is that 4 inches of the foam is their specialty blend (the top 2 inches is their cooling Avena foam and the middle layer is 2 inches of contouring memory foam), and only 6 inches are "support" foam. Other companies seem to use just 3 inches of specialty foam.

Leesa gives back. For every 10 mattresses they sell, they give 1 to a shelter (they've donated over 5,000 so far). They partner with the Arbor Day Foundation to plant one tree for every mattress they sell too. I like a generous company.
Excellent customer service. I had a few questions and the wonderful customer service crew at Leesa was quick to respond and a pleasure to interact with. In a world where terrible customer service is the norm, Leesa shined with excellent service. On their website I read a customer review from someone who didn't like the mattress and requested the refund, and they raved about how responsive Leesa was with issuing their full refund, no questions asked.
Free shipping. This is just awesome.
100 night trial. You have up to 100 nights to make your verdict on the Leesa mattress. If you don't love the mattress and you've had your Leesa for at least 30 days, you can contact them and they'll arrange a pickup with one of their recycling partners and will refund you in full. This means you have nothing to lose when trying the Leesa. That's awesome.
Now that you know why I chose Leesa, let's talk about sleeping on this foam mattress. I've been sleeping on my Leesa for almost 4 months now, but before I tell you what I think about sleeping on it, let's go over the process of receiving the mattress and setting it up.
Getting The Leesa Mattress is FUN
I got a King size and was able to get it to my bedroom without a problem by dragging it (this is one good reason why women should lift weights, but that's a different topic). Once it was in my room, the fun began.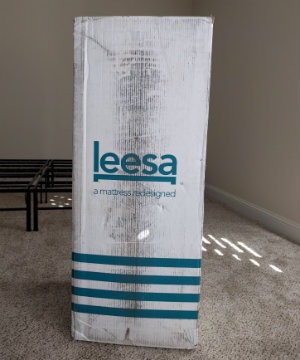 Step 1: Open the box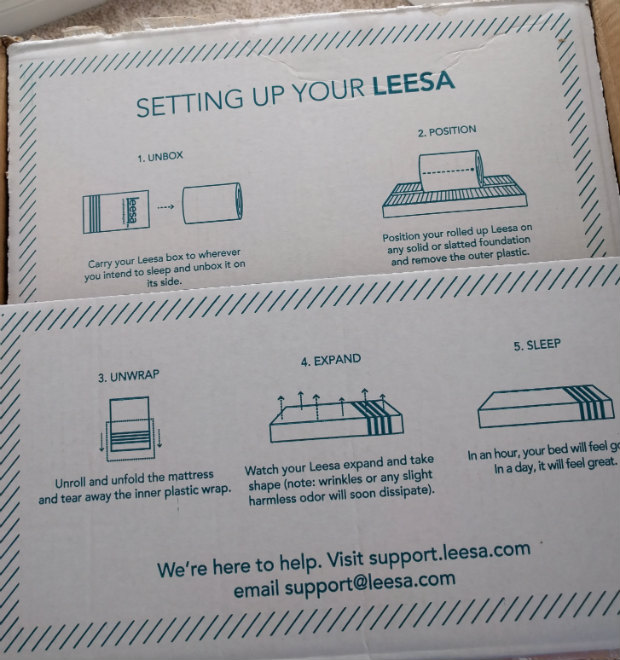 Once you open the box you're greeted with simple, clear directions.
Step 2: Position and unroll the mattress on your bed frame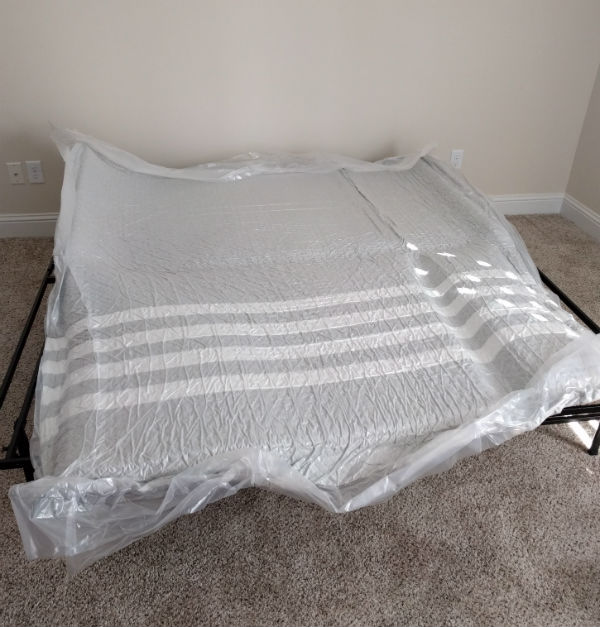 Step 3: Carefully remove the plastic and …
Step 4: Watch that beautiful thing expand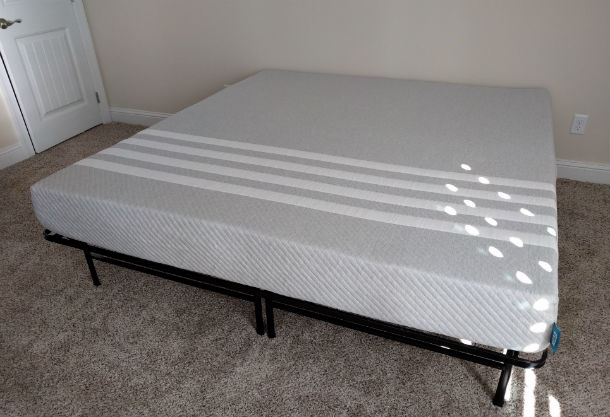 The entire process was quick and quite fun. There was a slight odor that was visible for the first few nights, but it wasn't bad at all.
The Leesa Mattress Review
How Does The Leesa Sleep?
My wife fell in love with the mattress from the very first night, but it took me about a week to get comfortable and adjust to the mattress. I've read that some people take time to adjust to a new mattress, and apparently I'm one of them. Because of this initial adjustment period I was a bit skeptical of my new Leesa, but I'm glad I was patient because now I love this thing.
After sleeping on the mattress for over 4 months, here are the main observations:
No movement from your partner (note, I have a King so I'm sure this helped, but others who have a Queen report not feeling their partner move either). If someone gets up or rolls around, they won't disturb you.
I'm a stomach sleeper. On my old spring mattress I'd wake up a couple times a week with elbow pain because of how my arm was positioned under my torso. Since sleeping on the Leesa I haven't experienced this once because the mattress does a wonderful job of alleviating pressure points.
My wife sleeps on her back and sides. On our old spring mattress she complained about shoulder pain when she slept on her side and since we've had our Leesa, she says she's never had any pain.
I wake up fewer times during the night. I always thought I slept well, but I used to wake up a few times per night to rollover; now that I have my Leesa I wake up maybe once.
Sleeps cooler than my previous spring mattress. I get hot very easy, so this was a relief for me, especially in our hot, hazy, humid Kentucky summers.
Unbeatable support. There's no question that the Leesa provides excellent support. You can feel it from the second you lie down and it starts adjusting to your body. There are no pressure points, your back is supported, and it's insanely comfy.
All in all, it's been nothing but a positive experience with our Leesa. So much so that whenever we go out of town we always find ourselves saying how much we miss our mattress. And damn near every night after I lay down I mumble "Oh my gosh I love this mattress" as it gently cradles me. No kidding.
Two-Year Update
I've had this mattress for over two years now. How much do I still love it? Let me put it this way: If my home burned down, this would be the first purchase I made. I've slept on many different beds when traveling over the past two years, many of them memory foam, but none compares to my Leesa. I'm always exceedingly grateful to get back home to it.
Will You Love Leesa?
You know I can't answer that for you, because everyone is different. Yes, I love it and can't stand sleeping on anything else anymore, but I can't guarantee you'll feel the same way. That said, this is where the Leesa 100 night trial shines. If you hate it and tried it out for at least 30 days, you can get a full refund, no questions asked.
If you're in need of a new mattress or want to upgrade your sleep quality, I think Leesa is a great place to start.
If you're ready to get your own Leesa, click here to see the latest sales and promotions. (Note, I am a very proud affiliate for Leesa.)
How Much Is It?
A Twin size Leesa is only $525 and a King is only $990. Don't forget: Leesa covers shipping costs so you don't pay anything.
Ready to Get Your Own Leesa?
Click here to get your Leesa and to see the latest promotion for discounts.
You can get more details and order your Leesa with the link above or, if you have more questions, read on.
FAQs About The Leesa Mattress
Please find below some of the most common questions about Leesa, plus a few I asked them directly out of curiosity.
What is the life expectancy of the mattress?
The life expectancy of a Leesa can be up to 20 years.
Is there a warranty?
Yes! We provide the 10 Year Full Replacement Limited Warranty with every Leesa purchase. If your mattress suffers from any defect or damage within the first 10 years, then you're covered under your warranty. We will send you a replacement mattress, free of charge.
How would you describe the firmness level?
The Leesa mattress is ranked a 6 out of 10 on the firmness scale. In other words, the Leesa is a medium firm mattress.  The mattress provides ample support for all types of sleepers and contours to your body for a comfortable night's sleep.
Why does Leesa make one mattress instead of several with different firmness levels?
We put a lot of time and effort into selecting the combination of materials used inside the Leesa. Each layer of foam is carefully selected to provide core strength, memory foam pressure relief as well as cooling and a bounce. Because of this, the Leesa mattress can adapt to all body shapes and sizes and all sleeping styles with its universal feel.
Do I need a box spring?
No. It is recommended that you use a stable, rigid base built for foam mattresses.
Why does Leesa use Avena foam instead of latex?
Avena® foam is a more durable, more resilient alternative to a latex foam and is not temperature sensitive like memory foam. This creates a more consistent product with a top layer that allows for airflow for a cooler night's sleep and enough bounce for the freedom to move throughout the night.
What are the different foam types?
The top 2" is Avena foam designed to allow constant airflow; it provides excellent support, is fire retardant, and is hypo-allergenic.
The middle 2" layer is is contouring memory foam that provides maximum comfort.
The bottom 6" foam base layer is a supportive layer.
Is it difficult to set up?
Not only is it simple, it's fun. Unbox it, position it on your bed frame, unroll and unwrap your Leesa, and let it expand.
If you're ready to get your Leesa, just click here to get the latest promotional offer.
Once again please note that I'm a very proud affiliate for Leesa; they're a fantastic company with a phenomenal product. This will likely be the only mattress I ever buy.