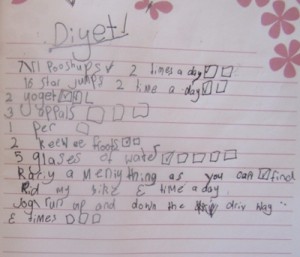 I was reluctant to write this article because I don't have children. But, I had the privilege of growing up with a Mom who was physically active. In fact, she was the first woman personal trainer in our town. I know what it's like to have a strong, positive, encouraging role model, and she's the main reason why I'm a trainer as well.
It's from that perspective I write these words. As the daughter of a woman who led by example (and still is!) and showed me what it meant to strive to be strong, to be the best version of myself and not to succumb to constant dieting, deprivation, and negative mindset.
Here's an example of my Mom showing what it means to be a proud, strong, and confident woman.

Yeah. My Mom is awesome.
The Current Battle
The picture at the beginning of this article is a diet list a mother found in her seven year old daughter's room. The mother explains that her daughter learned about diets from a school friend, so I'm not picking on this mother. I'm merely using  this example to prove a larger point.
Young girls are impressionable, and, unfortunately, your words aren't the only ones they hear. Young girls are hearing the words diet and exercise at a much younger age at school and on TV. Instead of playing, having fun, and enjoying their adolescence, more young girls are paying attention to how they look and, consequently, how they think they should look.
As a result, young girls are beginning to think that dieting is just  a part of life — something they're expected to do.
They think they have to look a certain way and fit some "ideal mold" body image.
The mainstream media still runs rampant with the noise of deprivation diets, tons of cardio for building a slender body, the constant battle for "perfection", and too much time pointing out the things that are "wrong" or "imperfect" with our bodies and quickly pointing out what's "right" and "perfect". (Even though many do this simply to sell us the solution). There's always a new book and "skinny rules" to be followed.
This makes the battle that much more challenging. And it's a reason you (actually, we) need to be the louder, more motivating voice.
Lead from The Front 
As I mentioned, I was fortunate enough to have a positive role model when I was younger. I watched my Mom lift weights, get stronger, and build fierce confidence and determination. I loved knowing my Mom, pound for pound, was stronger than a lot of men.
My Mom didn't just TELL me to be strong and confident. She SHOWED me and led by example. Actions, as we know, are much more effective than words.
We must help the generation of young women behind us to be strong, confident and say no to dieting and obsessive eating patterns that can lead to binge eating and YES to truly seeing what they're capable of achieving. To realize their potential and physical abilities.
It is not about being skinny.
It is not about reaching and maintaining a certain bodyweight.
It is not about saying "I'm not like this" and "I can't can't do that".
Be Strong. Be Confident. Be Awesome.
It is about being strong and not only saying, but showing, that we CAN be.
It is about being the best YOU possible and loving your body. Not just for how it looks, but because of what it can DO.
It is about being awesome and loving our bodies.
When we set the positive example for younger women, we can rest assured that we're doing our part. As a result, we can be hopeful that they won't be tempted by the latest dieting advice or body image discussion they hear at school. Hopefully they won't be concerned with "getting skinny" because they'll be too busy being awesome.
That is what we must do. We must not only TELL the young women in our lives, but let's SHOW them what really matters. Let's help the younger generations to become Beautiful Badasses in training.
Let's SHOW them what it means to be strong, proud, confident and what our bodies our capable of DOING and not becoming overly obsessed with how they look.
The whole be-super-slim and eat-like-a-bird mentality didn't appear overnight, and I'm convinced that we can help extinguish it all together. Instead of chronic cardio we can show young women how empowering it is to pick up a heavy barbell, to build strength, and to relish what your body is capable of doing.
We can show them that we should eat more and exercise less to build healthy, functional, and beautiful bodies.
And, hopefully, that confidence and attitude with reach their friends as well.
Hopefully we can be the driving force behind a new moment — The Beautiful Badass Revolution — that's even more popular and powerful than the prevalent dieting mentality. We can SHOW the young girls in our lives what it means to be strong, confident, and love our bodies for how they look and what they can do. Then perhaps we'll see a snowball effect and their friends will join in.
On and on it could go until the younger women say YES to lifting a heavy barbell and HECK NO to being a slave to the weight scale.
Let the revolution begin.
How to Lead from the Front
My personal approach to strength training revolves around positive motivation. It's all about getting stronger, improving performance, and testing your physical abilities. In short, it's all about become the best YOU possible. And it's not simply about building a better body (stronger, leaner, healthier) but it's also about forging an indomitable attitude and mind.
That is what being a Beautiful Badass is all about — having a strong body AND mind.
Want to know more about what it means to be a Beautiful Badass? Check out these articles, and then join the Revolution.
6 (Sane and Simple) Rules to Lift Like a Girl, Get Results, and Be More Awesome
Beautiful Badass Pillars Part 1