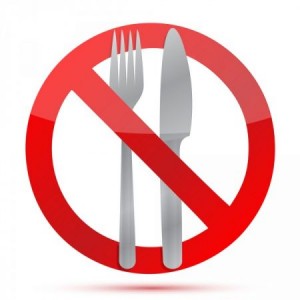 Today is a guest post from Brad Pilon, the author of Eat Stop Eat.
I absolutely love his approach to nutrition, fat loss, and maintaining fat loss – it's simple, stress-free, and it works. He was kind enough to share with us what he considers to be a hidden benefit to intermittent fasting.
Enjoy!
---
Eat Stop Eat is mostly a reference manual on the benefits of Intermittent Fasting. It's also a book on how to lose weight.
In Eat Stop Eat I talk a lot about hormones and free fatty acids and how fasting sets up the ideal 'fat loss metabolism'. But Eat Stop Eat isn't just a book on fasting and weight loss. It's also about eating.
It's about learning to be OK with taking the occasional break from eating, and about learning your hunger cues. And while I'm incredibly proud of Eat Stop Eat (Especially this latest version) the one thing I don't talk about is probably just as important:
Patience. With fasting you learn patience.
You learn you can wait. That the food won't disappear or become any less enjoyable because you've waited.  You also learn that your muscle won't melt, your blood sugar won't crash, and you won't become a drooling carb-obsessed zombie.
Instead, you learn to be less impulsive, and this is a very, very good thing.
In North America, there is very little patience when it comes to food.
If you are in a public place and you see a crying toddler, count how long it takes before mommy (or sometimes daddy) pulls out a baggy full of goldfish or cheerios (I bet you don't make it to ten).
And it's not just kids. It's grown ups too. Count how long it takes before people become visibly agitated in a line-up or drive-through.
Gone are the days when you waited patiently for dinner so you didn't 'ruin your appetite'. Snacking is what we do best. Sit-down meals are almost an afterthought for some people.
We've lost the art of patience, especially when it comes to food. We want immediate gratification, to the point where we can eat things with out even knowing we did it. We eat when we want, where we want.
Wait until after dinner to have dessert? FORGET THAT! I'll have a brownie with my afternoon coffee!
Boardroom meeting? For an hour!? They better have snacks!
And really, just a little patience – a slight pause – is all most of us need to realize "I don't need this", or "I can wait until dinner" or even "I can wait until tomorrow – I've had enough today".
Without patience diet and nutrition will always become a source of anxiety, stress and exhaustion, because we are ALWAYS doing it (eating) and therefore always thinking about it to some degree.
Eating properly does take an understanding of when you like to eat and what you like to eat, but just as important is the patience to wait for these opportunities to occur.
Patience allows you to create boundaries that you are comfortable with. And these boundaries are what allow you too eat a little less if you want to, but to do so on your own terms.
The bottom line is that fasting is not only a method of for weight loss, but a time to develop the skills that will allow you to get and stay lean while eating the foods you like to eat, guilt free.
You'll just be eating them in the right amounts at the right times.
---
Brad Pilon is one of the world's most recognized advocates of Intermittent Fasting – You can learn more about his approach to intermittent fasting in his newly revised book Eat Stop Eat.
---
For more information and to check out Brad's 5th Edition of his best-selling book, Eat Stop Eat, click here. Please note: that's an affiliate link. That means if you click that link and then buy a copy of Eat Stop Eat, I'll receive a commission.
Additional Articles