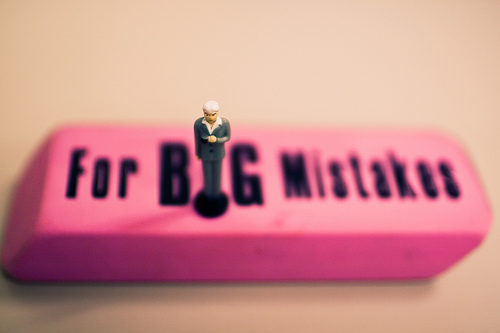 "I'm not getting the results I expected and that I think I should be seeing."
"Are you working hard no each exercise? Are you using a challenging load and striving to improve your performance whenever possible?"
"Yep. I don't know what's wrong. I've been following the program as written but my body hasn't changed at all."
We were walking towards the free weight area of the gym to begin our workouts. I started my warm-up and she began her first exercise – barbell back squats.
As I was doing weighted push-ups and inverted rows, she kept squatting away. Between my sets I'd watch her squat; her form looked excellent but she appeared to still be warming up.
After I completed all of my sets for push-ups and rows, I noticed her stripping off the weight plates.
"Are you done squatting?" I asked curiously.
"Yep. All done with squats. I did 4×8 today."
"I think I know why you're not getting the results you're after," I stated. She gave me a puzzled look and I continued. "All of your 'work sets' looked like nothing more than a warm-up. The weight definitely wasn't challenging because I noticed your eyes wandering around the gym during each set so you definitely weren't focused, and it looked like you could've done at least five or more reps on every set."
"But . . . I'm doing it."
"Yeah, well, you're not doing it to the best of your ability. And that's why you're not getting results."
I wanted her to experience what I was trying to explain, so we loaded up the squat bar again and she gradually worked up to a heavier set. My instructions were simple and direct: "You must use a challenging weight. Your form should be perfect on every rep, but you should have to stay focused on every single rep and stop the set knowing you could do 2-3 more perfect reps, but absolutely no more."
She ended up with 20 more pounds on the bar then she had on her final set of squats a few minutes earlier.
I stood by as she did eight reps with the new, heavier, more challenging work weight. And still with picture perfect form on every rep.
After she completed the set and racked the bar, she stood silent. Finally she spoke, "Wow. I can definitely tell the difference. I actually had to focus on every single rep. I didn't know I was that strong either!" she exclaimed. "I had no idea I could squat that much."
I've witnessed this over and over throughout my coaching career, and it's a simple mistake that's costing people results. That's one simple tweak that will allow you to achieve better results – make sure you're using a challenging weight for your exercises. Don't use a weight for either reps that you could easily do for 12 or more. (Note – exceptions include deloads, deadlifts, and explosive exercises).
Always make sure you're using proper form on every single rep, but be sure to challenge yourself. You should have to focus intently on the task at hand. You should have to work hard. Over time, you should be doing more reps with the same weight, adding weight to the bar, or in the case of bodyweight exercises, doing a more challenging variation.
Please don't misunderstand me – I'm not telling you to put forth a brutal, gut busting effort on every set of every exercise you perform: but make sure you're working hard while always using proper form and maintaining complete control, and improve your performance over time.
Don't be afraid to get out of your comfort zone and challenge yourself (just be safe, of course). You'll see, and feel, the difference.
So whether you're following the Train to Be Awesome Program, working out at home with bodyweight workouts, or following any other program, make sure you're challenging yourself with an appropriate weight or exercise variation. It'll make a tremendous difference.