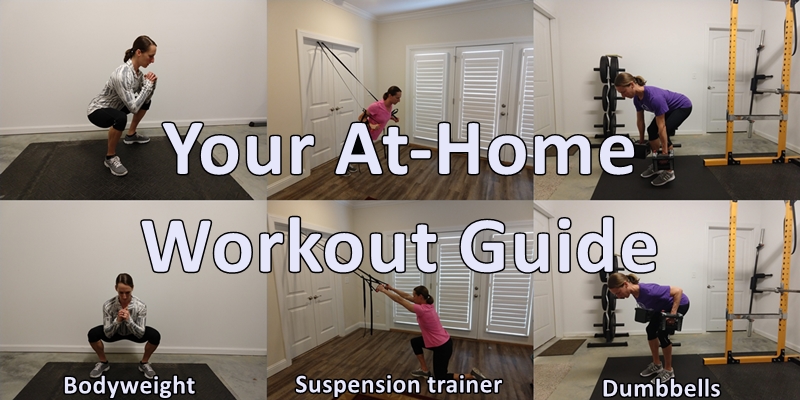 Whether you prefer to work out at home, or it's the only option you have, this at-home workout guide has you covered.
Below are resources you can turn to for your at-home workout needs; options vary based on the workout equipment you have available. Let's start with the option that doesn't require any equipment.
Bodyweight-Only Workouts
Don't have any exercise equipment at home? Then bodyweight workouts are the way to go. Start with the article 7 of the Best Bodyweight Exercises to build your bodyweight workout program. The article shows you how to scale the exercises, to make them easier to more difficult, so you can start training today and know how to progress going forward.
Suspension Trainer Workouts
Do you have a suspension trainer? Then you'll be able to have much more exercise variety if you have this single piece of equipment: Use the free 8-Week Suspension Trainer Program.
The great thing about suspension trainer and bodyweight workouts: You can do them absolutely anywhere.
Dumbbell Workouts
Have dumbbells at home? Great! Then use the Lift Like a Girl Dumbbell Workout.
Note: If you're limited by the amount of weight you can use (some people just have a few pairs of dumbbells) then work with what you have. Meaning, if you don't have enough weight to make certain exercises challenging for the provided rep range in the dumbbell workouts, then perform higher reps. This may mean cranking out sets of 20-30 reps for certain exercises, but that's fine! You can still create a great training effect from high-rep sets, provided that they're challenging (meaning you finish the set knowing you could only do 1-3 more reps).
At-Home Workout Program and Coaching Group
All of the resources above are free, and if that's what you need right now, take advantage of them.
Because more and more people are working out at home and want a detailed, no-guesswork plan and coaching support, the 12-Week Workout Program Coaching Group is back open.
The minimum amount of equipment required for the strength training program are dumbbells and weight bench. (There are options that utilize barbells and a cable machine, if you choose or have access to those options. It's also great for variety, so you can run the program again with different exercise options.)
Click here for all the details.
No matter how much, or how little, equipment you have at home, you can still strength train efficiently and reap significant health benefits: Make the most of what you have. And, remember, you can always build your home gym little by little over time.